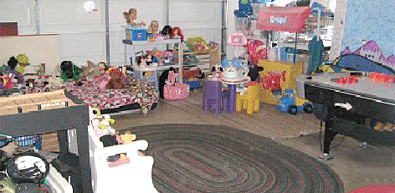 Whether your home is too small or your garage is too big, turning your unused garage space into a kids' activity room is a savvy use of space. If you are able to convert your entire garage into a playroom instead of a parking space, this is an easy project! Here is what you need to know about transforming your entire garage into a fun room for kids.
1. Safety First
There are several ways to make a garage a safe place to play for your children. Garage doors pose safety hazards to children, but removing the rails will keep the door from opening, eliminating the biggest danger in the room. You may also wish to invest in the thickest carpet padding available on the market to create a squishy floor, especially if your children are young or prone to accidents.
2. Finish The Room

In order to turn your garage into a finished room, you will need to insulate the walls and put paneling, such as sheet rock or plywood, over the beams. This will create a smooth wall, which eliminates nooks, crannies, and covers exposed wires. In addition to finishing the room this way, you may also consider hanging a heavy drapery along the garage door, which will quickly transform the space from garage to playroom. Take caution to secure the drape properly, however, especially if you
have young children.
3. Ventilate

Garages are notorious for getting hot in the summer and cold in the winter. While insulation will improve this problem, it is also a good idea to run an air duct from your central air unit into the garage. This will provide temperature control for the garage, allowing your little ones to play in comfort.
4. Don't Forget Storage

A great use of space in a garage is to install closets, cupboards, and shelves along one section of wall space. This will allow you room to tuck all your knick-knacks, sporting gear, and other garage-worthy equipment.
If you still intend to park your car in your garage, converting the space into a kids' activity room may require some additional effort. While the basics are the same- insulate, cover the walls, and install padded flooring -there are some unique considerations to take into mind. The first consideration is a partition. Not only is having your children play in and around your car inconvenient, but it is also dangerous. Framing a room within the garage will allow your children plenty of space to play, but will require them to pass through a door in order to get to your vehicle. While this means your garage will appear smaller, it will also be safer.
While you think about the logistics of transforming your garage into a playroom, make sure you consider space, storage, and most importantly, safety. Before you know it, you'll be on your way to creating a space the whole family can enjoy!
Jessica Esqueda is a stay at home mother to two small children, skilled in creating the illusion of ample play space in her tiny one bedroom home.