What's even better than a family hike? Why, a family hike to see a waterfall, of course! And the neat thing about waterfalls is that they come in all shapes and sizes, each with their own hint of wonder.
The Hamilton area has more than its fair share of cascading water, and that's where these hikes are located. So pack the camera, lots of snacks and some good footwear and hit the trail for a hearty dose of fresh air and… you know… go chasing waterfalls.
A Word of Caution
There is some risk involved in hiking around waterfalls and in escarpment areas. Be sure you discuss safety rules with kids before you go. Always stay on the trails and within fenced areas, and heed all posted signs. Keep children and pets away from the edges of gorges and escarpments; even adults should stay at least a body length away.
Beware of slippery rocks around near the bottom of waterfalls. Grippy shoes like hiking boots or water shoes are recommended. Finally, be sure to check current conditions on the trails before you go. The information here is accurate as of this writing but may change due to season or weather.
Also be sure to keep 6 feet of distance between your group and any other group of hikers who are around. The waterfalls in Hamilton often get busy so do your best to avoid large crowds.
Smokey Hollow Falls
We love the fast-moving waterfall at Smokey Hollow for lots of reasons. It makes for great photos, has a convenient viewing platform, and is surrounded by the Bruce Trail. Parking is on Mill Street, not far from Highway 5 in Waterdown.
The nearby Great Falls loop is 3.5 km, but is quite steep, so best suited for slightly older kids who won't ask to be carried.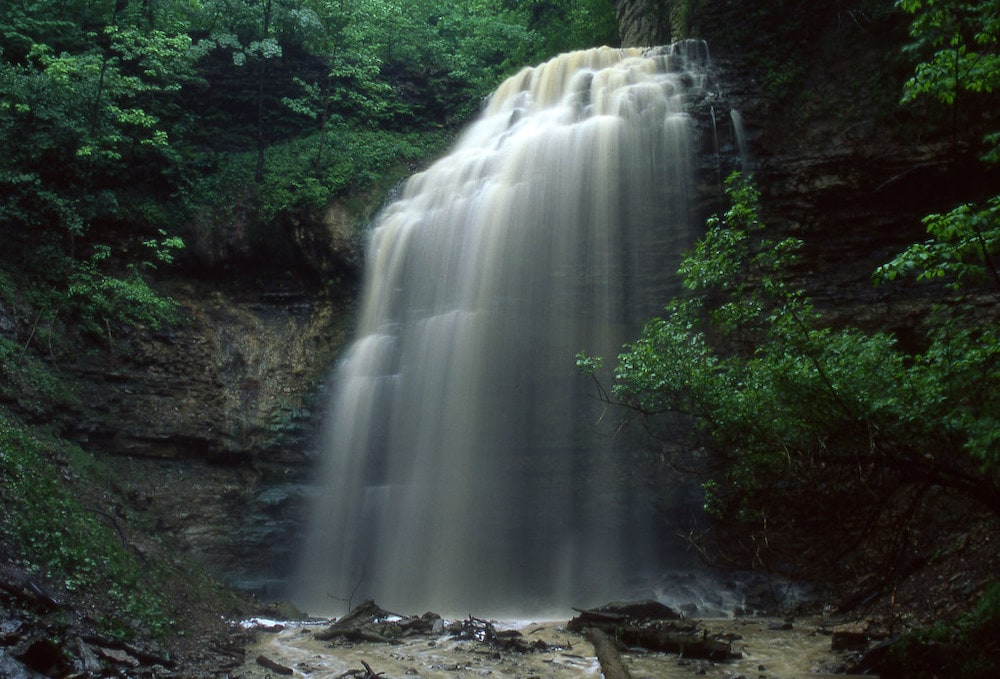 Tiffany, Sherman, and Canterbury Falls
Tiffany Falls is a lovely 21-metre-high waterfall that tumbles into interesting rock formations. For younger kids, it works to park on Wilson Street East and then walk the 10 to 15 minutes to the falls. If you're after a longer hike (about 30 minutes one way), make your way across Wilson Street to pick up the Bruce Trail and head over to Sherman Falls and Canterbury Falls. Or, you can park on Artaban Road ($10) for a short and easy trail walk to Sherman Falls.
Note: Sherman Falls is currently closed by the property owner due to COVID-19.
Felker's Falls
Felker's Falls Conservation Area is easily accessible by wheelchairs and strollers on the Peter Street trail. There's a viewing platform to take in the sight of the 22-metre-tall waterfall. Free parking.
Close by is Eramosa Karst Conservation Area with mini underground caves. Make it a whole day of wonder!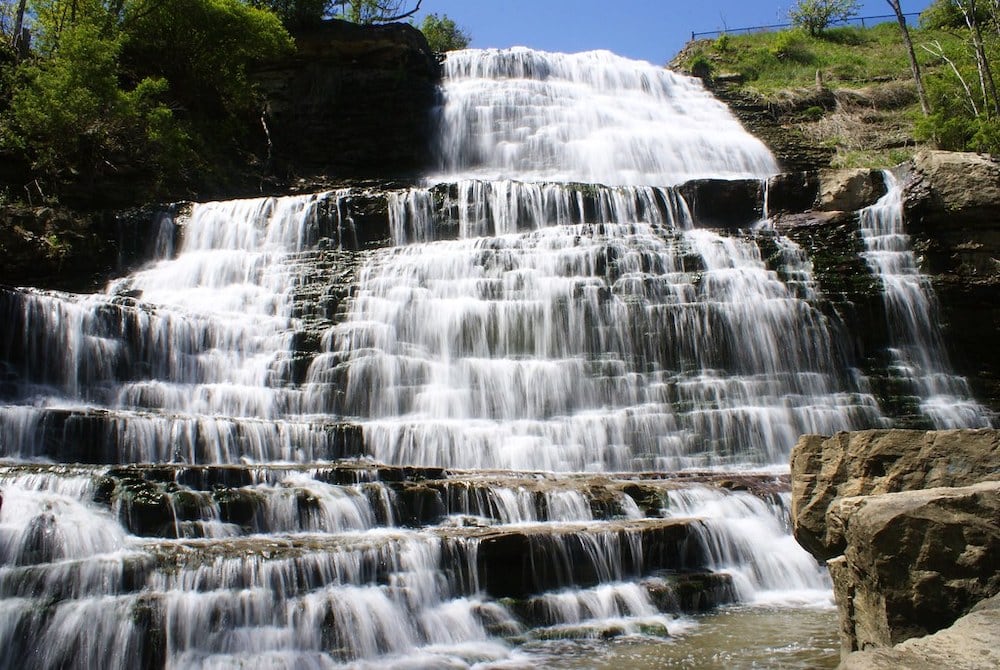 Albion Falls
Super pretty waterfall here, as the Red Hill Creek tumbles over steps and shelves carved out of the rock over time. There are lots of ways to see Albion Falls and get in a short or long hike, and two different viewing platforms. There is no below-falls access or access at the bottom of the falls. Free parking.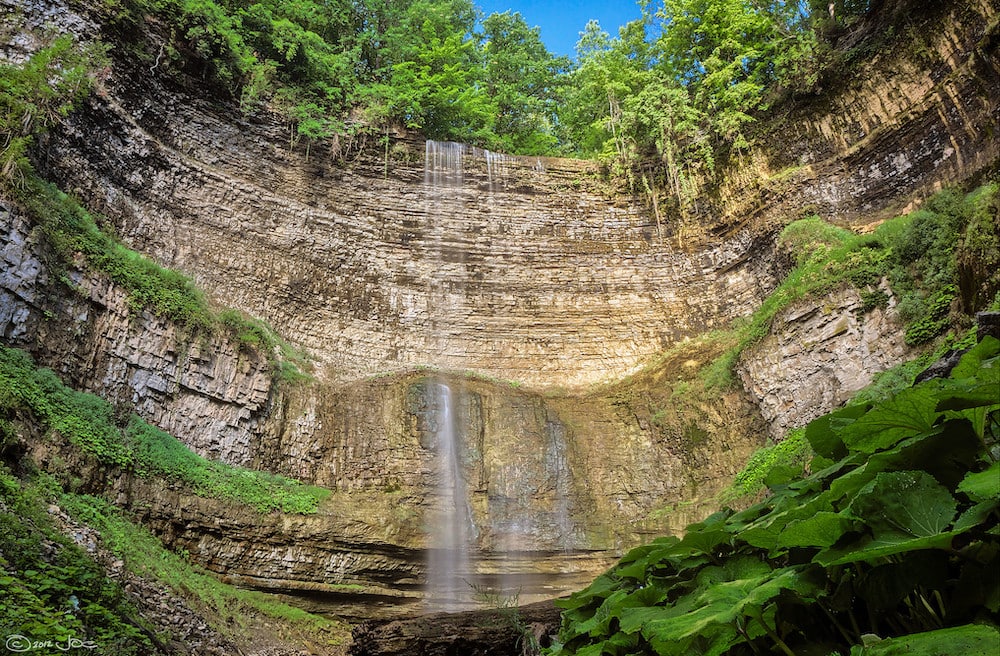 Webster's Falls and Tew Falls
Note: Spencer Gorge—which includes Webster Falls, Tew Falls and Dundas Peak—will remain closed until September 2020 due to COVID-19.
Webster's Falls is not the tallest, but is the largest falls around, and is super, super pretty! The scenery is enhanced by the bridge over Spencer's Creek right before the cascade of water. The 41-metre-tall Tew Falls is just a few metres shorter than Niagara Falls. You can find this spot—perfect for picnics—at Dundas's Spencer Gorge Conservation Area. Parking is $10 per vehicle and admission to the conservation area is $5 per person.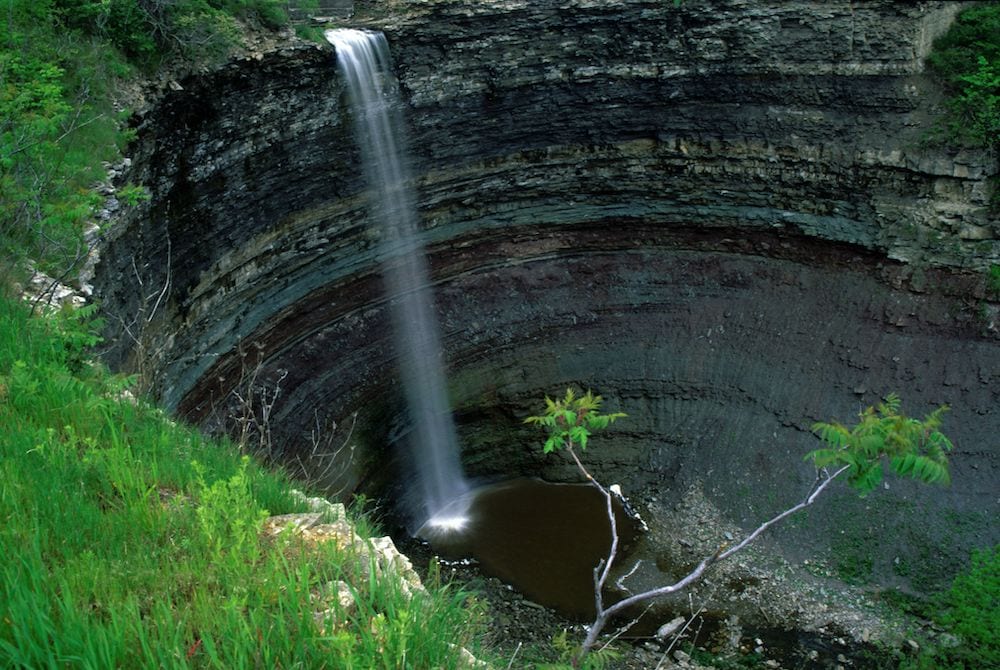 Devil's Punchbowl
If not one but two waterfalls weren't enough, the multi-coloured rock layers at Devil's Punchbowl provide great examples of cool geological formations. Great views for miles around from the lookout! Parking is $5 per vehicle.
Remember to follow safety precautions and stay on the trail. And, enjoy!