It's not hard to get into a negative headspace with what we are all currently facing. As we all try our best to deal with empty grocery store shelves, working from home, cancelled plans, self quarantines, and extremely dry hands, it's wonderful to see the amazingly inspirational acts of kindness that have been taking place all over the world.
The worst situations bring out the best of people, and we're seeing the best of the best from all over the world. During the far-reaching tragedy that the world is experiencing, #CovidKindness is the silver lining we've been looking for.
Every day we're thankful for the frontline workers that are helping us all stay healthy and fed, and keep our world moving. To the nurses, doctors, grocery store workers, pharmacists, delivery people, and everyone else on the front lines, thank you.
Even if you aren't a frontline worker, there are many ways that you can support people in your community and pay forward kindness every day. We've pulled together some of the acts of kindness that have made us smile lately.
Hopefully, they will be the pick-me-up to help get you through another week of staying home.
The kindness of strangers
Posted on /r/Ontario, a Beer Store employee shared the uptake they have recently seen in random acts of kindness. They share a story of an elderly person who came in to return their empties. When they were informed that The Beer Store is not accepting during COVID-19 they said, "I don't have a lot of room in my apartment, I better not buy anything else until I can get rid of the last batch."
That's when another customer stepped in and offered to buy the empties from the elderly customer so that they could "have room for some beer".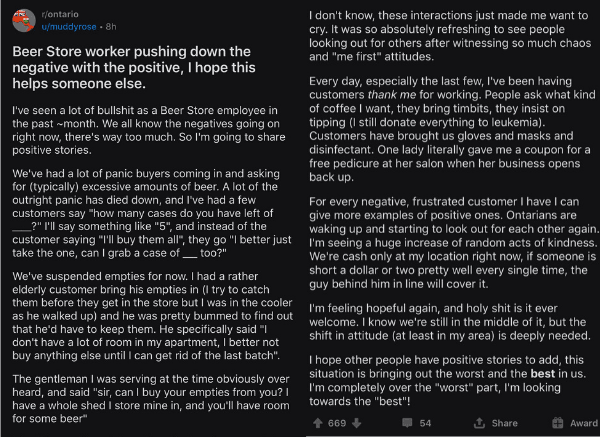 Saying thank you every way we can
Canadians are known to be a kind bunch, but this pandemic has taken that kindness to new heights.
From thanking TTC, grocery store, pharmacy, and gas station workers for everything they are doing to help us, to writing letters and bringing food and coffee to healthcare workers, Canadians are going above and beyond to recognize the sacrifices so many people are making to keep our country running.
UofT Med students reach out to frontline workers
In the weeks leading up to the COVID-19 pandemic, four UofT Med students recognized the toll the outbreak would take on the healthcare system and the nurses and doctors who keep the system running.
The students came together and helped organize their peers to help healthcare workers and hospital support staff on the home front. They offered babysitting, fetching groceries, and other domestic tasks to help those being stretched to the limit.
Keeping the elderly connected
Lauren Babcock, CTV and Newstalk 1010 contributor, was happy to receive a call from her mother on Facebook Messenger. The staff at her long term care facility helped her learn how to use Messenger so she could video chat with her family.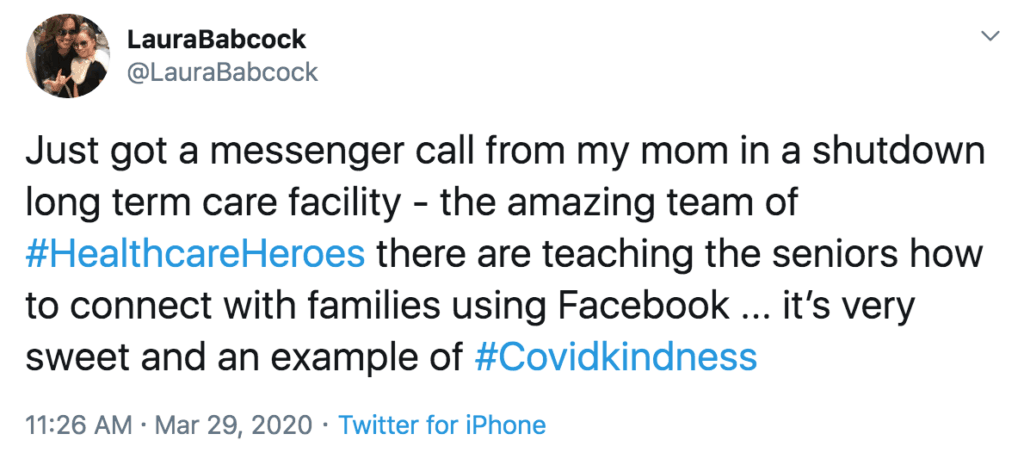 Neighbours helping neighbours
There is no shortage of stories about the kindness that neighbours are showing to one another. From setting up Facebook groups and WhatsApp chats dedicated to helping those self-isolating to leaving notices in your neighbours' mailboxes, everyone is doing their part to ensure everyone in their community can do their part and safely stay home.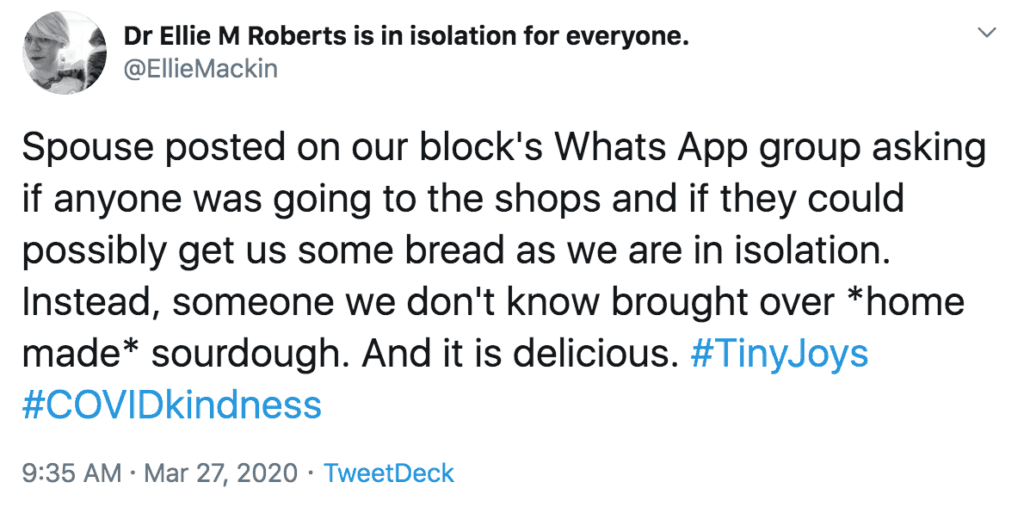 And if you are in need, neighbours are the first to step up to the plate.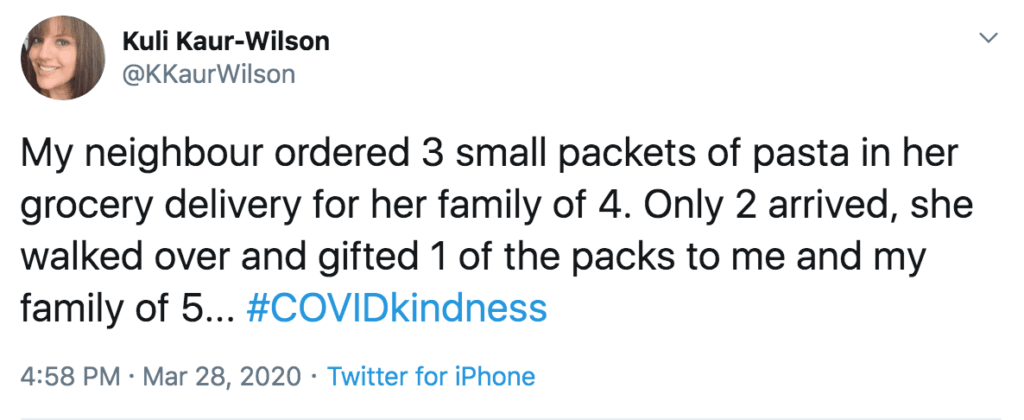 Small businesses stepping up
This pandemic has hit a lot of companies very hard. People are being laid off, brick and mortar stores and restaurants are shutting their doors, and there is a general sense of the unknown when it comes to the survival of a lot of small businesses.
That's why it is so heartwarming to see some small businesses stepping up and doing whatever they can during these difficult times.
Fragola, a baby and toddler food delivery service, has been donating baby and toddler food deliveries to those who cannot afford to feed their children since March 13. They were inundated with requests, so they opened it up to their community, offering other parents the ability to buy a box for a family in need.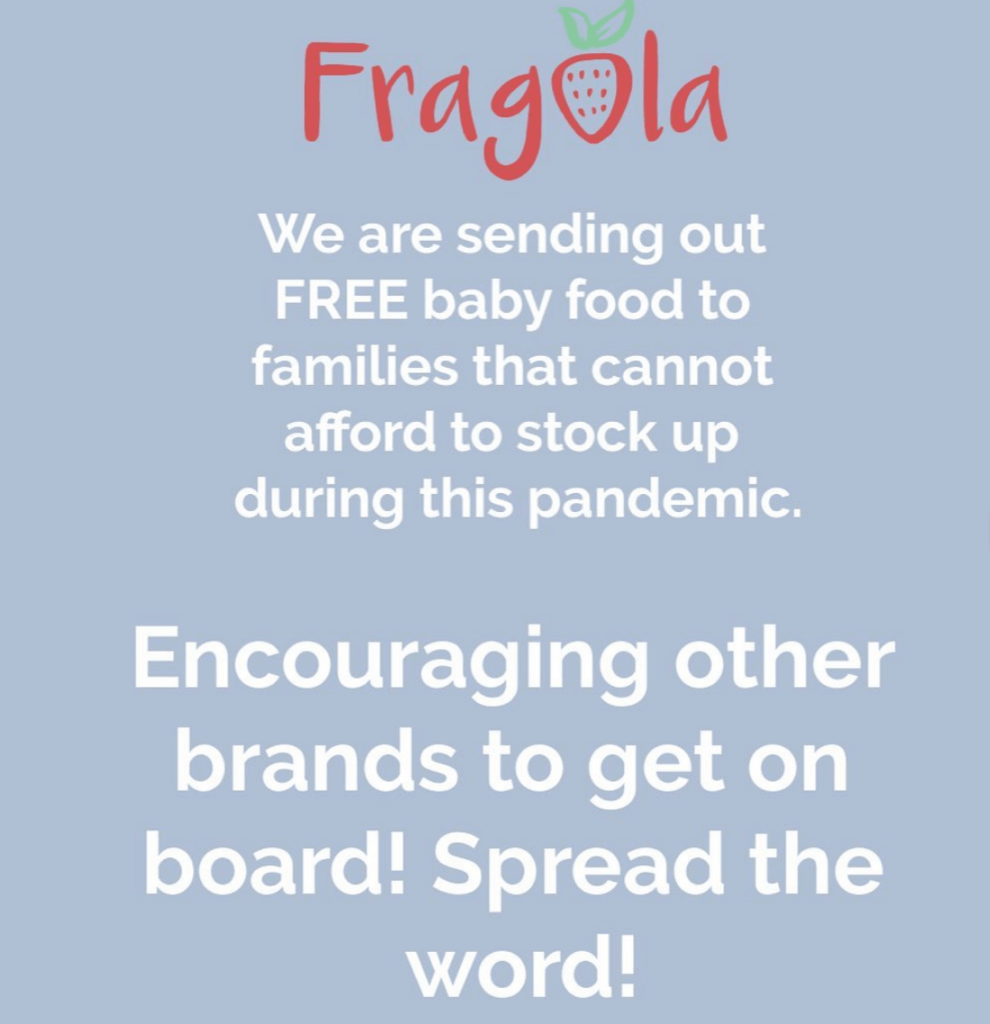 The Latte Co., a plant-based milk alternative for babies and toddlers has followed suit, offering their products for free to those in need.
Victoria Supermarket in North York will donate $100,000 of rice and lentils to the "less fortunate during the current coronavirus crisis."
Two Toronto distilleries have shifted their production process and for the foreseeable future will be making hand sanitizer instead of alcohol. Spirit of York's product meets the World Health Organization's standards and all proceeds will be redistributed to local food banks. Corby Spirit and Wine Ltd. will donate all their hand sanitizer to the TTC.