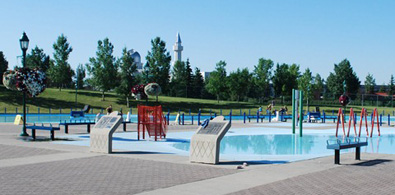 Make the most of August's long, hot, sunny days splashing with our wee swimmers in the city's best outdoor pools.
Stanley Park
Plunge into the smell of chlorine, sunscreen and concession popcorn at this nostalgic site set along the Elbow River. (Note: Smaller wading pool is closed due to mechanical reasons.)
Mount Pleasant
This pool has a lane swimming section, large main pool and a toddler pool area (the last two both have slides). There is a concession stand nearby where you can sit under the gazebo with an ice cream (or take your treat or a packed lunch and sit under one of the many surrounding trees).
Bowville
With two good-sized swimming pools, the Bowville pool is a must-visit. It's large main pool (with a big kid and a little kid slide) is great for the already-swimming kids and the shallow pool is perfect for the younger set. There is also a lot of seating; several picnic tables with bright red umbrellas are great if you bring snacks or want to buy a treat from the concession stand.
Prairie Winds
Calgary's biggest outdoor water play area, it gets deeper than most wading pools at the southern end which is great if you have older kids along for the trip. One amazing thing is that they painted the bottom with a non-stick spray last summer to make the walking less slippery for the wee feet.
Forest Lawn
Enjoy the summer at this great outdoor pool in southeast Calgary. Kids love playing in the pool and there is a life guard on duty, so parents can worry less about their little ones during their day at the pool. On hot weekend days, come early to ensure a prime spot along the pool's periphery and make sure to bring plenty of sunscreen and drink lots of water to stay hydrated!
Image Credit: Calgary Playground Review