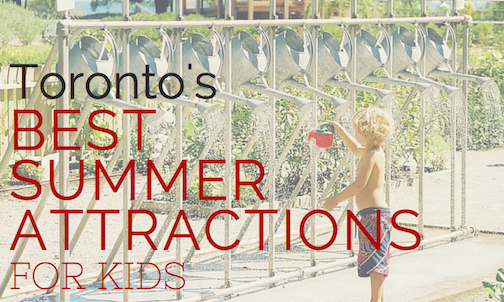 Franklin Children's Garden (photo: courtesy Toronto Parks, Forestry & Recreation)
Staying home this summer can be just as fun as a vacation—if your home is Toronto!
This kid-friendly city has so much for families to enjoy: zoos, parks, museums, and more. And it doesn't hurt that Toronto is right on Lake Ontario, with some 50 km of waterfront trails, parks, and beaches!
Following are 14 kid-friendly summer destinations in Toronto and the GTA. Many are open year-round, too. These are just some of the reasons we think Toronto is one of the best cities on the planet for families!
Without further ado, and in no particular order, here are our favourite Toronto places for families in summer.
1. Harbourfront Centre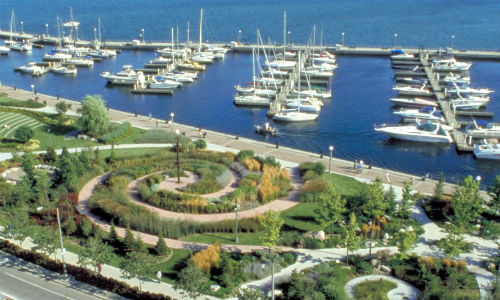 Toronto Music Garden (photo: Gera Dillon)
Interesting events for the whole family are always happening at the Harbourfront Centre. The not-for-profit culture organization occupying 10 acres of the downtown waterfront has more than 30 venues for music, dance, festivals, art, and workshops, including outdoor performance spaces and parks.
Highlights in summer include the Toronto Music Garden—live music outdoors Thursdays and Sunday from July through mid-September; weekly Street Stage street performer event; and frequent weekend festivals. A few events require tickets or entry fee.
www.harbourfrontcentre.com
235 Queens Quay W., Toronto, ON M5J 2G8
416-973-4000
Free
2. Canada's Wonderland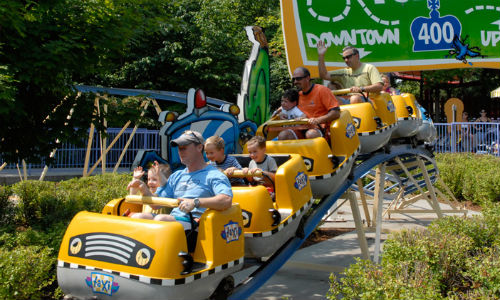 Taxi Jam ride (photo: courtesy Canada's Wonderland)
Ontario's premier amusement park, Canada's Wonderland has around 70 rides, with 16 roller coasters of all different types that includes one of the biggest and fastest coasters in the world: Leviathan. The park has kiddie rides and "mild-thrill" rides for the whole family, too.
In 2014, the park unveiled an interactive 4D dark ride/roller coaster combo, Wonder Mountain's Guardian.
www.canadaswonderland.com
9580 Jane St., Vaughan, ON L6A 1S6
905-832-8131
3. Centreville Amusement Park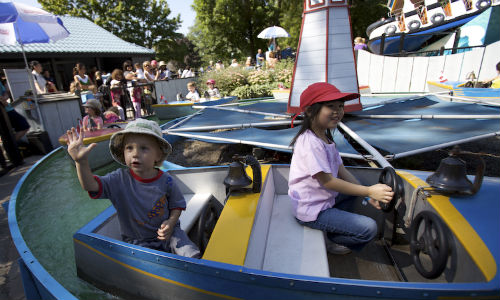 Kiddie Boats at Centreville Amusement Park (photo: Ontario Tourism)
On Centre Island in the Toronto Islands, this small amusement park has around 30 rides and attractions. It's a sort of starter amusement park for younger kids, with tame rides for children as young as 2 plus more adventurous options for school-age children like a kiddie coaster, bumper boats, and a log flume ride, plus mini-golf, pony rides, and a train that loops the park.
Far Enough Farm, Franklin's Children's Garden, and all of the Toronto Islands biking paths and beaches are right next door.
www.centreisland.ca
Centre Island, Toronto, ON (via ferry at 9 Queens Quay W.)
416-203-0405
4. Far Enough Farm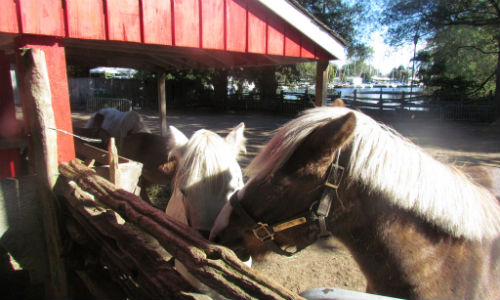 Photo: Andy Nystrom/Flickr CC
Kids can get up close to 40 different species of farm animals and exotic birds at this unique petting farm on the Toronto Islands, open daily year-round. See mini pot-belly pigs, emus, alpacas, cows, sheep, horses, and more.
www.centreisland.ca
Centre Island, Toronto, ON (via ferry at 9 Queens Quay W.)
No phone
Free
5. Toronto Islands
Photo: Canadian Tourism Commission
Even without Centreville or Far Enough Farm, the car-free Toronto Islands would be a fun destination for its biking trail, beaches, and picnic areas. A favourite activity: rent bikes on the island (including four-seater, four-wheeled quadricycles) and pedal the wooden boardwalk along the lake, stopping at beaches along the way.
Centre Island, Toronto, ON (via ferry at 9 Queens Quay W.)
No phone
Free
6. Franklin Children's Garden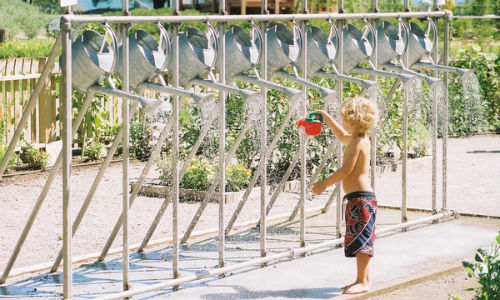 Photo: courtesy Toronto Parks, Forestry & Recreation
On the Toronto Islands, this interactive kid-oriented garden—inspired by the Franklin the Turtle book series by Paulette Bourgeois—is a cool way to commune with nature on a small scale. It has a hands-on garden with watering can fountain, a turtle pond, hide-and-seek garden with treehouse, a storytelling stage, and many bronze sculptures of Franklin and his friends.
www1.toronto.ca
Centre Island, Toronto, ON (via ferry at 9 Queens Quay W.)
No phone
Free
7. Toronto Zoo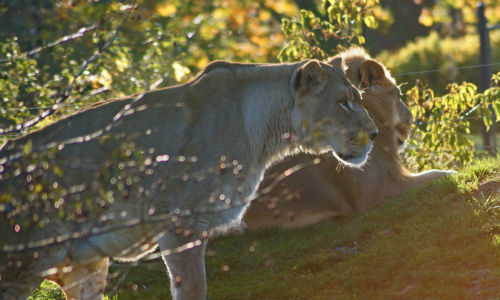 Photo: William Pichter/Flickr CC
With nearly 6,000 animals from 484 species, the 710-acre Toronto Zoo is divided into seven zoogeographic regions spanning the globe. You could spend an entire day here. When you arrive, be sure to check out the animal feeding times and showtimes and plan your route accordingly.
Especially for kids, the Discovery Zone includes Splash Island water park (with splash pad for young children) and the Kids Zoo, where children can interact with animals and explore a treehouse with two-storey slide.
Other highlights at the zoo include animal shows, giant pandas, and endangered African penguins.
www.torontozoo.com
2000 Meadowvale Rd., Toronto, ON M1B 5K7
416-392-5929
8. High Park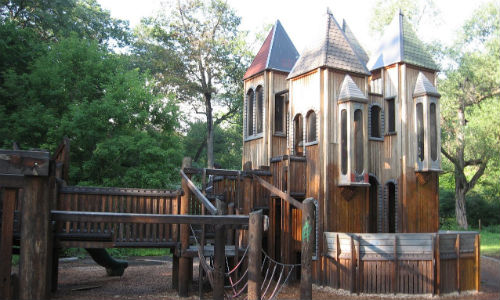 Adventure Park castle playground (Photo: Dan Thompson/Flickr CC)
The city's largest park, High Park is a prime attraction for people of all ages. It incorporates hiking trails, gardens, waterways, sports facilities, picnic areas, a dog park, a restaurant, and more.
Top attractions for kids include the trackless train, swimming pool, wading pool, and splash pad; Children's Garden teaching garden; the High Park Zoo, with animals like bison, llamas, and peacocks (plus bunny and chicken petting sessions on weekends), and the Adventure Park "castle playground"—one of Toronto's best playground for toddlers, pre-schoolers, and younger school-age kids.
For more info, see a helpful park map.
www1.toronto.ca
1873 Bloor St W, Toronto, ON M6R 2Z3
416-338-0338
Free
9. Black Creek Pioneer Village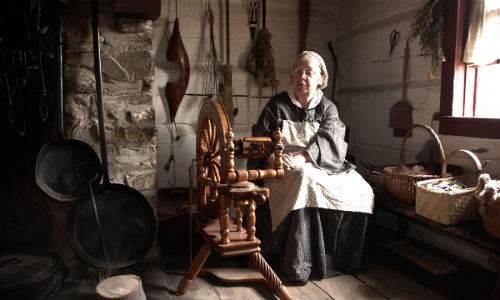 Photo: courtesy Black Creek Pioneer Village
This 30-acre living history museum re-creates rural Ontario village life in the 1800s with restored heritage buildings furnished with original furniture and artifacts and interpreters and "tradespeople" in authentic period dress.
Special attractions for families include the Country Kids' Trail, a tour with hands-on activities for young children. The village also has a shop with old-timey goods, a 19th-century-esuq restaurant, and frequent special tours and events.
www.blackcreek.ca
1000 Murray Ross Parkway, Toronto, ON M3J 2P3
416-736-1733
10. Riverdale Farm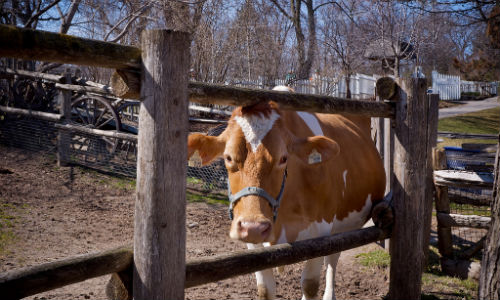 Photo: Matt Jiggins/Flickr CC
A tiny oasis in the city, this 7.5-acre historic working farm in Cabbagetown has chickens, pigs, horses and other barnyard animals. Wander the barns and corrals and walk a short wooded path. You can picnic in the park adjacent to the farm. Open year-round.
www1.toronto.ca
201 Winchester St., Toronto M4X 1B8
416-392-6794
Free
11. Canadian National Exhibition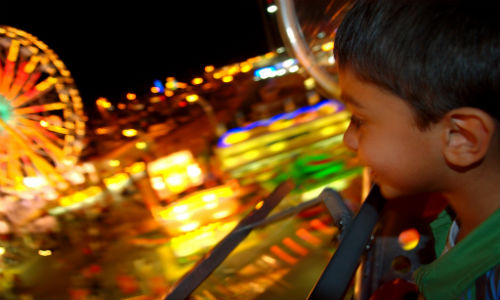 Photo: Ian Muttoo/Flickr CC
Every August, Toronto welcomes this three-week extravaganza with entertainment, carnival rides for all ages, games, food, and plenty of spectacle to the CNE fairgrounds or "the Ex" as it's called.
Each year brings exciting new shows and attractions; past years' shows have featured the Flying Wallendas, the Food Truck Frenzy, and HorsePower Live!, a horse show with barrel-racing, trick riding, and roping.
http://theex.com
210 Princes' Blvd., Toronto, ON M6K 3C3
416-263-3330
12. Ontario Science Centre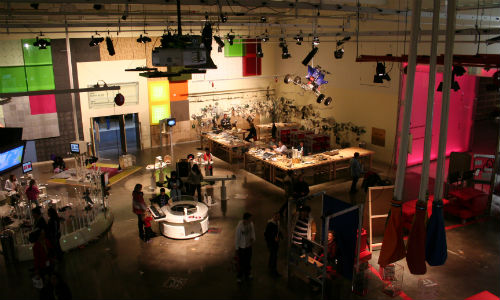 Photo: topquark22/FlickrCC
The perfect rainy-day (or too-hot-to-handle-day) destination, the Ontario Science Centre keeps kids and teens busy with hands-on exhibits like a build-your-own roller coaster station, a driving reaction test, a reproduction cave to explore, giant magnets, steel drums, a pint-sized shopping market for little ones, and more.
The OSC also has a planetarium and Omnimax theatre.
www.ontariosciencecentre.ca
770 Don Mills Rd., Toronto ON M3C 13T
416-696-1000
13. African Lion Safari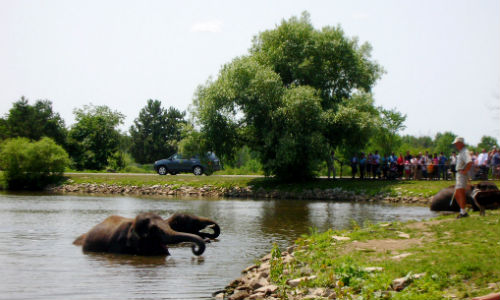 Photo: Sameer Vasta/Flickr CC
Go on safari in Ontario! Just outside of Toronto in Hamilton, this park has more than 1,000 exotic birds and animals of more than 100 different species.
Drive through a game reserve with free-roaming lions, zebras, giraffes, kangaroos, and more. You can also attend animal shows like birds of prey flying demonstration and elephants performing feats of strength.
www.lionsafari.com
1386 Cooper Rd., Hamilton, ON  N1R 5S2
800-461-9453 or 519-623-2620
14. City Beaches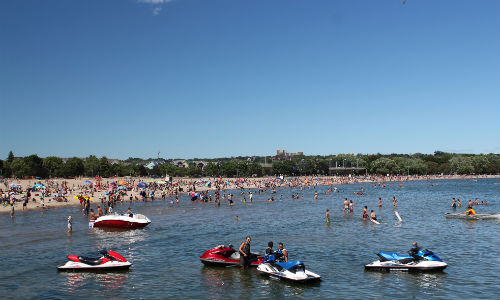 Kew Beach (Photo: Canadian Pacific/Flickr CC)
Toronto has many beaches perfect for sand castles, sand sports, and swimming. Eight of the city's beaches are certified under the international Blue Flag program, an eco designation for clean, safe, and well-managed beaches.
Our favourite beaches for kids:
Kew-Balmy Beach and Woodbine Beach in the Beaches for swimming and sand sports, biking on the boardwalk, and watching stand-up paddle-boarders and volleyball matches.
Bluffer's Park Beach adjacent to the Scarborough Bluffs for swimming, sand sports, scenery, and picnicking.
Sunnyside Beach on the west end for beachcombing, sand sports, and biking the waterfront trail.
The quiet, pristine beaches on the Toronto Islands for all of the above: Centre Island Beach (aka Manitou Beach), Gibraltar Point Beach, Ward's Island, and (clothing-optional) Hanlan's Point Beach.
Free
READ MORE LIKE THIS:
What do do when it rains? See our favourite Toronto rainy-day attractions for kids.
Follow our Why We Love Toronto For Kids series for the latest additions to our neighbourhood-by-neighbourhood top picks!
Pack your popcorn and lawn chairs and head out after dark with the kiddos for free family-friendly outdoor movies in the city.
Get tons of other ideas by searching our Fun Things To Do with Kids directory.
Sign up for our newsletters to get a selection of the latest and most popular Help! We've Got Kids articles, plus Toronto-area events delivered to you!