Bike riding is an awesome family activity and a great way to get around. Kids especially love cycling because it gives them a sense of independence and freedom.
It's fun, good for the environment, and helps you stay active and healthy – just make sure your kids know how to ride safely. When they're sharing the road with cars and trucks, you don't want to take any chances.
Here are some tips – from how to know if a helmet fits properly, to road rules and trail etiquette – to ensure you and your kids are ready to have a safe, comfortable, and enjoyable time cycling in Toronto and the GTA.
GET THE RIGHT GEAR
Bike safety starts well before you hop on your bike and hit the road. Kids need the right gear, and it must fit properly in order to be safe and comfortable while riding.
Bikes
Bikes can be pricey, so it's tempting to use big cousin's hand-me-down bike that your child will "grow into." That's fine, as long as you make sure it fits your child now so they can control it. You can adjust a bike's seat and handlebars accordingly.
If you're buying a new bike, ask the sales staff to show you how far they can be raised to fit a growing child. A bike fits a child properly when:
Both feet are flat on the ground when standing over the bike's frame, with a few centimetres of space.
The feet or toes can touch the ground when seated.
The rider can reach the handlebars with a gentle lean, not stretching too far.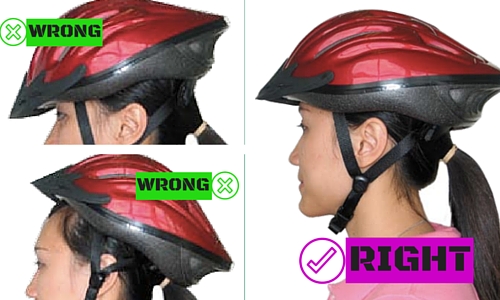 Helmets and other safety equipment
The most important safety rule for kids riding a bicycle is to wear a helmet – and it's the law! While adults aren't required by the Ontario Helmet Law to wear a helmet, it's strongly recommended for your own safety, and to demonstrate good bike safety for your kids.
A helmet is the best way to prevent brain injury and keep you safe in the event of a bicycle crash. But it's not enough to always wear a helmet – it has to be a helmet that fits, and your child has to be able to do it up correctly. Use the pads that come with the helmet to adjust the fit if needed.
Here's how to make sure a helmet fits properly:
To protect the forehead, the front edge of the helmet should be two fingers above the eyebrows.
The straps should meet in a V-shape right below the ears.
You should be able to fit one finger between the chin and chin strap (no more, no less).
The helmet should not shift around more than an inch in any direction (especially backwards).
Helmets are not the only bike equipment required by law! Bikes need a bell or horn, a white front light, and a red rear light or reflectors when you ride at darker times of day. Check out Cycling Skills: Ontario's Guide to Safe Cycling for details.
Though not required by law, bikes should also be equipped with a basket, water-bottle holder, and bike lock. You should also consider your child's skill and comfort level when choosing safety gear, such as training wheels and knee and elbow pads.
Clothing
Clothing can also help you stay safe on your bike. Wear bright-coloured clothes, so you and your kids are visible to drivers. Don't wear long or loose clothing that could get stuck in your bike chain. Always wear proper running shoes – no sandals – when riding, and make sure the laces are tied. If you plan on driving at dusk or in the evening, wear reflective clothing.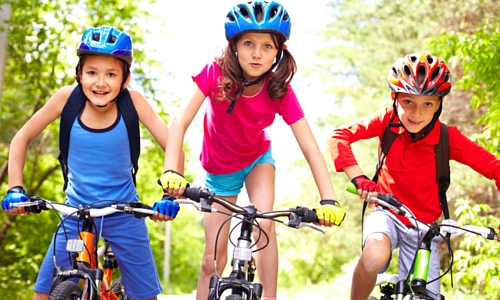 MAINTENANCE CHECK
Bikes need taking care of. If you're using your bike from last year, don't forget to go for a tune-up at the beginning of the season to get your tires pumped up, your chains lubricated, and your breaks and gears checked.
But an annual tune-up doesn't mean you're off the hook. Teach your kids to check their equipment every time they are about to get on their bike. Ontario's Young Cyclists Guide suggests the easy-to-remember ABC Quick Check; younger kids may need help with it, but older kids can do it on their own:
A is for air: Check to see if the tires have enough air and make sure they don't have any holes.
B is for brakes and bars: Make sure the brakes are working properly. There should be at least a two-finger width between the brake levers and handlebars when they're pulled, and the brake pads should touch the rim of the wheel, not the tire. Also check to see if the handlebars are loose by twisting them side to side and up and down.
C is for chain and crank: The chain should be on and lubricated. Spin the pedals backwards to make sure they spin freely.
Quick is for quick release: If your bike has quick release wheels, grab and shake the wheels to make sure it's not loose. The quick release handles should be firmly closed and pointing toward the rear of the bike.
Check is for a final check over: For one last check, lift your bike off the ground and drop it, listening for loose parts. Tighten anything that needs it.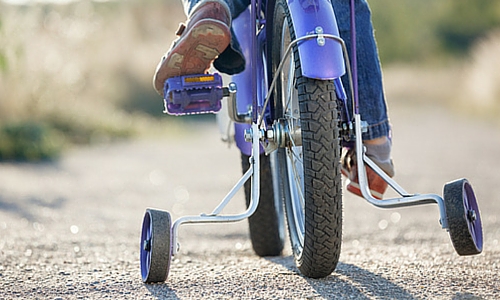 ON THE ROAD
Riding with kids
Before kids can ride by themselves, taking them on bike rides in child carriers is a great way to enjoy the outdoors together – but children must wear helmets and be in secure bike seats or bike buggies. Choose safe routes, like quiet residential streets and bike paths. When a young child is first learning to ride a bike, go on short trips in low-risk areas, like the park or around the block.
For longer trips with beginner bike riders, the City of Toronto suggests using a trail-a-bike on a bike trail. A trail-a-bike is like a child's bike that attaches to an adult's bike, so the child sits on the extension's bike seat, holding the handlebars and pedaling. This helps kids get used to biking. When you're ready to get biking, take a look at our list of Toronto's Best Biking Trails for Kids.
The rules of the road
Riding a bike is a lot of fun, but kids must remember that a bike is not a toy – it's a way to get around, just like a car, truck, or motorcycle. Because cyclists share the road with these other vehicles, they have to obey the same traffic laws and rules of the road. Teach your kids these basic rules of the road, even when cycling on a trail or sidewalk:
Stay on the right.
Ride the same direction as traffic.
Ride one metre from the curb (leave enough space in case car doors open).
Ride in a straight line (avoid weaving around parked cars).
Always stop at stop signs and red lights.
Check over your shoulder and yield to traffic coming from behind when turning left.
Use bike hand signals when turning or stopping (so drivers know what you're doing).
Stop for school buses when the red light is flashing and for pedestrian crossings.
When kids start learning to ride a bike, they should also start learning the rules of the road. Even if they're not riding alone or on streets yet, it's best to start them off with the right habits. Lead by example – always wear a helmet, stop at stop signs, and stay to the right, even on bike trails.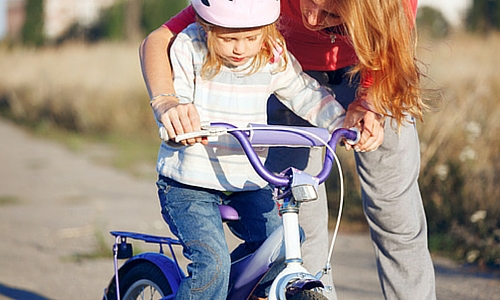 Careful, kids
The rules of the road apply to all cyclists, but it's a good idea for parents to set their own rules for kids, depending on their age, skill level, and comfort level. Make sure the rules are clear, and your child checks with you before heading out on a bike ride.
For all kids, the Canada Safety Council recommends these hard and fast rules for biking:
No playing on the road.
No riding on busy streets.
No riding at night.
Here are some other rules worth teaching your kids:
Always ride with hands on the handlebars.
Only cross at intersections, and walk your bike across after looking both ways.
Use bike lanes or bike trails when you can (The Toronto Cycling Map can help you find them).
Look over your shoulder regularly, especially before you turn (practice doing this without weaving).
Ride single-file on the street with friends.
Even if riding in a group, follow the rules and make your own decisions – don't just make a left turn because the person in front of you did without scanning to the rear first.
Stop and look left, right, and left again before entering a street.
When passing other bikers or people on the street, always pass to their left side, and call out "On your left!" so they know you're coming.
Plan your route before you head out.
Bring water and snacks for longer rides.
If your kids are biking alone or with friends, think about how far they're allowed to go, what kind of streets they're allowed to ride on, and how late they're allowed to be riding. Keep in mind that kids have the ability to ride a bike long before they can judge traffic conditions, car speed, and risk, so kids 9 years old and under should only cycle with adult supervision (or until you're comfortable they can ride on their own).
Kids 13 years old and younger are allowed to ride on the sidewalk, and they should do so whenever possible. However, while sidewalks may seem safe, they have hazards too. Whether cycling on the sidewalk, road, or bike trail, kids should always stay alert and watch out for these common hazards:
Puddles
Wet leaves
Uneven pavement
Storm grates
Curbs
Gravel or rocks
Parked cars (be especially wary of opening doors)
Cars backing out or pulling into driveways (even when riding on the sidewalk)
Pedestrians
Cars turning right (don't try to pass cars as you approach an intersection).
For more safety tips on cycling in Toronto, visit Toronto.ca. Have fun and ride safely!
Hilary Roth is a writer, educator and editor who works full-time in marketing and LOVES everything to do with kids. When she's not stumping people with her amazing riddles or playing mobile games, she can be found reading YA novels and cooking vegetarian food. Follow her on Twitter @hilroth12.
READ MORE LIKE THIS:
Keep informed with all our camps coverage and find the perfect summer or holiday camp by searching our Toronto & GTA camps directory.
Sign up for our newsletters to get parenting and family fun articles delivered to you!