In case you or your kids needed an excuse to chow down on a delicious, juicy burger, May is National Hamburger Month. What a perfect time to get out and try some amazing burgers with your family!
There are tons of burger joints in Toronto – from classic, fast food-style chains to trendy, gourmet bistros – but you already know that. What you need to know is where your kids can order a burger just as mouthwatering as yours, so you can have your burger all to yourself.
To help you out, we've compiled a list of Toronto restaurants with awesome burgers made specially for youngsters. While some have unique toppings and others are more about a flavourful patty, all these kids' burgers have one thing in common: something great going on between the buns.
Bareburger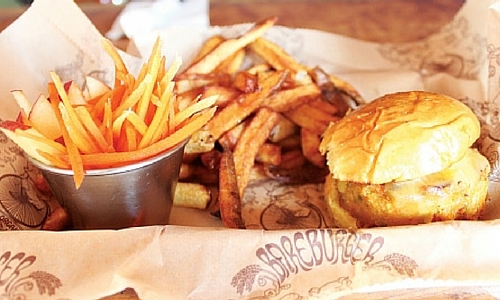 Image from Nation's Restaurant News
Boy are we glad a location of this quirky, New York-based restaurant opened up in Toronto. Boasting a "better burger," this organic, all-natural burger chain uses high-quality ingredients – and it's exactly the kind of burger you can feel good about feeding your kids.
The Cubby Fare menu's Grizzly meal lets kids choose between a beef or turkey cheeseburger on a delicious brioche bun served with apples, a side, and a drink. For adults, there is a wide variety of game meat patties, and with sandwiches, salads, and vegan and gluten-free burger options, there's something for everyone!
Bareburger, 111 Dundas St W
Wahlburgers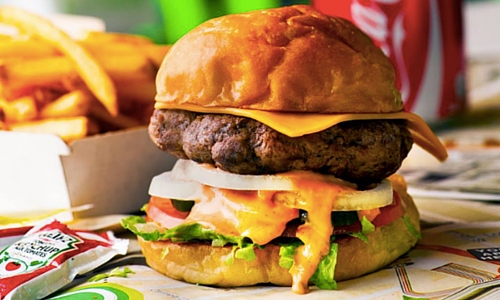 Kiddos might not know Mark and Donnie Wahlberg (or have watched the A&E reality series), but they'll fall in love with this cool, sports bar-like burger joint.
Whether dining in at the restaurant area or grabbing a burger to go from the quick-serve counter, kids can enjoy a seared, juicy, three-ounce "Smahlburger" cheeseburger, while Mom and Dad can choose from a myriad of specialty burgers, like the local Canadian special "Eh?" Burger, topped with peameal bacon, smoked cheddar, and a fried egg. Save room for sides – the tator tots and sweet potato tots are highly addictive.
Located in the SoHo Metropolitan Hotel, down the street from the Rogers Centre, Wahlburgers is perfect for some pre- or post-game grub.
Wahlburgers, 46 Blue Jays Way
The Ace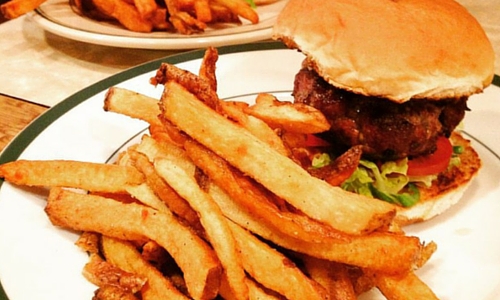 This renovated diner is known for its comfort food classics – and they're parent- and kid-approved!
The kids' burger, the Little Ace, doesn't compromise on quality; it's made with black angus beef and topped with cheddar, lettuce, tomato, and ketchup, and comes with a side of fries. Parents will love the country-fried chicken, steak frites or Xmas burger – a turkey burger with a stuffing centre.
The cozy and friendly atmosphere makes this place a family favourite in the Roncesvalles area.
The Ace, 231A Roncesvalles Ave
The Works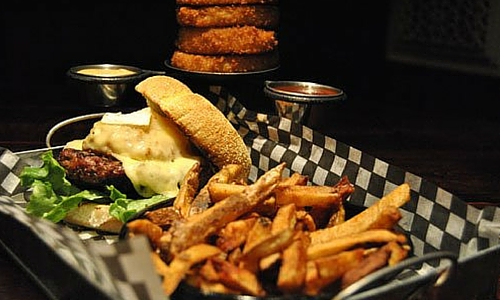 Everything about this Southern Ontario burger chain is a kid's dream – from the construction site décor, to drinking out of a measuring cup, to eating burgers topped with Kraft Dinner and peanut butter!
Adventurous eaters can top their beef, veggie, or chicken burger with a unique gourmet topping combo, and picky eaters can order a plain burger or cheeseburger.
Feeling envious of the awesome kids' menu selections? Don't worry, the extensive adult menu has a Gotta Be KD Burger and a Hunka Hunka burger, with peanut butter, banana, and bacon, just to name a few.
The Works, multiple locations
Woody's Burgers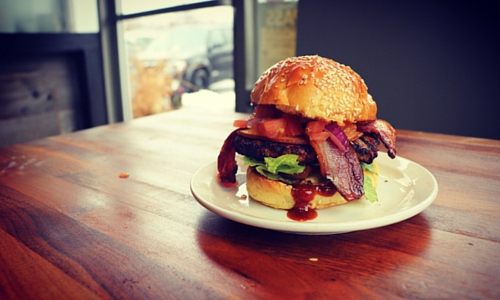 What makes this burger distinctive – and worth the trip to Etobicoke? It's delicious, smokey flavour, which comes from being made in-house daily and cooked on a wood-burning grill. These burgers are hot, juicy, cooked perfectly, and seriously tasty.
While little ones munch on the kid-sized 3.5-ounce beef burger with a side of Yukon gold fries, adults can go to town on some unique specialty burgers (or a classic burger with a few add-ons) and a craft beer, like Woody's Draught, brewed in Burlington.
Woody's Burgers, 3795 Lake Shore Blvd W
Burger Stomper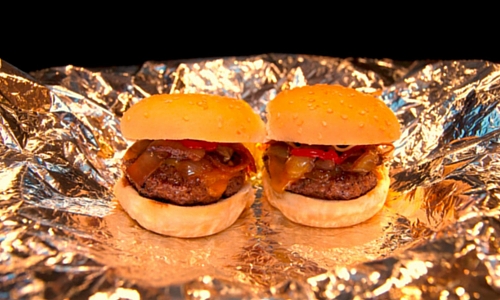 What's the perfect mini-burger for a mini-human? A slider! And that's exactly what kids get at Burger Stomper on the Danforth: two perfect little burgers for little hands to hold and little mouths to eat.
While there are sliders on the adult menu too, there's also full-sized burgers for more mature palates, like the Signature Truffle Burger, the Spicy Jalapeno Burger, and the Big Stomp, which has grilled-cheese buns. We recommend getting poutine and a shake to share with the family, too!
Burger Stomper, 364 Danforth Ave
Saturday Dinette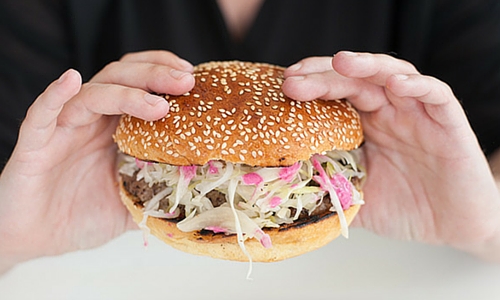 Image from BlogTO
You might already know Saturday Dinette for its 80/20 beef and lamb burger with cheese wafer and tamarind ketchup, but did you know there's a kid-friendly version? This quaint, modern diner in Leslieville serves up a yummy beef patty with its house ketchup for the kiddos during brunch.
There are also cocktails and spiked milkshakes, so parents can have just as much fun at brunch as the kids!
Saturday Dinette, 807 Gerrard St E
The Burger Cellar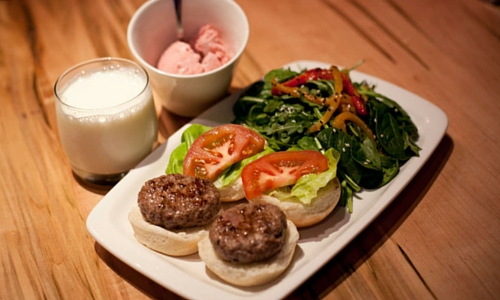 From the name, you can tell that this upscale spot specializes in burgers, and it doesn't disappoint. Located near Yonge and Lawrence, The Burger Cellar is classy but comfortable, and surprisingly family-friendly. Most importantly, the burgers are juicy and flavourful, including the sliders on the kids' menu.
It can get busy in the evenings, so make a reservation to avoid your hungry, hamburger-craving little ones having to wait.
The Burger Cellar, 3391 Yonge St
Jamie's Italian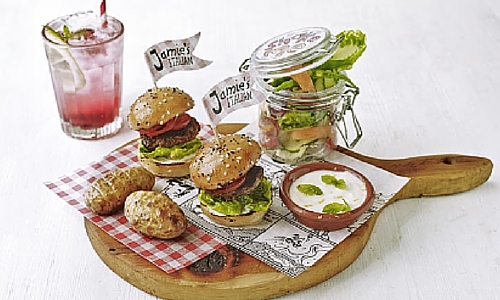 Celebrity chef Jamie Oliver recently opened up his first North American restaurant right here in Toronto at Yorkdale. The perfect place to grab a bite with the family before a movie, this casual eatery features Jamie's signature twists on classic Italian dishes – plus an awesome, standout kids' menu.
Kids can get two baby free-range beef burgers with lemony yogurt, tomato slices, and lettuce, served with baked hedgehog potatoes and a "shake-me" salad in a jar.
It's a little pricier than your average kids' meal, but totally worth it – all the kids' meals are hands-on and interactive, keeping little hands busy and tiny tummies satisfied.
Jamie's Italian, Yorkdale Shopping Centre, 3401 Dufferin St
Hilary Roth is a writer, educator and editor who works full-time in marketing and LOVES everything to do with kids. When she's not stumping people with her amazing riddles or playing mobile games, she can be found reading YA novels and cooking vegetarian food. Follow her on Twitter @hilroth12.
READ MORE LIKE THIS:
Keep informed with all our camps coverage and find the perfect camp by searching our Toronto & GTA camps directory.
Sign up for our newsletters to get parenting and family fun articles delivered to you!