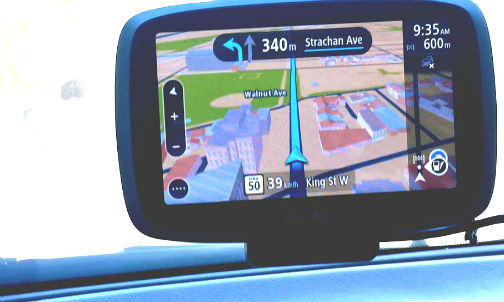 If you live and drive in a busy city like we do (hello, Toronto!), you know how much of a role traffic plays in your life. And we're not just whining here: Toronto is Canada's second-most congested city after Vancouver.
This is no fun when doing the after-school or after-daycare rush. When you've got just a few hours to spend with your kids before bedtime, the bottom line is that time spent stuck in traffic is time not spent with our kids. (Or it's not-so-quality time spent with kids losing it in the back seat! Been there too!)
We recently had the opportunity to test drive the newest TomTom GO 500 GPS unit as part of their #GetHomeFaster campaign and we were surprised at how much of a difference it made in our daily commutes and errand-running.
These were our favourite things about the TomTom GO 500:
The great big screen: We thought the screen would get in the way while driving, but it didn't. It did make it easy to see where to go at a glance.
3D building view: Even if you can't see the street number on the building, you get a quick visual to guide you.
Sensitive touch screen. The pinch, zoom, and swipe functions were all highly responsive and easy to do while driving.
Real-time traffic alerts. This is fabulous—you get the best route, updated in real time. It's paired with your smartphone via Bluetooth (no extra subscription fee), which was easy to set up. On a busy Saturday morning we encountered no traffic at all following the suggested routes.
Parking info. A huge help when running errands around the city. Not only did it point out where parking was, but it found free parking for us every time.
No annoying voice: Maybe we're taking it too personally, but other units' voice bots sound judgmental when informing us they're recalculating (*sigh*) after we made a wrong turn. The TomTom Bot is consistently pleasant.

Of course, nothing is perfect. The learning curve is a bit steep—at least, it was for us. If you're using a TomTom device for the first time, it's sort of like switching from Android to iPhone or vice-versa.
The bottom line is that we got to where we were going faster with the TomTom GO 500 and got around the city like a boss—avoiding traffic and construction and finding parking without a hitch. We'll be keeping this one!
Want to #GetHomeFaster?
You can win your own TomTom GO 500.
Enter here!
Help! We've Got Kids received a promotional TomTom GO 500 for review purposes. Our opinions are always our own.

READ MORE LIKE THIS:
Gearing up for summer day trips and weekends away? See our top 10 things to do in Niagara Falls with kids.
Keeping little ones busy in the back seat is no small task on a long car trip, but it can be done with these 21 travel toys and games for road trips.
Get off the beaten path! Here are 5 reasons to travel off the resort with kids!
Sign up for our newsletters to get the latest articles delivered to you!