If you haven't already, it's time to make the Little Black Dress your BFF. No longer reserved only for special events (or simply for hanging in your closet), this versatile frock can be pulled out for pretty much any occasion, and we're going to prove it by styling it in five different ways for five different occasions.
From playing in the park to a day at the office to a romantic night out; this simple LBD will take the guesswork (and the work!) out of getting dressed, even in these weird-weather (read: hard-to-predict) days.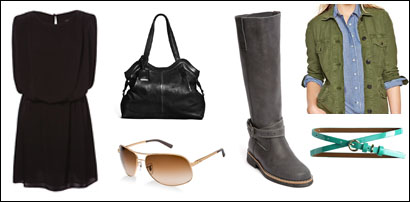 Brunch
Sunday Brunch calls for a sense of comfort and fashion tied together with a need for food and coffee. You can go out in your jeans and a sweater or you can dress it up a little in an LBD, properly styled. We say go for the dress and enjoy the looks you'll get in it.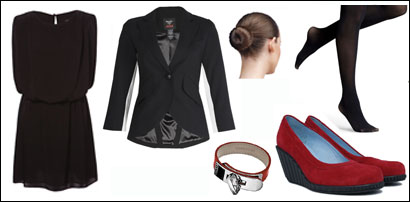 Girls Night
While we know we don't have to try hard to impress our BFFs, it's always nice to make an effort. A jacket does the trick without taking a lot of work and these shoes will definitely be comfy while still turning heads. We also love the simplicity of pulling our hair up into a neat but stylish bun with our handy bun-maker.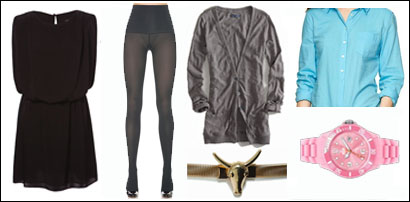 Work
Wear a Little Black Dress to the office?! Why not? Pair it with a shirt and belted cardi, and a cute watch so you don't run long on your coffee break and this LBD style will wow your co-workers.
Park Play Date
Wear a dress to the park. We dare you. Once you figure out that you can run, lift, carry, kick (balls, not kids!) and dodge just as easily — if not more easily — in tights than your jeans, you'll never go back.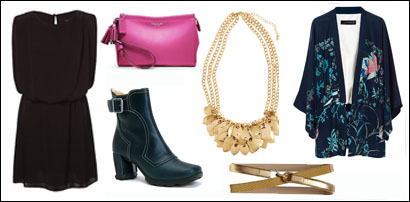 Date Night
Keep it sexy. Keep it simple. No need for anything uncomfortable for a romantic night out with your man. He likes you just the way you are — but wearing a pretty, flowy kimono top over an LBD and sensibly heeled (gorgeous) boots certainly doesn't hurt.
Did That Help!? You Might Like These: