With the holidays suddenly upon us (weren't we just shopping for Halloween costumes?) we don't want to be at a loss for cute outfits for our tykes this year for all those picture-perfect moments. We've rounded up a few great holiday looks for boys, girls and babies, so you can sit pretty with your wee ones without a hitch.
Dressy Boy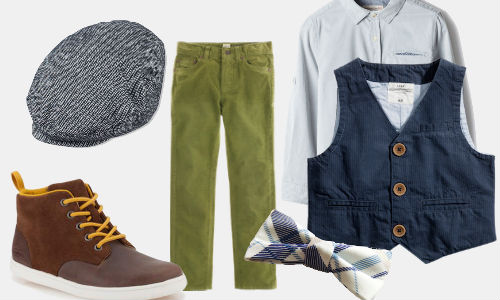 You shouldn't get any grief getting him glam with these duds for little dudes. These dressy leather high-tops are practially sneakers and you can make a "no suit jacket" promise with a dapper cotton waistcoat instead, layered over a simple button-up Oxford shirt. For a festive flair, opt for pants in a bold colour like these palm-green slim-leg cords. Accessorize with a patterned or plaid bow tie and watch the flash bulbs fly! (No way your little man will agree to a bow tie? Try a collarless button-up shirt instead.)
Dressy Girl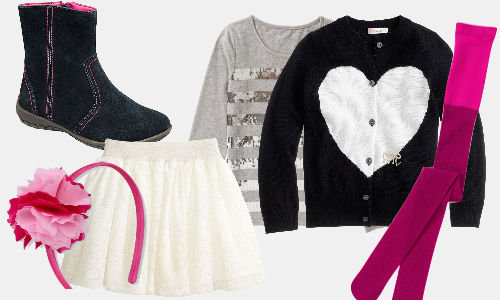 What is more fun than dress-up? You could do a party dress, but you can get more longevity out of holiday-wear by pairing a sweet cardigan that'll be worn again and again with a glittery tulle skirt that can be dressed down on later occasions with a long-sleeve tee and high tops. A sequin pattern t-shirt under the cardigan gives just the right amount of sparkle and fuchsia sparkle tights and a bright chiffon headband add pops of colour. Suede booties are a warm, stylish alternative to Mary Janes and will get plenty of wear through the winter months.
Dressy Baby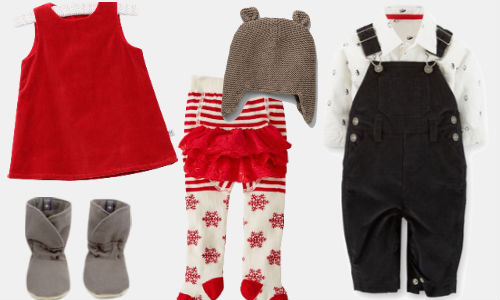 It is oh, so thrilling to go beyond sleepers for an evening and get them into a cute-as-a-button, festive outfit. For a little girl, you can't go wrong with a simple, velvet A-line dress. With a pair of ruffle-bottom snowflake tights she's almost too cute to handle. Both baby boys and girls can rock these comfy-cool booties and knit bear hat. And what better excuse than the holidays to dress your little guy in a snazzy poplin shirt and overalls combo? So sweet!
Casual Boy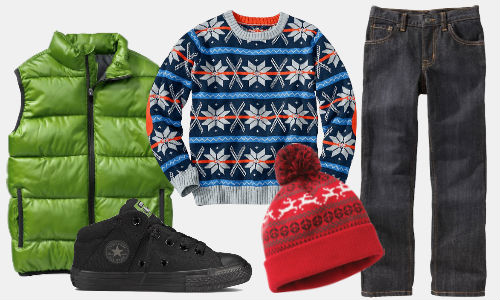 Out on the yard, it's so important to stay toasty warm yet continue to look super cool. This outfit is as rough-and-tumble as it is camera-ready. A Swedish-print sweater pairs nicely with casual skater-style jeans and goes-with-anything black-on-black Converse Chuck Taylor Axel "mid-tops". Layer on a colourful quilted vest and a wintry reindeer toque for the complete package.
Casual Girl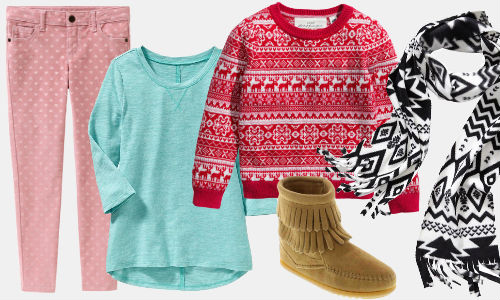 Mix and don't-match patterns? Yes, please! Try a wintry pattern like this red reindeer sweater from H&M with a super-soft basic heathered tee underneath. Heart-print corduroys pair nicely with the all-the-rage fringed booties that'll get tons of use. Finish it off with a patterned accessory like this fair-isle print scarf and your little stylista is ready for her close-up!
Casual Baby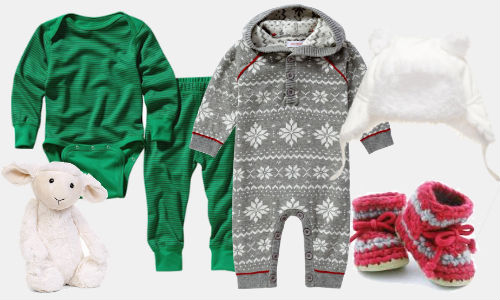 It's all about layering uber soft pieces to up the toasty factor without limiting babe's movement. A Nordic hooded one-piece is easy, warm and oh-so-festive. Underneath you can wear one or both pieces of these Capilene mid-weight base layers from Patagonia. Keep little toes safe from Auntie Liz's nibbling with these Canadian-made Padraig Cottage knit slippers and ears safe from the chill with a snuggly sherpa-style fur hat. With all the holiday hooplah, a super-soft lovey might be just the thing to calm your little one at naptime.
Read more:
This article was first published in December 2012, updated in December 2014.