Halloween can be a lot of fun, but the sugar…it can be overwhelming. Here are an unlucky 13 non-candy Halloween snack ideas for spooky parties and ghoulish get-togethers.
1. Deviled Egg Eyeballs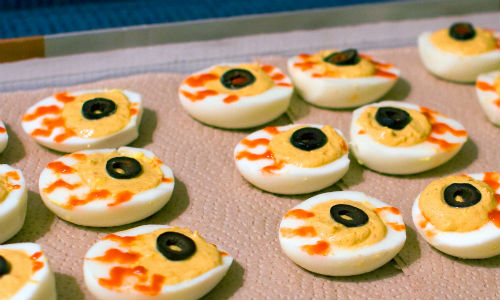 photo: Colin and Sarah Northway/Flickr CC
Deviled eggs make for amazing eyeballs. You could use ketchup instead of hot sauce here, and even add a red pimento in the centre of each pupil for added effect. Check out this green-eyeball-version at Susi's Kochen und Backen Adventures for instructions and a recipe.
2. Monster Teeth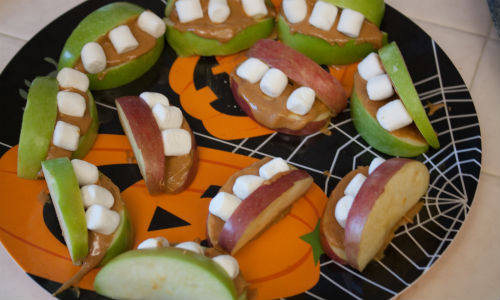 photo: Tim Bellomo/Flickr CC
We love this easy and mostly healthy snack. Just three ingredients: apples, peanut butter (or no-nut butter) and mini marshmallows.
3. Mummies-in-a-Blanket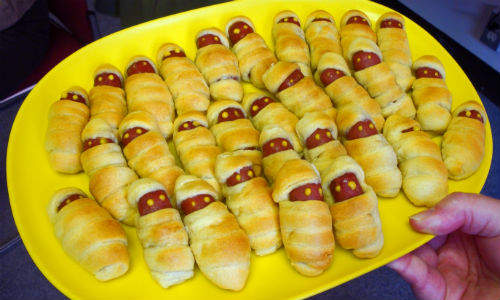 photo: Lisa Bunchofpants/Flickr CC
This take on pigs in a blanket is simple to do with packaged puff pastry and can be made with veggie hot dogs, too. Mustard or ketchup eyes provide the final touch.
4. Lychee Eyeballs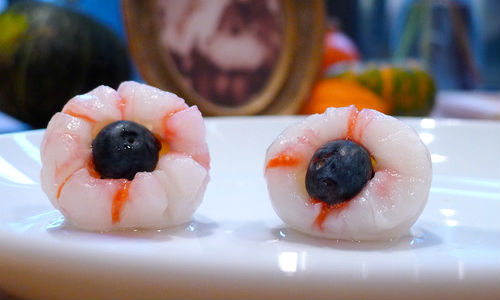 For a healthy gross-out snack, try these lychee eyeballs from Sonali at Suitable for Vegetarians. Kids who've never seen a lychee before will be incredulous. Serve them alone or in a glass with the Halloween punch.
5. Spider Crackers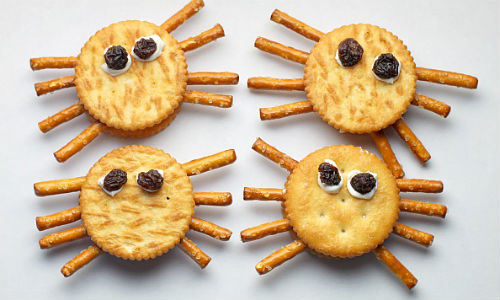 Think you're not crafty? These cream cheese and raisin spider crackers are so easy a pre-schooler can (and did!) make them. Get the recipe from Katie at La Jolla Mom.
6. Witches' Fingers Breadsticks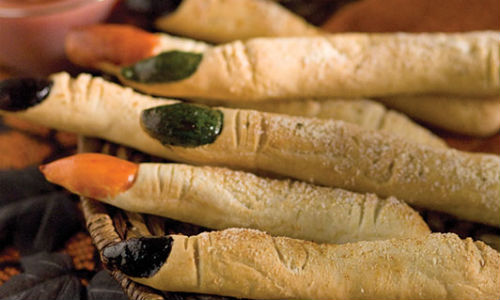 These fingers give us the creeps, so we know we're on the right track! They're made with frozen bread rolls, so it's a fairly no-fuss operation. This version of witches' fingers, from Rhodes Bread, are painted on with food colouring, but you could also use blanched almonds or pumpkin seeds as nails.
7. Spooky Yogurt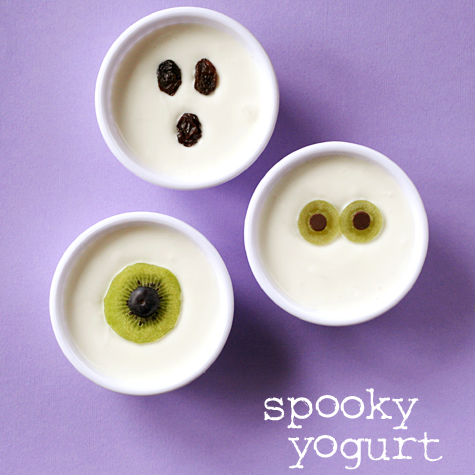 No time to make something? Try this Spooky Yogurt from Lisa Storms. Yogurt in cups with fruit eyes. Adorable, and could it get any easier?
8. Kiwi Frankenstein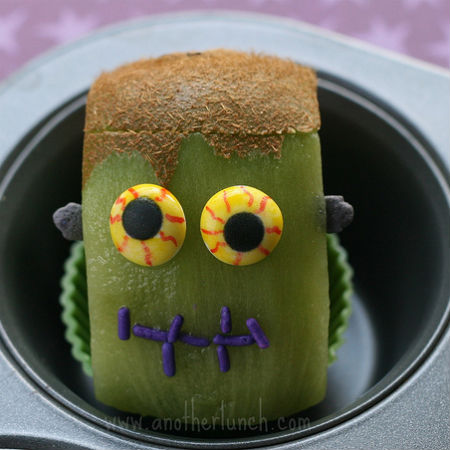 We are simply blown away by this cute yet fearsome "Kiwistein" from Melissa at Another Lunch. Techncially the details are made with sprinkles which is technically candy, but for the most part, this guy is all fruit. Love how the kiwi peel is incorporated into the design as hair.
9. Skull Veggie Platter
Want to make the veggie tray more appealing? Increase the fear factor. You can carve a cauliflower skull, make a skeleton out of bell pepper strips, and shape your carrots into a jack-o-lantern pattern. See an inspirational video tutorial.
10. Spider Web Dip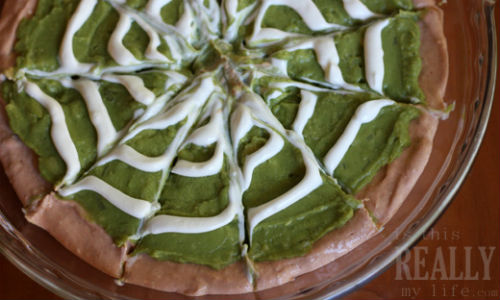 What's a party without taco dip? This Halloween-themed dip is a great idea and looks delicious. Get the recipe for the dip and tortilla bat chips from Emily at Is This Really My Life? (We'd suggest adding a black-olive spider or two!)
11. Banana Ghosts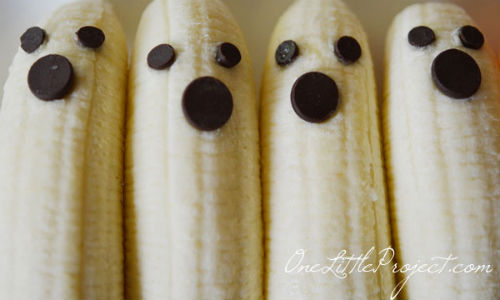 These must be the biggest return on your investment ever. These adorable ghosts are healthy, inexpensive, and easier than pie to make. (The eyes and mouth are chocolate chips.) Ontario blogger Debbie from One Little Project at a Timehas all the details.
12. Clementine Pumpkins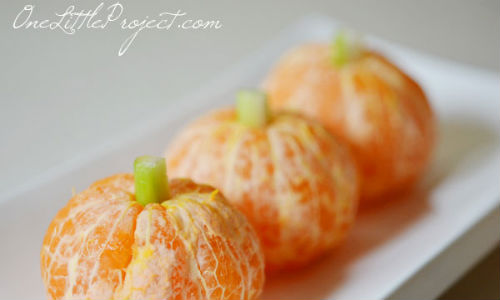 We'll go out on a limb and call whoever came up with this idea a genius. These unbelievably easy and healthy "pumpkins" are made with whole clementines and celery sticks. Amazing. Debbie from One Little Project at a Time made these lovely versions.
13. Cheesy Witches' Brooms
These crafty pretzel-and-cheese brooms—tied with chives—will get you major cred around the snack table. See the recipe at Cocina Con Catman (find the English below the Spanish.
More Halloween fun! Make your own costume with 11 Cute DIY Kids' Costumes or find out Where to Buy Halloween Costumes for Kids in Toronto.