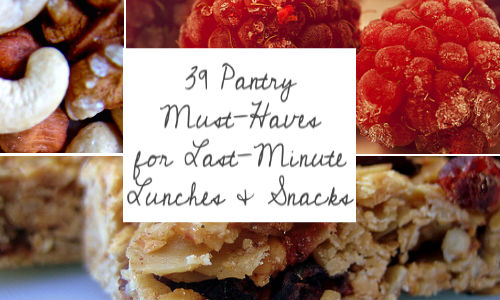 photo: adapted from Hellebardius, Mike Hiatt, and MGF/Lady Disdain.
It can be a scramble to pack kids' lunches and snacks for school. More often than not, we end up doing it the night before or (yikes!) in the morning.
Armed with this checklist of buy-ahead healthy pantry essentials (and some long-lasting fridge and freezer items), you can throw together a healthy lunch and snacks kids will love at a moment's notice.
A good rule of thumb is to aim to cover all of the main food "groups". Eat Right Ontario recommends each lunch contain veggies, fruits, grains, dairy (or alternative), and meat (or alternative).
Here's a handy reminder of the elements to include in every lunch:



Now, on to the list of essentials!
39 Must-Haves for Your Healthy Home Pantry:
Protein
canned beans: chick peas, black beans, pinto beans, etc.
almond butter, peanut butter, cashew butter, etc. (if your school allows it)
sunflower seed butter or other no-nut butter
shelf-stable tofu (e.g. Mori-Nu)
almonds, cashews, pistachios, walnuts, peanuts (if your school allows nuts)
hummus: Summer Fresh makes individual hummus mini-packs, or just scoop some into a small container
Calcium
yogurt cups
cheese slices or cheese sticks (go for real cheese; avoid "cheese product")
cream cheese
canned salmon
canned tuna
canned sardines
white beans
dried figs (really!)
almonds
soy milk in individual-size drink boxes
Grains
whole-grain tortillas, pita, bagels, and/or bread (freeze ahead)
corn tortillas (freeze ahead)
whole-grain crackers
rice cakes
whole-grain cereal: unsweetened, or minimally naturally sweetened
whole-grain muffins (freeze ahead)
Fruits & Vegetables
These are hard to stock up on and must be purchased weekly. Apples and pears are good bets for longer-lasting fruits. Here are some staples to keep on hand when you run low on fresh produce:
frozen fruits: berries, peaches, grapes, mango, papaya, cherries
frozen vegetables: peas, corn, edamame, broccoli, squash
frozen smoothies: make ahead and use as a cooler pack and fruit/veg serving. Some make-ahead smoothie ideas from Jill Dubien at Meet the Dubiens.
applesauce (just apples—no added sugar or other "junk")
Ready-Made Snacks
raisins, dried cranberries, dried apricots, dried apple rings, and other dried fruit
banana chips
granola bars or other snack bars (Lara bars are a favourite, since they're just nuts and fruit with no added ingredients)
fig bars
beef or wild-game jerky (chemical-free variety) or Primal Strips (vegan jerky)
kale chips
sesame sticks
pretzel sticks
graham crackers
trail mix (if your school is nut-free, bulk up your mix with seeds and whole-grain cereal)
popcorn
individually wrapped dark-chocolate squares
Read more like this: