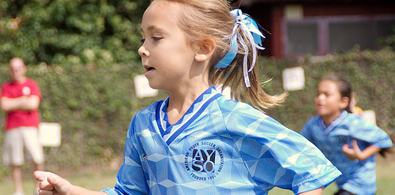 Does your child dream of becoming an elite athlete? How can you recognize that your child has what it takes to become the best?
The most important factor is that your child loves the sport and is motivated to participate. Others can't push them, the determination and will to succeed has to come from within.
Does your child have natural talent for sports and their athletic ability stands out among the rest? Talent is one key ingredient but it's not the whole package. They need to have the mental determination to never give up and push themselves through the pressures of competition and success and failure.
How can you nurture your child's talent? A parent plays a huge role in their child's athletic development. A good support system is crucial from their teammates, coach, family and friends. As a parent, you must ensure that your child is in the right hands. You need an expert coach who has the skills to take your child to elite levels and who can be a mentor, a coach and a friend. A good coach will teach the most up to date modern techniques and provide a well-rounded challenging training program.
What does it take to become an elite athlete? Most people wonder what separates Olympic champions from other athletes. The Olympians are where they are today only because they never gave up and gave 100% whether it's in practice or in competition.
Practice makes perfect! Those who succeed have an incredibly strong work ethic. They bring that one extra degree of determination. As many Olympians say, they believed in themselves and believed they could become the best; the mind is a powerful tool.
Hockey and figure skating, as examples, are very unique sports and with proper training will develop a well-rounded athlete to succeed not only on the ice but also in all other sports. Skating will build their balance, strength, flexibility and agility and full body awareness. Your child will have the building blocks to excel in all different sports and build confidence that will last a lifetime.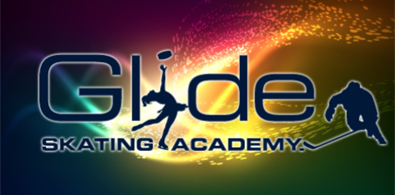 Glide Skating Academy
If you want to learn to skate for pleasure or you want to pursue a hockey or figure skating career at a competitive level, our school has the programs that are right for you. All of our coaches are highly qualified with NCCP certifications, First Aid and CPR training, along with many years of experience competing and coaching at elite levels. These qualities provide the knowledge, love and passion needed towards teaching and creating an inclusive, positive learning environment. Our technically based instruction utilizes hands on skill correction to produce the highest level of skill development which makes our school stand out from the rest.
Our Goals
To Create a fun, safe and challenging skating environment for skaters of all ages
To promote a healthy and active lifestyle which will improve physical fitness in all our athletes
To teach the correct skating technique using our hands on and skill correcting approach
Each skater will learn to set goals and strive to reach them while developing confidence in themselves and their skating abilities
To attract skaters of all ages and have them fall in love with the sport just as we have
Each skater will develop a solid foundation to pursue hockey or figure skating at an elite level
What Makes Us Different
NCCP Certified coaches on staff
First Aid and CPR Certified coaches on Staff
Small group ratio 5:1 (5 students to 1 coach guaranteed)
Our coaches are always dedicated to learn the most up to date skating techniques whether its for hockey or figure skating