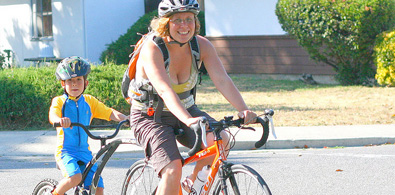 Biking as a family is great exercise and green, clean fun. But it can be dangerous if you don't have the right equipment or if your child isn't ready for a particular ride.
A few tips for planning a biking trip or an entire biking vacation:
1. Bike is too big
Consider the age of the kids, their interest in cycling, and their biking ability. Decide how far you want to cycle each day. Do you want to go mountain biking or touring? Straight, paved roads or rough terrain? A self-guided trip or assisted tour? Check weather conditions before you leave. If you're going on a biking vacation rather than just a simple day trip, remember to plan somewhere to stay and eat. Plan a route that isn't boring, and try to end each day at a unique location, or combine the trip with other activities kids find fun, be it culture, nature or other sports.
2. No helmet
And by this we mean for your child and you! Whether you're an experct cyclist or not, you can't prepare for all the vehicles, cyclists, and pedestrians around you. And an injury to you does your child no good. Be smart, be a good role model, and wear your helmet. Kids under 18 are required by law to wear a helmet. It should fit snugly and not move to side to side, but it shouldn't be so tight it hurts, either.
3. Lack of safety gear
By law, all bikes must have bells and, after dark, front and back lights. Make sure your bike and your child's have reflectors. It doesn't hurt for kids learning to ride to have knee and elbow pads.
4. Not obeying (or not knowing) the laws
Did you know, for instance, that kids can generally cycle on sidewalks, but adults can't? Brush up on cycling laws and hand signals. Don't take one-way streets the wrong way, breeze through stop signs, etc. Take extra precautions when you're cycling with your child. Teach the kids road rules and trail etiquette too. If possible, ride one adult in front, one in back.
5. Failing to maintain equipment
Keep all bikes well-maintained and check them before you leave (each day). Get a tune-up at the beginning of bike season and keep bike chains lubricated and periodically check your and your child's brakes. Obey all traffic laws.
6. Wardrobe malfunctions
Be sure kids' clothing is snug-fitting so it doesn't get caughte on gears or pedals. Wearning brightly coloured clothing is an added precaution.
7. Not doing your homework
Know the route you're taking, and how busy it is. Be sure you're confident with your child's abilities (see Toronto Emergency Medical Services tips on bicycle competence for kids) with regard to the upcoming ride.
Have fun, be careful, and enjoy the great outdoors!
Biking in Vancouver
Biking in Calgary
Biking in Ottawa
Biking in Toronto
Image Credit: Richard Masoner / Cyclelicious/Flickr