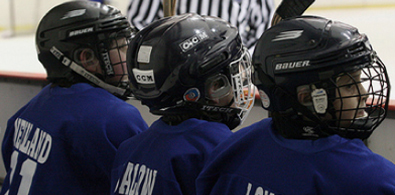 1.  Children and teenagers are more susceptible to concussions than adults.  Long-term consequences of concussions include reduced cognitive function, depression and dementia.
2.  There is an abundance of solid medical evidence which proves that body checking is the single most consistent risk factor for injury to minor hockey players.  Body checking is associated with between 46% and 86% of injuries in minor hockey. The top 3 injuries incurred are concussions (45%), knee sprains, and shoulder dislocations.
3.  Renowned medical organizations such as the Mayo Clinic, the Canadian Paediatric Society, and the American Pediatric Association endorse the action of removing body checking from minor hockey.
4.  Boys play hockey for fun above ALL else. More than 99% of children who play Rep or Tiered hockey in Canada will not have professional hockey careers; after their minor hockey experience, they will play in recreational, non-hitting leagues. (non-professional adult hockey players do not body check:  it is too dangerous).
5.  Hockey Canada continues to debate the issue.  They maintain that body checking is a required skill for players entering into professional hockey careers.  In fact, when body checking is removed from game play, the skill and development actually goes up. The "body checking is part of the game" retort is typically launched from the uninformed, or nostalgic.
6.  The volunteer system of hockey results in gaps in the ability to manage and mitigate potential injury situations, leaving the children at even further risk
7.  Many boys leave hockey because they do not like the body checking game. As 30% of Canadian youth are overweight or obese, keeping children active should remain a key goal. We want our boys to be players, not spectators.
8.  Hockey Canada's Mission Statement is "Lead, Develop, and Promote Positive Hockey Experiences".  Hockey Canada believes " In a positive hockey experience for all participants, in a safe, sportsmanlike environment."  Yet, Hockey Canada endorses the introduction of body checking in children ages 11.
9.  A group of concerned citizens has formed a group called Safer Hockey in Canada.  Their intent is to disseminate recent medical findings which link body checking in hockey to increased concussions in children.  They are also petitioning Hockey Canada to provide a safe playing environment and remove body checking from all levels of Pee Wee (ages 11-12) and Bantam (ages 13-14) hockey in Canada.