© Lumina Photography 2017
Who hasn't dreamed of running away with the circus? Circus programs are an excellent way for kids to explore a fun and creative variety of fitness in a non-competitive environment.
Here are five reasons to consider a circus program:
1. Circus is high-energy fun!
The circus is the place where kids are encouraged to jump, climb, tumble, swing, juggle, twirl, and clown around. It's a great way to offset more sedentary academic programs or relieve stress. Circus can be a breath of fresh air—a chance for kids to use their imagination and get silly.
2. Circus boosts self-esteem.
All body types are the "right" type here and with so much variety in circus, every child discovers strengths and challenges. Some kids take to aerial apparatus right away, for example, but find juggling more difficult. Others excel at ground-based disciplines such juggling, hula hoops, or floor acrobatics more quickly.
Circus can be a little scary at first, but there is a great sense of accomplishment that comes with conquering fears and achieving goals. Instructors with professional circus training can help kids safely tackle challenging skills. Afterward, kids (and their parents) are often amazed at what they can do.
Plus, once kids learn the proper technique, how they show off each new trick is up to them: they can let their individuality shine!
3. Circus is athletic yet non-competitive.
Circus is about self-improvement and working with others rather than competing. Instructors should be able to recognize each individual child's interests and work within—or slightly outside of—their comfort zone to challenge them on an individual level.
At the Toronto Circus Centre, for example, instructors work with kids to create individual circus acts based on their interests—juggling, floor acrobatics, aerial acrobatics—while also encouraging positive social skills and teamwork in creating group shows. They even help more serious students train and audition for for bigger goals, like Montreal's École National de Cirque.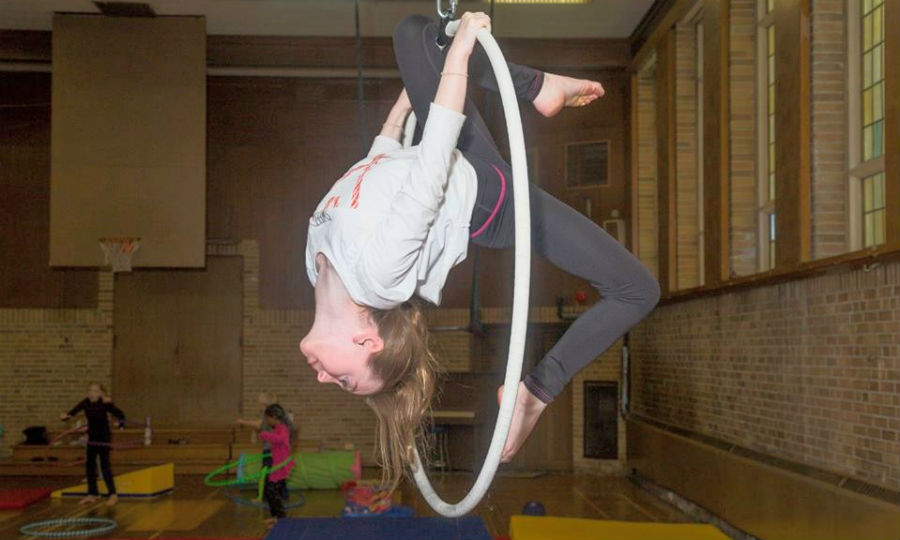 © Lumina Photography 2017
4. Circus training benefits other sports, too.
You know how football players study ballet to improve agility and grace on the field? Circus has a similar result! Circus trains balance, co-ordination, strength, agility, flexibility, and spatial and body awareness. The feeling that comes from being able to lift your own body and know where it is in space is quite liberating.
5. Active kids do better in school.
Looking for better academic focus? Get your body moving!
Research shows that children who engage in physical activity have more active brains. In one study, after 9 months in a physically active after-school program, children's memory tasks improved by 16%! Teachers also reported a 21% decrease in the amount of time spent addressing behaviour issues in class.
Interested in trying a circus program in the Greater Toronto Area? Browse the Help! directory to find one near you.
Jen Georgopoulos is the owner and director of Toronto Circus Centre. She has 25 years of experience in children's programming. Jen has a degree in kinesiology and is a personal trainer, a TV and film stunt performer, and an accomplished professional circus artist who has been invited to work with the world's top circuses.
This post has been brought to you by the Toronto Circus Centre, but the opinions expressed are our own.
Sign up for the Help! newsletter to see what's coming up each weekend in the Greater Toronto Area.