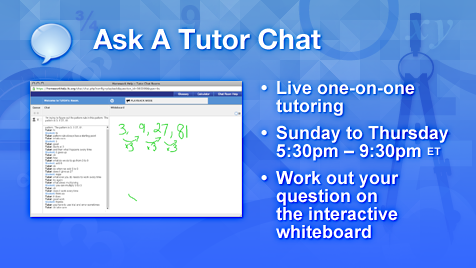 Is your child preparing for a math test, but isn't too sure of the material? Want to help but it's been years since you did this math, and your brain is drawing a blank?  If yes, then the Homework Help  free tutoring service is for you.
When we heard about it, we felt we needed to  share it, as we are well aware how difficult homework battles can be. Especially if one or both you don't understand the subject!
Homework Help is Ontario's free, online math tutoring website for Ontario students in grades 7–10.  It provides free, live one-on-one tutoring with Ontario certified teachers five days a week, Sunday to Thursday from 5:30 pm to 9:30 pm ET.   
Tutors work together with students on a shared screen until students understand their math homework. 
Homework Help is a program funded by the Ontario government and administered through TVO's Independent Learning Centre (ILC).
Register today for a free account to access free tutoring. Students attending a publically funded English board, can register quickly and easily with their Ontario Education Number (OEN) and date of birth. Educators, parents, and guardians are welcome to use the site.   
French support is available through SOS Devoirs.
We all know how important math is for the future of our kids… so if you're struggling, we recommend you give this a try!