When the sun finally peeps out and the birds are chirping, it's safe to say spring has finally arrived!
After a long and cold winter spring is its own reason to celebrate, but if your little one has a birthday in spring then there's even more reason to have a party!
We've got you covered with some great craft ideas and easy DIY projects for the perfect spring birthday.
Invitations
Why not go green in spring, with an e-mail invite? You can download a free spring-birthday invitation template.
If you prefer sending actual invitations in the mail, you could print the details of the invite onto paper (try plantable seed paper) and glue them to foam or paper flowers, available at dollar stores and craft stores.
Setting the Scene
These days, floral crowns are all the rage and they go perfectly with a spring-themed birthday. Making them is actually easier than you might think and most of the supplies can be purchased at a dollar store (or craft-supply store).
You could either make them in advance, one for each of your guests or you could just make the crown and have your guests glue or wrap flowers on themselves.
Wonder Forest has a great DIY flower crown with silk flowers.
Decorations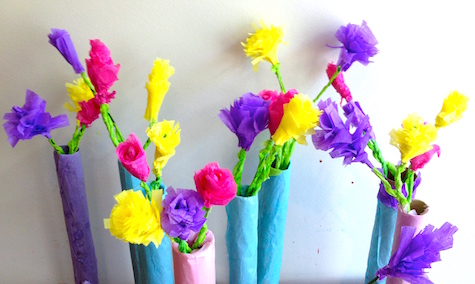 You can easily turn your home into a beautiful garden with just a couple DIY projects. For starters you can make tissue-paper flowers in a variety of sizes and colours. Check out this great tissue-paper flower tutorial from Jamielyn at I Heart Naptime, with step-by-step instructions.
You can also purchase vines of fake flowers from the dollar store—they come in all sorts of colours and have small green leaves which give them a realistic look to them. You could hang them around your house like streamers, or get creative and hang them from the ceiling.
Many dollar stores also sell a variety of butterflies, which could be hung all over or placed on the back of chairs.
Games/Entertainment
What's a birthday party without a craft? Depending on the age of your guests you could have them make their own crepe-paper flowers. Martha Stewart has a great how-to guide to making crepe-papers. For younger guests, tissue paper flowers are probably the easiest.
Or perhaps the kitchen is more your element. If that's the case you could make sugar cookies either in advance and then have your guests decorate them with edible flowers. Check out the Seasons Family Centre blog for instructions on how to make edible flower cookies.
Food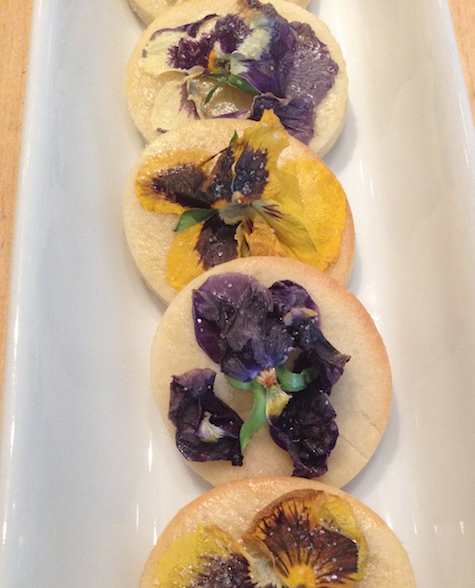 The key to making any food fit into your spring-themed party is to have fresh flowers on the table.
Adding edible flowers to your dessert will really tie in the theme, you could put them on top of a cake or cupcakes. You could also serve bite-size sandwiches and use butterflies or flower cookie cutters to cut them.
If you've got the time and energy, you could make your own fruit bouquets (see step-by-step fruit bouquet instructions by Angela at Eat Spin Run Repeat) and have them out on the table.
Loot Bags
Send your guests home with their own little pot, soil, and some seeds and let them grow their own springtime plants. You can easily purchase clay pots, soil and even the seeds from the dollar store; however, getting a bit higher quality of seed may be a good idea.
You can also wrap up the little pots with some cellophane. Or you could send the pots home with some paint and brushes and let kids exercise their creativity.
Looking for a professional to handle the planning, decoration, or entertainment? Check out kids birthday party planning resources in the Toronto area.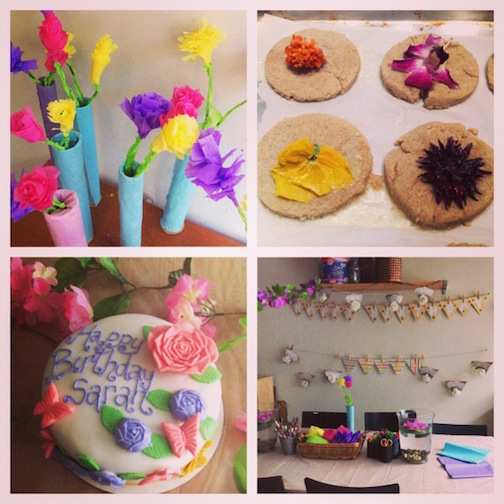 Nikki Goldman Stroh is a Toronto mom of one (with another on the way!) and the director of Seasons Family Centre for creative-based kids' classes, programs, and camps. She is a registered Canadian art therapist