Planning an outdoor birthday party for summer or early fall? These 20 awesome party ideas and party themes are inspired by real-life moms and party planners. They work for boys or girls and for a range of ages—from babies to tweens. You can do them in your own backyard or at a local park.
Camping/Nature Party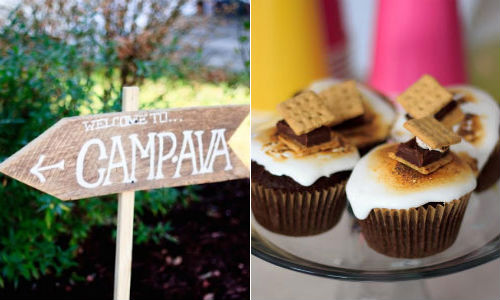 PHOTO: ANGENUITY
If your child can't go to sleep-away camp this summer—or at least not with all their very best friends—bring the camp to you! Play camp games and sing camp songs, make gimp bracelets or tie-dye t-shirts, go on a nature hike, and don't forget the best part: s'mores.
Good ideas: mini pup tents, nature scavenger hunt, s'mores cupcakes, trail mix bar.
Circus Party/Carnival Party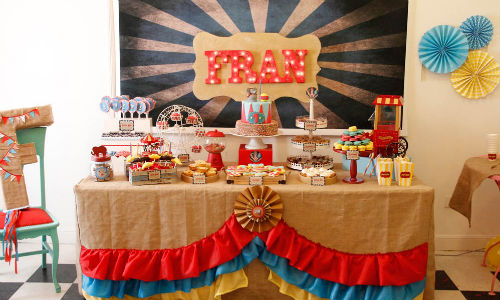 PHOTO: CAKES & CO.
There's a reason this is a popular summer birthday party theme for kids: it's fun! Food and decor are no-brainers—almost anything goes: streamers, balloons, every colour under the rainbow, popcorn, animal crackers, pretzels, hot dogs, bubbles…nothing is too over the top under the big top!
Good ideas: themed invitations like these vintage-style circus "tickets" from the Kitchener, Ontario–based Simply Sweet Print Shop, carnival games with prizes, popcorn boxes filled with popcorn or candy, clown noses for kids.
Farm/Barnyard Party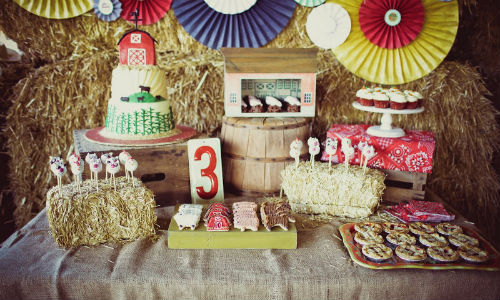 PHOTO: JENNY COOKIES
You could also call it an Old MacDonald party. (Ee-ii ee-ii oh!) Or make the main attraction a petting zoo. Don't want to plan it all yourself? Here are some Toronto-area places that will bring the farm to you. You'll be the talk of the schoolyard.
Good ideas: mini cupcakes in egg cartons (especially these carrot patch cupcakes), corn on the cob on a stick, watermelon on a stick, potato-sack races, milk cartons as decor, stuffed animals as decor
Ice Cream Social Party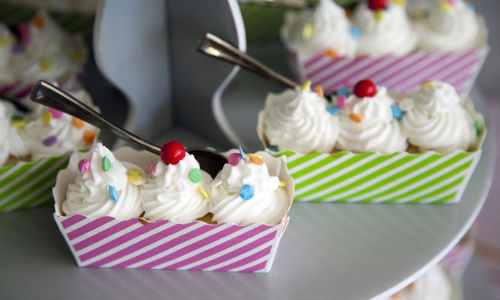 PHOTO: PRETTY PRUDENT
I scream, you scream…. An ice cream social or a banana split party with lots of DIY options is something all kids can get behind. But you may want to forgo a cake, with all the sugar involved!
Good ideas: toppings bar with toppings in flower pots, ice-cream-cone balloons, pin the cherry on the ice cream cone game
Rainbow Party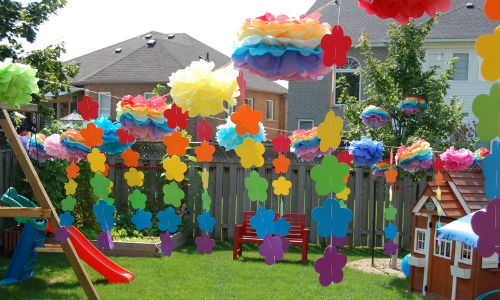 PHOTO: NORTH STORY
Any food or decoration that comes in a primary or secondary colour is fair game for a rainbow party. Any kind of colourful art or craft activity is perfect for this type of party, as is a colour-themed scavenger hunt, and hands-on cupcake-decorating. (Tip: Give each kid a mini paint palette with a selection of toppings in each paint cup and plain-white-frosted cupcake in the centre.)
Good ideas: fruit and veggie kebabs in all colours, rainbow piñata, rainbow layer cake, pinwheels as favours, rainbow pasta salad, sprinkles, sprinkles, and more sprinkles
Western Party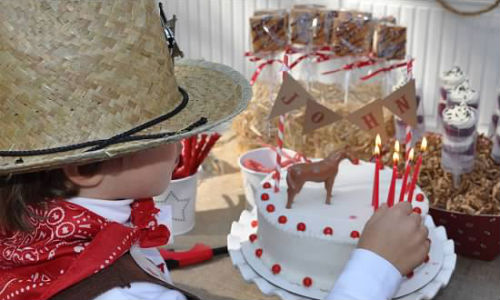 PHOTO: DIXIE DELIGHTS
This is the old cowboy/cowgirl theme popular with lil' pardners since your grandparents were kids. Givens are pin-the-tail-on-the-donkey, a "watering hole" drinks station, cowboy hats for guests, and a hay bale or two.
Good ideas: "wanted" sign photo booth, straw cowboy hats as favours, "steer" roping game, bandana-style paisley cupcake liners
Superhero Party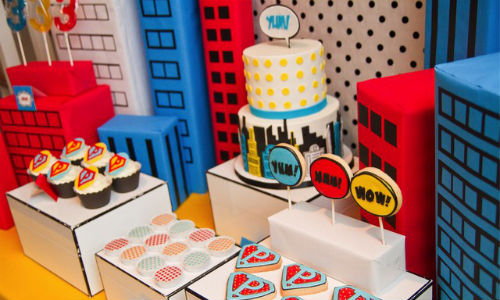 PHOTO: ANDERS RUFF
First things first. You will need a cape. And a mask. Beyond that, look to comic books, superhero movies and TV shows for inspiration: the sky's the limit with superhero and comic-book-themed decor and games. For the food? Hero sandwiches, of course.
Good ideas: graffiti wall/colouring wall, portrait of the birthday boy or girl as a superhero, pin-the-logo-on-the-superhero game, capes for everyone, comic-book speech bubble signs, use these superhero city printables to decorate your entire party—not free, but a huge time-saver.
Fairy Tale Party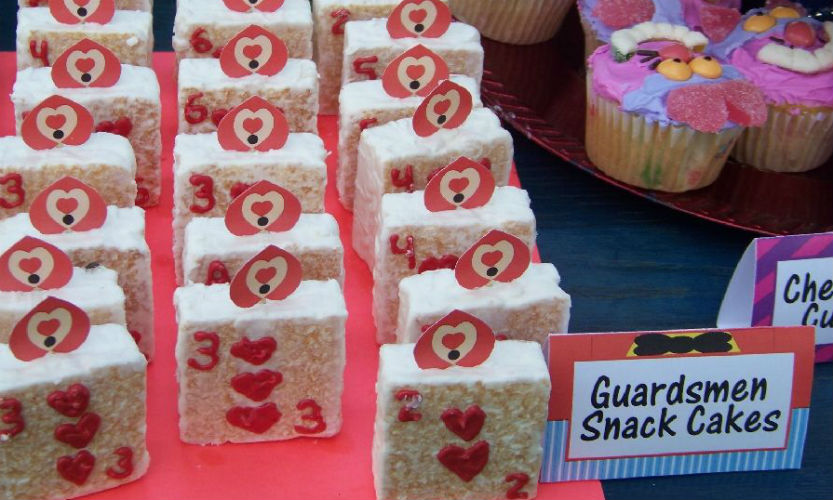 PHOTO: KIM'S KANDY KREATIONS
Get creative with Mother Goose or fairy tales and fables like The Three Little Pigs, Hansel and Gretel, and everything that begins with "once up on a time…" An especially sweet idea for babies and toddlers but you can apply it to older kids with age-appropriate fantasy stories like Alice in Wonderland or The Lion, The Witch, and The Wardrobe.
Good ideas: gingerbread man cookies, paper hats made from copies of book pages, magic wand favours, costume-making activity (crowns, wings, dragon tails…), invite kids to come dressed as their favourite fairy-tale character!
Spy / Secret Agent Party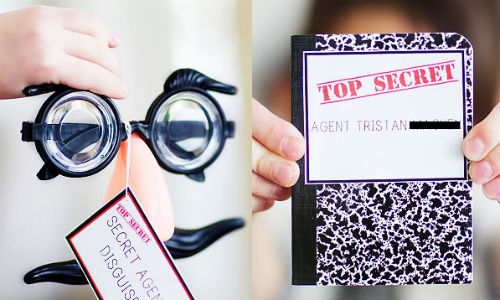 PHOTO: VERONICA REEVE PHOTOGRAPHY
Agents-in-training can gear up for a fun day of spy training games, secret missions, "explosives" (Pop Rocks and balloons), and other themed games. Ask kids to wear black and grey as part of the theme.
Good ideas: secret-code invitations, secret-agent-training games, old-school nose and glasses disguise, magnifying glasses for everyone.
Beach Party / Surf's Up Party

PHOTO: LOVELY PARTY THINGS
Can't get to the beach? Bring it to you. This is a classic summer theme that'll cool you off in the heat. Checklist: a sandbox, sand toys, some beach blankets and towels, beach balls, coloured lanterns, coolers filled with beverages, a sprinkler or kiddie pool. Remind guests to bring their swimsuits!
Good ideas: watermelon shark fruit salad, snacks displayed in sand buckets (with shovels as serving spoons), beach ball volleyball, sunglasses as favours
Jungle Safari Party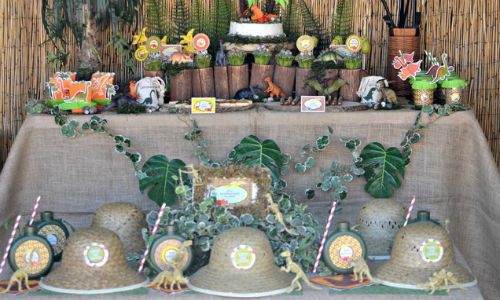 PHOTO: CATCH MY PARTY
Let the animals go wild by throwing a jungle party. Put all your child's toy animals to work as decor. You could also give it a slight twist as a Where the Wild Things Are party. Don't forget the animal crackers!
Good ideas: beaks and snouts to wear (and to take home), tissue-paper forest, easy monkey cupcakes, make-your-own binoculars craft activity, green streamers for vines
County Fair Party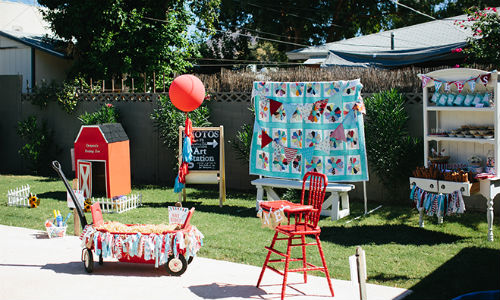 PHOTO: PIZZAZZERIE
Timeless, wholesome fun for everyone. Go for simple pleasures with corn dogs, watermelon, berries, and lemonade and old-fashioned games like potato sack races, three-legged races, water-balloon toss, scavenger hunts.
Good ideas: DIY scrap fabric pennant (just cut and tie onto a string—no-sew!), simple games like a ring toss or knocking down tin cans with a baseball, wrap tin cans with decorative paper for cutlery and straws, pie-eating contest, old-fashioned candy
Art Party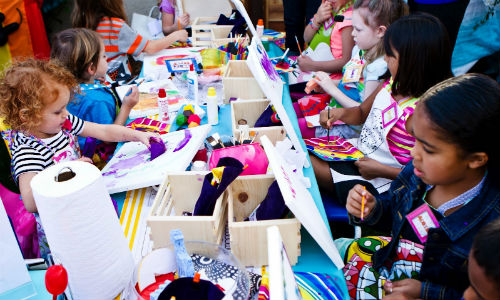 PHOTO: MISS PARTY MOM
Let kids get creative with tons of art supplies. Arts and crafts do double duty as a theme and an activity. No games required when kids are busy crafting. It's easy to make the food look great: rainbow-coloured sweets and cupcakes make excellent eye candy, and we think an assortment of fruit would look cool, too.
Good ideas: mini canvas painting activity with a paint palette for each child, paint-chip table runner, hand-drawn empty-picture frame photo booth with dress-up stuff
Under the Sea Party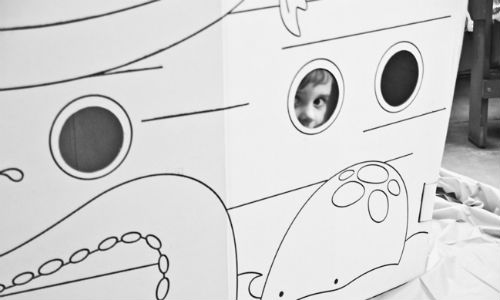 PHOTO: CHICKABUG BLOG
There's so many ways you can interpret this party: either focus on awesome sea creatures like octopus, whales, and squid. Or make it a bit more feminine by adding some mermaids. Incorporate shipwrecks, submarines, Neptune, and more. Balloons are essential, as are seaweed streamers and bubbles, bubbles, everywhere!
Good ideas: Two words: bubble machine. Fishing net loot bags, treats made to look like sushi or using liberal application of Swedish fish, oyster-and-pearl whoopie pies, easy DIY jellyfish decorations.
Puppy Party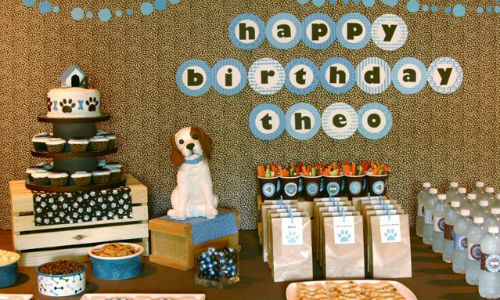 PHOTO: JUICY BITS
Even kids with a dog allergy can have a lot of fun with this idea—and younger kids especially will get a kick out of cookies shaped like dog treats and snacks or lunch served in dog bowls. Set up a doggie obstacle course and play Frisbee.
Good ideas: dog bowls for party treats, dog-bone cookies (you can find cookie cutters at party supply stores—and some pet stores!), stuffed puppy adoption centre that doubles as party favours, "doggie bag" loot bags, doggie face-painting
Obstacle Course Party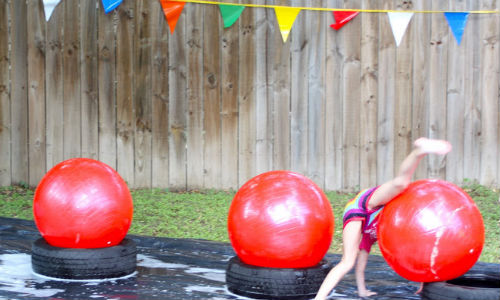 PHOTO: BETH & CO.
An obstacle party is a surefire way to keep kids entertained. The photo above is of a water obstacle party inspired by the TV show Wipeout… Giant slide, big red balls, water everywhere. Awesome. Wear your swimsuits!
Good ideas: pool noodle obstacle, make use of that Ikea tunnel, hula hoops and a kiddie pool at the bottom of a slide, and simple decor—it's all about the activities!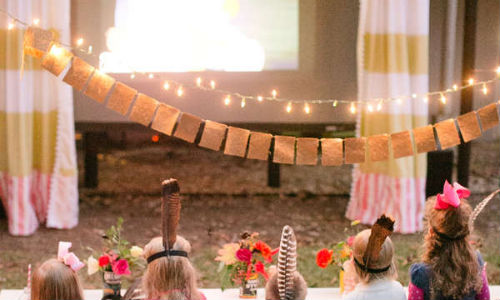 PHOTO: LAY BABY LAY
Show a movie under the stars or even make it a "drive-in" movie with toy or homemade box cars. Rent a movie screen or rig a DIY screen from a dropcloth. Or just tell kids to bring their sleeping bags, or set out camping mats and all pillows and cushions you have.
Good ideas: DIY carboard box cars for a drive-in movie, treat wagon with movie-theatre favourites like chocolate-covered raisins and gummy candy, movie ticket invites, flavoured popcorn mix-and-match station
Mexican Fiesta Party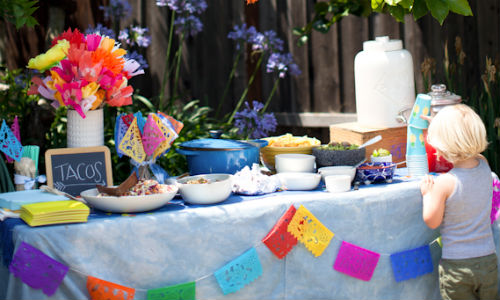 PHOTO: 100 LAYER CAKE-LET
This theme is perfect for summer and it's an excuse to eat tacos, guacamole, and queso-topped everything all day long. Decor and games are easy: was pin-the-tail-on-the-donkey ever more appropriate? And every colour of the rainbow works, you just need the essential Mexican papel picado banners and, of course, a rockin' piñata.
Good ideas: bright tissue-paper flowers, maracas or egg shakers as party favours, luchador mask-making craft activity, special sombrero for the birtday boy or girl
Bubbles and Balloons Party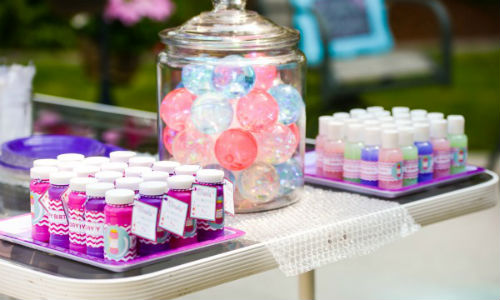 PHOTO: MOMS & MUNCHKINS
Let's not overthink it. Kids love bubbles and balloons. Go to town with giant bubble wands, a bubble machine, balloon animals, and water balloon games. You can also make one of those giant tri-string bubble wands you see at fun fairs.
Good ideas: photo op: neat DIY hot air balloon photo booth, balloon cake pops, good-quality bubbles to take home, activity: each kid gets a bubble bin with different types of wands and bubbles and let 'em loose
Teddy Bear Picnic Party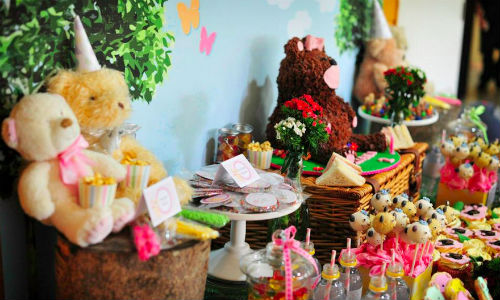 PHOTO: MISS DELICIOUZA
For little kids, this is a cute idea—you could make it a Winnie the Pooh theme, but we like to be inclusive of all bears! Think country picnic: checkered picnic blanket, striped straws, and honey-themed foods. Plus, ants on a log!
Good ideas: meringue-topped beehive cupcakes, food in individual picnic baskets, hanging lantern beehives, mini teddy bears to take home, picnic-style food