Happy Poetry Month! To celebrate the written word, we created a contest for Canadian kids between the ages of 6 and 12 to enter an original poem and artwork with a spring theme. The winners get to become published poets at Help! We've Got Kids.
While all of the entries were amazing, we finally chose the top six and broke them down into two categories: Best Poems and Best Artworks. It was really hard to make a decision because everybody sent such great poems and pictures!
A special thank you to all the kids (and their parents or caregivers) who participated. You all did an incredible job!
And now, here are the published winners!
BEST POEMS
Winner #1: Chelsea Sua, Age 7!
Chelsea is a definitely a future writer. She submitted four different kinds of poetry. We love the different colours she used in her poems and her cute drawings! Great job, Chelsea!
Our favourite part: "You can jump all day long, I make a song to sing-along."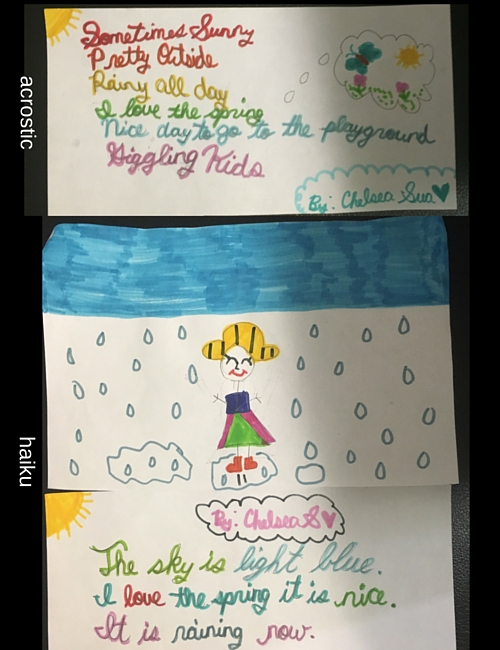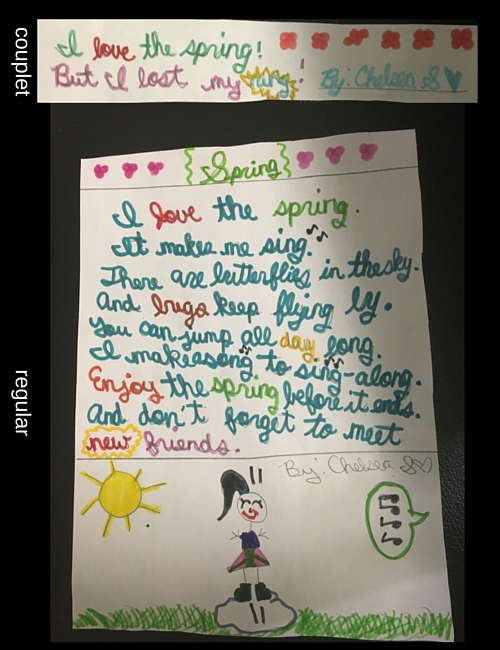 Winner #2: Ashley Reemeyer, Age 8!
Ashley is another budding poet. She created a beautiful spring picture in our minds using the words in her poem. We love that every line starts with the word "Spring" and the details on the Eiffel Tower. Amazing job, Ashley!
Our favourite part: "Spring is filled with flower power. Spring is a glass of lemonade so sour."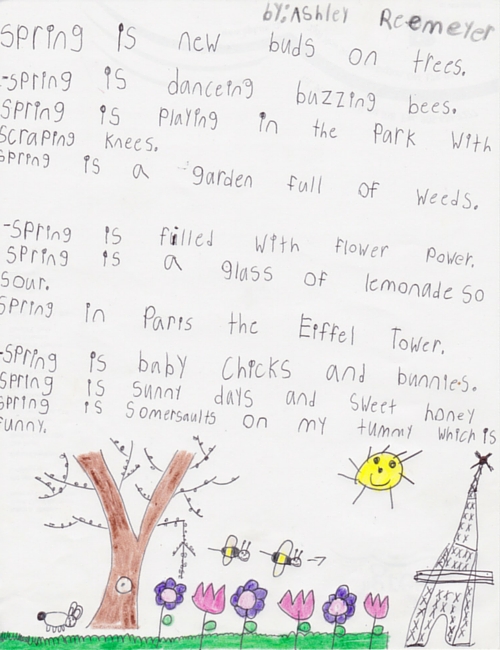 Winner #3: Maye Gwen Liu, Age 8!
Maye is a talented poet. She had so many wonderful descriptions in her poem. We love how happy the poem is and the smiling people in the drawing. Fantastic job, Maye!
Our favourite part: "You can see flowers everywhere, they are so pretty like rainbow coming our way."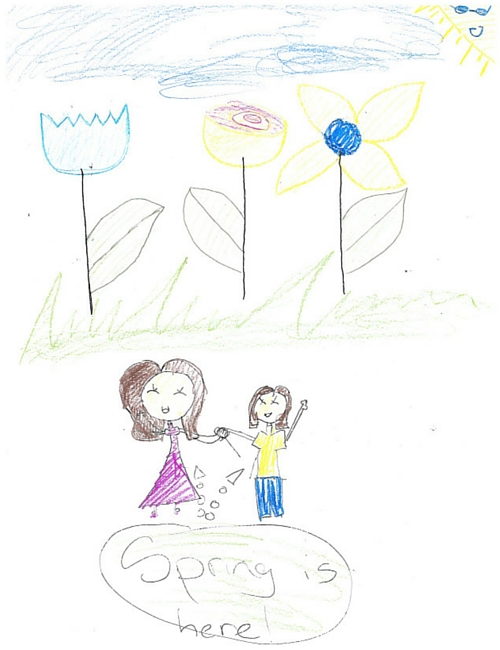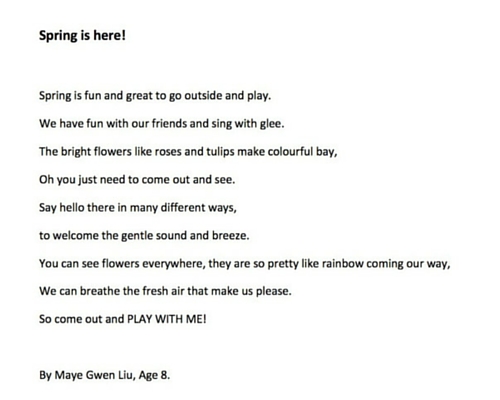 BEST ARTWORKS
Winner #1: Alyssa Berry, Age 8!
Wow! This drawing has so many great details. It is so life-like we feel like we are out in the garden with Alyssa. The poem is right to the point and is so true; spring is a great time for cleaning and gardening and keeping busy. We love the rows of growing flowers and the colour choices. Wonderful job, Alyssa!
Our favourite part: The details on the watering can and labelled seed containers.
Winner #2: Ella Rawn, Age 6!
Ella is our youngest winner, but still one of the most talented. Her poem is a great lesson for young gardeners, and her drawing is just about the cutest thing we have ever seen. We love the happy butterfly and the bow in Ella's hair. Beautiful job, Ella!
Our favourite part: The sun's silly face, and the drops of water falling on the seeds.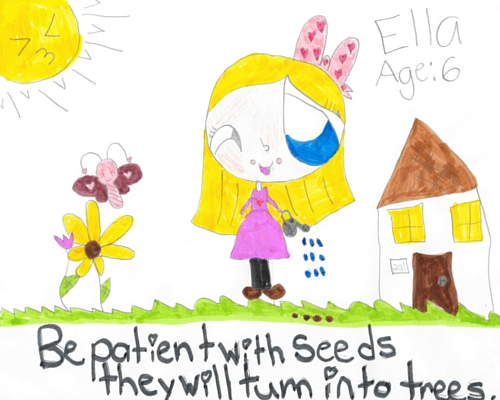 Winner #3: Isabelle White, Age 8!
Isabelle has a natural talent for colouring. She chose to draw two snakes together in the grass, and although snakes can be scary, these ones are fun! We love how colourful this picture is and how wiggly the snakes look. Awesome job, Isabelle!
Our favourite part: The way the snakes appear to be slithering through the grass, and their amazing faces.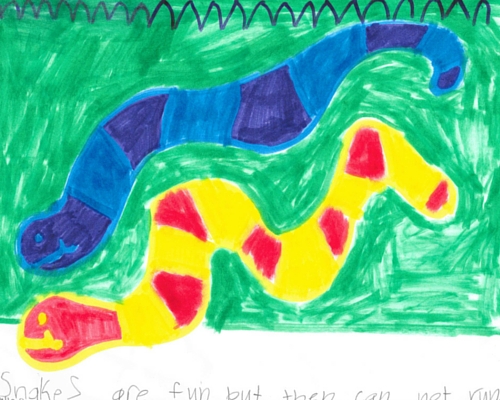 Snakes are fun, but they cannot run.
Thanks again to all the participants and congratulations to the winners!
READ MORE LIKE THIS:
Keep informed with all our camps coverage and find the perfect camp by searching our Toronto & GTA camps directory.
Sign up for our newsletters to get parenting and family fun articles delivered to you!