This post is sponsored, but the opinions expressed are our own. Help! We've Got Kids is a free resource, supported by advertising from relevant sponsors.
Your infant is on her way to becoming a toddler and she is crawling and moving at a surprising speed. Suddenly your cozy home doesn't feel quite so safe.
One of the biggest causes of injury and even death is falling down stairs. You can keep your child safe by reducing the risk as much as possible, by having safety gates installed by a professional.
There is so much product out there, it's hard to know what to choose. A professional babyproofer will match your needs, and the design of your stairs with the best gate to do the job. You should choose a gate made of steel or wood, not plastic. These gates are designed to be secured to a wall or banister with screws or other fasteners.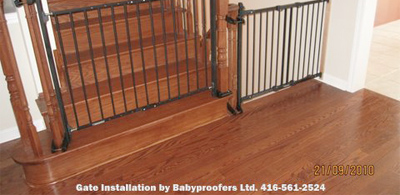 Worried about holes in your beautiful wood newel posts? Rest assured the holes are so tiny, they can be filled in and covered with a putty crayon available at most hardware stores.
Pressure gates are a 'no-no' because they are not designed for use on stairs. One good push and your toddler will tumble along with the gate. Also, you should never attach a gate directly to drywall, even with drywall plugs—it's simply not strong enough to withstand the wear and tear of daily use.
It's advisable to also install a gate at the bottom of the stairs. Your baby can climb up the stairs with surprising speed and tumble back down.
Have peace of mind — let a professional babyproofer keep your baby, and your home safe.