If you're looking to get into the Christmas mood, we have a whole host of events going on in Toronto that are fun (and often free) for all the family. And the festive spirit doesn't have to end on December 25—with most kids not back at school until the second week of January this year, you have even longer to sample everything that's going on this holiday.
Let the allure of a winter carnival draw you in, where you'll find unique gifts, ride the carousel, enjoy a dazzling display of lights, go ice skating, and be welcomed into the home of Santa.
Location: 100 Queen St. W., Toronto
Date: December 1–23 (closed Mondays)
Cost: Free
Bringing the holiday spirit to life, the Toronto Christmas Market has returned to the Distillery District. Rediscover the romance and magic of Christmas as you stroll by gorgeous light canopies, dance performances, and fun shopping experiences that the whole family can enjoy.
Location: The Distillery District, 55 Mill St.
Date: November 15– December 23 (closed Mondays)
Cost: Free Tuesday to Friday; $6 starting 5 pm Friday through Sunday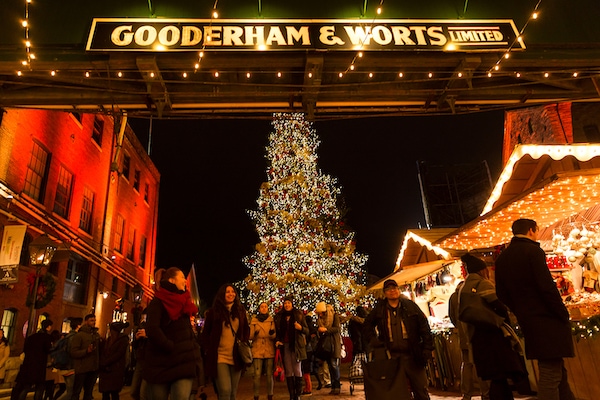 Illusionist Professor Wick and ice skating performers Glisse on Ice entertain at Casa Loma during December, along with other family-friendly entertainment. Children are invited to visit Santa in his castle workshop, participate in arts and crafts, decorate tasty treats, and marvel at the 40-foot tree and decorations and lights throughout the castle and gardens.
Location: Casa Loma, 1 Austin Terrace, Toronto
Date: December 1–January 6
Cost: General admission applies ($33 adults, $27 youth, $23 kids; free for ages 3 and under)
Enjoy the magic of the theatre this holiday season with your family and catch a performance of A Christmas Carol, Peter Pan, Tweet Tweet!—a fantasy-based aerial show just for young children—and other fantastic shows.
Location: Young Centre for the Performing Arts, 50 Tank House Lane, Toronto
Date: December 7–February 24
Cost: Tickets from $18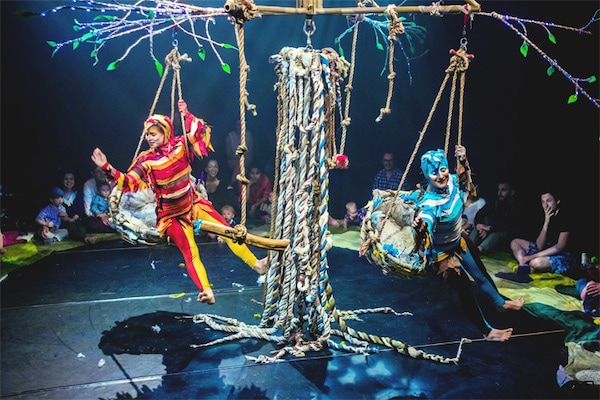 Stroll through Fort York while the kids join the cooks and learn how to make delicious and traditional gingerbread cookies in the Officer's Mess Kitchen. The hands-on workshop allows them to use period cooking utensils where they'll pound sugar, sift flour, crush cinnamon, and grate ginger and nutmeg—all towards making an 1800's gingerbread recipe! Be sure to sign up at the Museum Store when you arrive.
Location: 250 Fort York Blvd., Toronto
Date: December 27–31 Time: 11 am and 2 pm
Cost: Regular admission applies ($14 adults, $8 ages 13–18, $6 ages 6–12, free for ages 5 and under)
This event has a tasty street food market, where you'll also find unique and wonderful gifts at the holiday market and have a chance to play outdoors all through December. Celebrate the holidays with a walk through the market and a cup of hot cocoa to keep you warm.
Location: Evergreen Brick Works, 550 Bayview Ave, Toronto
Date: Weekends December 1–31, plus Dec. 24 and 26–28
Cost: Free
New this year is Canada's largest winter festival at Ontario Place. The main attraction is without a doubt the 180-foot-long tube park (ages 4+) but other attractions include giant ice sculptures and lighting displays—ice "villages", castles, and even an ice den with an LED disco ice floor—as well as rides (train, carousel, and Ferris wheel); a vendor village; and Santa's workshop, with crafts and storytelling for kids.
Location: 1 Ontario Place, Toronto
Date: November 29–December 30
Cost: $20 adults, $15 kids ages 4–12, $60 family pass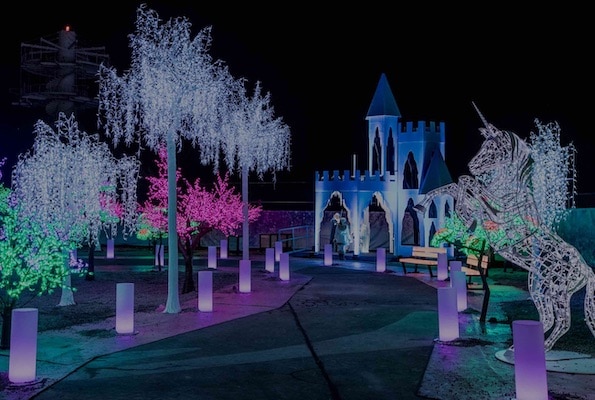 Catch an exciting glimpse of Santa and his elves as they dive with the fish this holiday season! The kids will be sure to get a laugh at seeing Santa in the deep blue and you'll also get to explore the rest of the aquarium afterward; win-win!
Location: Ripley's Aquarium of Canada, 288 Bremner Blvd., Toronto
Date: December 1–24 (shows at 3:15 Dec. 1–22 and five times a day Dec. 23 and 24)
Cost: Regular admission applies
A Christmas-themed musical comedy just for kids from The Second City. Santa needs the help of the naughtiest children on his list to save Christmas from some elves gone wild. Hilarity ensues.
Location: The Second City, 51 Mercer St., Toronto
Dates: December 15–January 5
Cost: Tickets $14 kids, $18 adults
It's a jolly holiday with Mary at Young People's Theatre this Christmas! This popular musical has already achieved the highest ticket sales ever in YPT history. The show incorporates tunes from the Walt Disney film and has a wonderful message for the season about believing in yourself…and in a bit of magic, too.
Location: Young People's Theatre, 165 Front St. E., Toronto
Date: November 5–January 6
Cost: Tickets from $10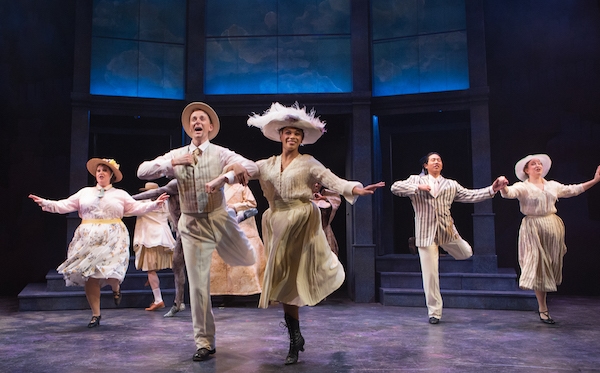 Work together to solve this Christmas-themed escape room experience with friends or family. Your car breaks down in a blizzard and when you go for help, you find that you're the one who is tasked (by one of Santa's elves) with saving the day—Christmas Day, that is!
Location: Looking Glass Adventures, 2944 Danforth Ave., Toronto
Date: November 24–December 31
Cost: $25 youth and adult, $20 children (ages 4–12)
This production of Tchaikovsky's quintessential Christmastime ballet is the version to see if you only see one. Principal dancers from Canada's premier ballet company perform along with talented child dancers at the Four Seasons Centre.
Location: Four Seasons Centre for the Performing Arts, 145 Queen St. W., Toronto
Date: December 8–30
Cost: Tickets from $72
Celebrate Christmas Victorian-style at Black Creek Pioneer Village. Explore the village and sample traditional holiday treats including mulled cider and real chestnuts roasted by an open fire. There will be carollers and other entertainment. Add on a traditional Christmas dinner or a haunted holiday walk through the village.
Location: 1000 Murray Ross Parkway, Toronto
Date: December 8, 15, 22
Cost: Tickets from $25