If you're spending your March break in the city this year, take the opportunity to visit all the fabulous attractions that are right in your own backyard!
Celebrate spring, celebrate our past, celebrate art and creativity, celebrate sport and ingenuity, celebrate the animal worl…. Toronto has so much to celebrate for March break 2019.
MARCH BREAK DISCOUNTS
Look for these discounts during March break: Free kids' admission at Black Creek Pioneer Village, a discount on admission at The Bata Shoe Museum—regular $14 price is reduced to $8 for adults and children. Toronto Zoo visitors get 15% off new memberships during March break. The Gardiner Museum has free admission for all March 9 and 10.
Always free: Allan Gardens Conservatory, Rouge Park, High Park Zoo, Riverdale Farm, Evergreen Brick Works, Toronto Public Library, kids' entry at the Gardiner Museum.
---

For additional discounts of up to 40% on local family attractions, sign up for the Help! We've Got Kids Family Pass.
---
FESTIVALS
SpringFest TO is the big kids' festival on through March break. Other festivals around the city and beyond are all about kicking off the maple syrup season!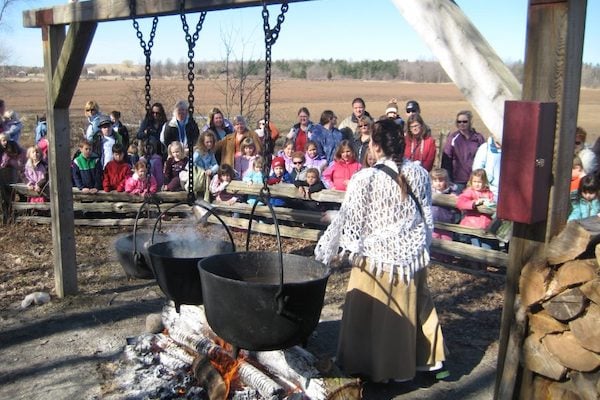 This indoor fun park at Exhibition Place will feature more than 25 rides, including inflatable "bouncy" slides and obstacles, a little tots area for kids under age 5, a petting zoo, pony rides, stage shows, and more.
Dates:
March 10–17
Cost:
 All-day ride pass (includes admission) $26.50, admission only $8.85
At Toronto's 185th anniversary celebration in Nathan Phillips Square, you'll find food trucks, DJ skate parties, vendors, live music and more. Come on Sunday to catch the St. Patrick's Day Parade, too.
Dates:
March 9–10, 11 am–9 pm
Cost:
Free
Head to the waterfront downtown for traditional cabane à sucre activities in the city: maple taffy tasting, ice skating, an obstacle course, winter marketplace, specialty bar, and more.
Dates:
March 9–10
Cost:
Free
Maple Syrup Festivals
It's maple sugaring season! Get out of the city to do sugar bush tours at the source. Most of these include pancake breakfasts, wagon rides, tapping and syrup production demos, taffy tastings, and even live entertainment for kids and families at the four Sugarbush Maple Syrup Festivals.
Read more about all 15 Sugar Shacks and Maple Syrup Festivals in the GTA this year.
Dates:
March 9–17, plus dates after March break
Cost:
Admission $10 per person
Dates:
 March 9–17, plus dates after March break
Cost:
Admission $17 per car
Dates:
March 9–17
Cost:
$9.04 adults, $6.25 kids, $22.60 family
Dates:
March 10, 13, 14, 17 and March 24
Cost:
Admission $12 adults, $6.50 kids; free for ages 5 and under
Dates:
March 9–17, plus dates after March break
Cost:
Admission $7.75 adults, $5.50 kids; free for ages 4 and under
Dates:
March 8–10, 13–17 and more dates
Cost:
$6 online, $7 at the door
Dates:
March 9–17 and more dates
Cost:
$10 adults, $6.50 kids; free for ages 4 and under
Dates:
March 15–16 and March 23
Cost:
$10 adults, $6.50 kids; free for ages 4 and under
Dates:
March 9–17 and more dates
Cost:
$10 adults, $6.50 kids; free for ages 4 and under
Dates:
March 9–17 and more dates
Cost:
$10 adults, $6.50 kids; free for ages 4 and under
Dates:
March 9–17, plus dates after March break
Cost:
Admission $7.75 adults, $5.50 kids; free for ages 4 and under
FAMILY SHOWS
Whether you're up for an afternoon at the ballet, life-size rescue pups on stage, or a full-on pop concert, March break is pretty lit for kids this year.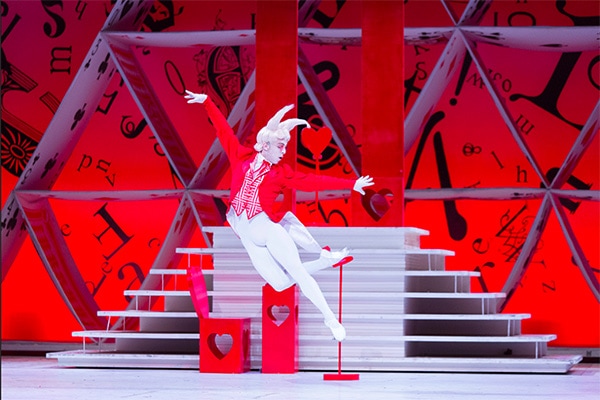 At The Second City, two teams of improvisers face off in a winner-takes-all comedy showdown fueled by audience suggestions and aided by audience volunteers in this show specially created for kids and their grown-ups.
Dates:
February 16–March 17
Cost:
Tickets $12 kids, $15 adults
The National Ballet of Canada presents this fantastical and humourous production based on the many colourful, quirky characters in Lewis Carroll's classic book in a show designed to appeal to children and adults alike.
Dates:
March 7–17
Cost:
Tickets from $45
Montreal dance troupe Bouge de là put on an interactive, inspirational performance that uses every letter of the alphabet in their rhythmic journey at Young People's Theatre.
Dates:
March 2–16
Cost:
Tickets from $10
Based on Barbara Park's Junie B. Jones book series, the Electric Moon Theatre Company's production tells the musical story of Junie's challenging and action-packed first day of first grade at Richmond Hill Centre.
Dates:
March 2–15
Cost:
Tickets $20, family 4-pack $70
The magic is coming to Hamilton as Disney princesses (and queens), including Anna and Anna, and characters like Mickey and Minnie bring 14 stories and 30 songs to life on the ice.
Dates:
March 13–17
Cost:
Tickets from $25
Everyone's favourite rescue pups are on the case to stop Mayor Humdinger and save the day in this live musical stage show with all the PAW Patrol characters, at the Sony Centre downtown.
Dates:
March 15–17
Cost:
Tickets from $45
Canada's #1 music brand for kids is coming stopping in the GTA on its nationwide tour, with a new family-friendly show packed with this year's biggest hits and tons of positive energy. They'll be at the Richmond Hill Centre during March break, then back in Toronto in April.
Dates:
 March 11; in Toronto on April 27
Cost:
Tickets from $35
MUSEUMS & ATTRACTIONS WITH MARCH BREAK ACTIVITIES
These family attractions are pulling out all the stops with family-friendly hands-on activities, shows, and performances for March break. Hours and admission prices listed here may be specific to March break only.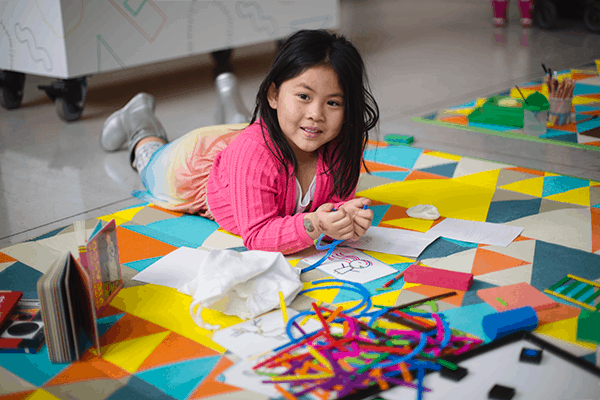 It's a feast for the senses this March break at the AGO, with hands-on family activities related to food and family. Make food sculptures and bring your family recipes to share. Plus, make and fly paper airplanes and make and float your own paper boats.
Dates:
March 9–17
Cost:
Included with museum admission
The Aga Khan is hosting nine days of special family activities surrounding its new exhibition, The Moon: A Voyage Through Time. See an actual piece of the moon, gaze up at an illuminated replica of the moon, make glow-in-the-dark celestial art, learn about moon craters, take a family tour, and more.
Dates:
March 9–17
Cost:
included with museum admission
Head to the Bata Shoe Museum this March break for Lights, Camera, Action! — with movie-themed games and activities inspired by Hollywood films. Created for kids ages 2–12, the event includes dress-up, walk of fame footprints, and kids' activities on every floor of the museum.
Dates:
March 9–17
Cost: 
$8 kids and adults
Help Sherlock Holmes solve a March Break Mystery as you attend Watson's detective school, hunt for clues, and question subjects. While you're there, check out the maple syrup show and sugar shack or take a wagon ride through the historic village.
Dates:
March 11–17
Cost:
 $15 adults, ages 0–14 free with adult admission
For a second year, Casa Loma is transformed into a fairy-tale castle in an era of dragons and adventure. This special event features a knight school show, aerial performances, an indoor bouncy castle, face painting, medieval catapult, and a 19-foot-tall fire-breathing metal dragon.
Dates:
March 9–17
Cost:
included with regular admission
The Western Hemisphere's tallest freestanding structure, the CN Tower offers an unparalleled view of Toronto and beyond. Special events for March break 2019 include engineering activities—make a cork sailboat and see how it floats, create a pillar of strength and test its abilities to hold weight—and a Barbie play zone, along with all the everyday CN Tower attractions for kids.
Dates:
March 11–15
Cost:
included with regular admission
This 43-acre national historic site is featuring some March break family fun, with music workshops, costume dress-up, treats from the 1826 kitchen, and the chance to take part in soldiers' drill class and officers' sword drill.
Dates:
March 11–17
Cost: i
ncluded with regular admission
See the temporary exhibit 9 & 99: The Howe / Gretzky Exhibition, with rare personal memorabilia from two of hockey's greatest players. More: Get up close and personal with the Stanley Cup, compete against life-size versions of famous goalies and shooters, call the play-by-play for historic games, and more.
Dates: 
March 9–17
Cost: i
ncluded in regular admission; $10 Esso gift card given out to the first 99 families on each day of March break
The Victorian-era home of Toronto's first mayor will be open daily during March break for family-friendly guided tours. Learn how to typeset your name on an 1845 printing press and print your own magnet.
Dates:
March 9–17
Cost:
$8 adults, $7 youth, $6 kids
Imagine and create a family crest and learn about the meanings of colours, plants, and animals and how they could represent your family at this special March break event. Take a tour of the grand Austin family mansion while you're here.
Dates:
March 9–17
Cost:
$10 adults, $8 youth, $6 kids
Historic treats, toys, and games are scheduled for March break week at this 19th-century heritage site and former industrial community in the Don Valley. Tour the 9.2-hectare wildflower preserve and play outdoor nature Bingo!
Dates:
March 9–17
Cost:
$8 adults, $7 youth, $5 kids
If you've never been to the McMichael Canadian Art Collection in Vaughan, March break is a great time to make the trip. Special activities for kids and families include creative dance and movement workshops, drop-in art workshops, and a bilingual (French/English) folktale performance. Most family events are on Sunday, March 11.
March break events:
March 11 and 13–15 (check the website for performance and workshop times)
Cost: 
included in museum admission
Art, science, and technology collide at the Ontario Science Centre this March break! See skateboarders perform amazing tricks while learning about the science of skateboarding, catch an IMAX film about Canada's fabled Spirit Bear, and see live presentations about the latest hot topics in science and tech.
Dates:
March 9–17
Cost:
included in museum admission
Fun family activities are scheduled for every weekday of March break at PAMA in Brampton, including In The Mix hip-hop music video workshops, Mad Science chemistry and physics shows, a circus-themed magic show, cosmic puppet show, and interactive samba performance.
Dates: 
March 11–15
Cost: 
included with regular museum admission
With exciting adventure stations like Field Camp, where kids learn what it's like to go on a research expedition; Museum Secrets (what secrets does the ROM hold?), Space Rocks! all about the OSIRIS-Rex mission to capture an asteroid sample, and much more—a day at the ROM during March break is both fun and educational. Plus, the more than 20 galleries with dinosaur skeletons and other treasures to discover.
Dates:
March 9–17
Cost:
included in museum admission
Cool science experiments, magic shows, "bubble-ology" displays, balloon workshops, arts and crafts, music performances, puppet shows, and more will be on at library branches throughout the city—all for free! Registration may be required for some programs.
Dates:
March 9–16
Cost: 
Free
MORE MUSEUMS & ATTRACTIONS FOR MARCH BREAK
These places don't have special March break programming but are just fun destinations during any day, weekend, or school break.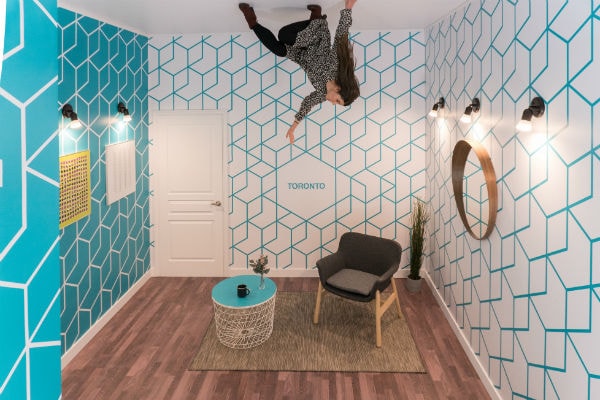 Toronto's newest museum, opened in 2018, the Museum of Illusions packs a lot of weird and wonderful experiences into a small space. Walk on the ceiling in the Rotated Room, feel the illusion of never-ending space in the twinkling Infinity Room, and more. It has six illusion rooms and more than a dozen installations in total.
Open:
Daily 10 am–8 pm
Cost:
$23.50 adults, $19.50 kids
With over 20,000 aquatic animals, Ripley's Aquarium will immerse you in your own underwater adventure. After you take in all the sharks, jellyfish, clownfish, and other underwater creatures in the dimmed galleries and see a dive show, visit the Shoreline Gallery to get up close and even touch a stingray.
Open: 
Daily 9 am–11 pm
Cost: 
$35 adults, $25 ages 6–13, $12 ages 3–5, free ages 2 and under; discounts available for timed ticket
This museum devoted to works of clay hosts hands-on family workshops every weekend. To celebrate its 35-year anniversary, the Gardiner is offering free admission to everyone on March 9 and 10. Current exhibitions are Ai Weiwei's ceramic works exploring social justice themes.
Open:
Mon., Tue. Thu. 10 am-6 pm, Wed. and Fri. 10 am–9 pm, weekends 10 am–5 pm
Cost:
$15 adults, free for kids under age 18; free admission for everyone March 9 and 10
ZOOS & PARKS
March break marks the first opening to the public of many of the farms for kids in the GTA. Most have farm-themed play spaces, farm animal petting and feeding opportunities, and more fun activities. And the Toronto Zoo will be open every day during March break—though the Thomas & Friends event is just the final weekend.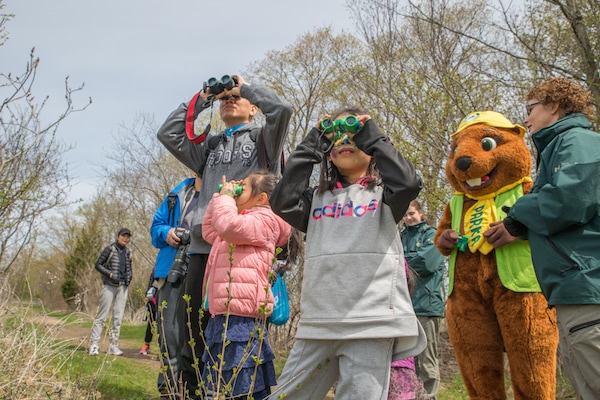 Rouge Park, which spans parts of Scarborough and Pickering, is Canada's first national urban park, designated as such in 2015. It will soon be 79 square km in size—23 times larger than New York's Central Park. Take part in a family-friendly guided walk or just explore the natural beauty on your own.
Open: 
Daily 24 hours
Cost: 
Free
This March break, the Toronto Zoo is hosting everyone's favourite steamie, Thomas the Tank Engine—and his friends—on March 16 and 17. There will be a Thomas scavenger hunt, play zone, and appearances by Sir Thomham Hatt. The first 2,000 children will get a free Thomas & Friends mini-engine. The zoo is also open daily for all of March break to visit with the 5,000+ animals, including a pygmy hippo calf, baby lowland gorilla, and endangered Amur tigers.
Dates: 
Thomas & Friends March 16–17; zoo open daily 9:30–6 pm during March break
Cost:
 Admission $23 adults, $14 kids, free for ages 2 and under; Thomas & Friends included with zoo admission
Meander through the variety of plants and flowers sheltered in the Allan Gardens greenhouses downtown, including tropical plants, lush exotics like gingers and hibiscus, and a thriving collection of various palms, bananas, and tropical vines.
Open: 
Daily 10 am–5 pm
Cost:
Free
This historic working farm is a great place for city kids to meet farm animals, tour the barns, and learn about feeding, egg collection, milking, and horse grooming, and more aspects of farming life.
Open: 
Daily 11 am–4 pm
Cost: 
Free
You don't have to travel to the Toronto Zoo in Scarborough to see some exotic animals. High Park Zoo hosts a variety of interesting animals, like capybara, highland cattle, yaks and wallabies. High Park's popular "castle playground" is adjacent to the zoo.
Open:
Daily 7 am–dusk
Cost:
Free
Wander Lookout Path for a specular view of the city skyline, bike the many trails through 40 acres of thriving green space, take a weekend guided tour, play in the Children's Garden (weekends only) at this urban nature park.
Open:
Daily 9 am–5 pm
Cost: 
Free
Enjoy the Toronto Music Garden while listening to commentary and music on an audio tour. The garden was designed by internationally renowned cellist Yo Yo Ma (in conjunction with landscape designer and architects) and inspired by a Bach Suite.
Open: 
Daily 24 hours
Cost: 
Free; audio tour $6
CONSERVATION AREAS & OUTDOOR ADVENTURE
Some conservation areas have extended hours during March break, and many are inexpensive (less than $10 admission) or even free for kids. Find what's on at all the Toronto and Region Conservation parks.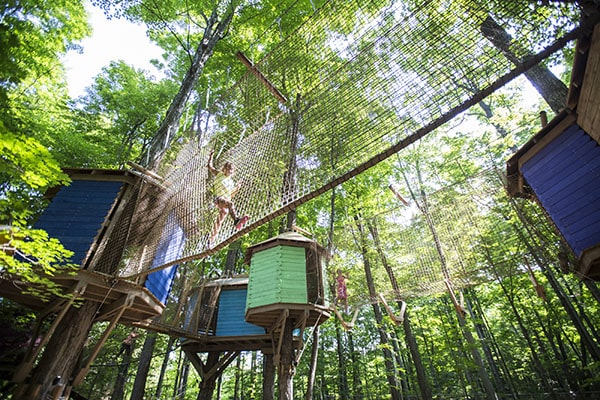 Open temporarily for March break as part of the Sugarbush Maple Syrup Festival at Bruce's Mill, this outdoor adventure park for ages 3 and up has elevated treehouses connected by rope bridges, hammock nets, and wooden walkways, plus log courses, tunnels, slides, and climbing walls.
Dates:
March 9–17
Cost:
$8 adults, $20 kids; free for ages 2 and under or 65 and older
SKI RESORTS
Snowmaking machines are in full force for the end of the ski season, whether Mother Nature cooperates or not. Several resorts are advertising March Break specials. Find a list of GTA and southern Ontario ski resorts in our online directory.
INDOOR ACTIVITY CENTRES
When the weather's cold, take it indoors while still getting out of the house and staying active at indoor playgrounds, trampoline centres, and climbing gyms.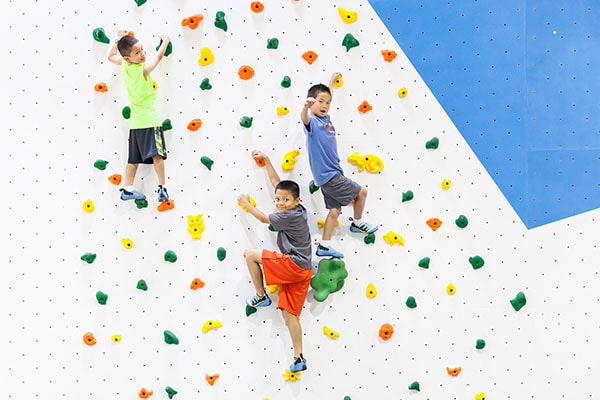 Indoor Playgrounds
Head to an indoor playground from our round-up of the best indoor playgrounds in Toronto or search our online directory for more indoor playgrounds in Toronto and the GTA.
Trampoline Gyms
Play trampoline dodge ball or basketball or just jump, jump, jump at a Toronto-area trampoline gym—they have programs for kids of all ages, and grown-ups, too! Some of the most popular with our readers are:
Aerosports Trampoline Parks (2 locations: Oakville and Brampton)
Air Riderz Trampoline Park (2 locations – Mississauga and Aurora)
Climbing Gyms 
Get vertical at Toronto-area rock climbing gyms with climbing walls and/or bouldering. Most have equipment rentals for kids, so drop-in is easy.
Laser Tag, Bowling, Arcades, and VR
Laser tag, video games, indoor obstacle courses, bowling, and more—find all kinds of indoor diversions at indoor amusement centres.
MARCH BREAK CAMPS
Didn't book a camp in advance? Not a problem. Some of these more than 50 Toronto/GTA March break camps have last-minute bookings. In some cases, you can even book for just one or two days of March break—or even just a half-day.
---
Because You So Don't Have Time for This
Life with kids is busy—we get it. Spend less time looking for things to do on the weekend or during school breaks and more quality time where it counts.
Sign up for the Help! We've Got Kids newsletter and we'll send you a curated weekend round-up of fun things to do in the city and the GTA, every week. Easy peasy.
Okay, send me fun things to do!
Not loving it? You can unsubscribe at any time. We promise!