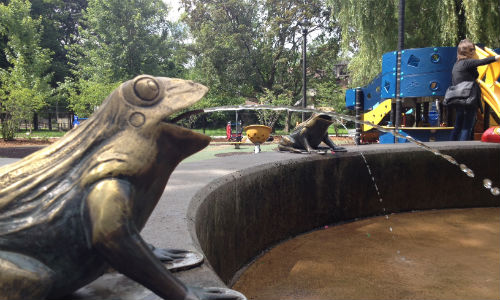 photo: Shannon Kelly
Oriole Park has had a facelift and boy does she look fabulous! A few years back, Toronto's Parks, Forestry & Recreation department decided to tear down the tired old monkey bars and sad-looking swings in the park's playground. And what was put in their place was…a water park!
Okay, it's not a water park of the mega-slide, log flume, and wave pool variety, but it is a cool, modern playground with a great splash pad and water features that include huge bronze frogs "spitting" water and a gigantic dragonfly shower.
The new Neshama Playground is a magical place for kids. What used to be a lackluster place to play now holds a modern, brightly coloured jungle gym for toddlers and kids and a wading pool and tiny flowing "river" for wee ones.
The playground is surfaced with rubberized material: perfect for rough-and-tumble play (and no sand-filled shoes afterward). Also part of the playground are suspended musical pipes, a flying saucer, swings, more spectacular water features, and a sand pit. Mature trees provide plenty of shade during those hot, summer days. Even the washrooms are new, in a modern, cedar-walled building.
The 2.9-hectare Oriole Park also has a baseball diamond and tennis courts.
Details: Playground entrance at Colin Avenue and Chaplin Crescent, just west of Davisville subway station (map it). Park and playground open year-round. Wading pool and water features open June 30–Aug. 29, daily 10:30–4.
Photos: Shannon Kelly