Summer camp has gone next-level. We have progressed so far beyond friendship bracelets and tie-dye t-shirts, that now kids come home after a week of camp having learnt how to properly sweat an onion and possessing the secret to creating the perfect flaky pie crust.
That is no exaggeration—those are two actual skills acquired by campers at Rooks to Cooks, a kids' cooking school that is launching 12 new camp locations this summer.
At the camp, kids as young as age 4 get started in the kitchen with foundational skills (measuring, mixing, kneading) while kids as young as 7 learn to chop, mince, slice, sauté, and simmer. With careful guidance from professional chefs, children push beyond what is expected at their age—a huge confidence boost for these little sous chefs.
Each camp week has a theme: a child might go for Around the World—preparing Jamaican jerk chicken with mango chutney and lime slaw among other dishes—or opt for Budding Bakers, mastering a moist chocolate cake with Swiss meringue chocolate buttercream. Campers make at least three recipes each day—at the end of the week taking home a booklet of 15–20 recipes they've completed.
Every Friday is an evening for family and friends to a enjoy a three-course tasting menu created entirely by the campers at the Petit Chefs pop-up "restaurant", where kids act as servers, bartenders, hosts, and chefs.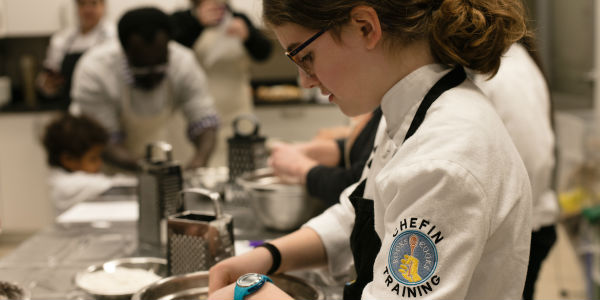 Kids are able to master seriously challenging recipes at Rooks to Cooks because culinary education is taken seriously. Camp groups are small and led by an experienced chef instructor along with a sous chef and child-care specialist. Campers must complete kitchen safety training, dress in a professional chef coat and apron, prepare their mise en place for each food prep session, plate their meals, and even clean up the kitchen afterward.
But this isn't Hell's Kitchen—it's meant to be fun. Instruction is supportive, hands-on, and team-based, and kids get a chance blow off some steam and socialize through outdoor play and games or decorating for the Friday night restaurant.
Rooks to Cooks was launched in 2017 by Shai Mandel, a professional chef and Ontario Certified Teacher. On why she started Rooks to Cooks, Shai says, "When I got to university, about 9 out of 10 of my friends didn't know how to cook. I realized there was a void in children's education when it came to food preparation. I saw an opportunity to create culinary programs to help get kids in the kitchen at a young age and inspire healthy eating and nutritious choices."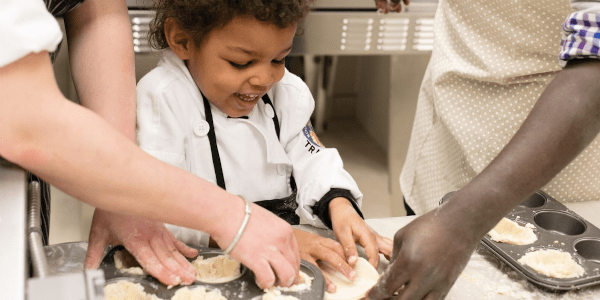 For aspiring young chefs, Rooks to Cooks is a natural fit. But it's also just a fun way for kids to learn to cook while acquiring some less-obvious skills like confidence, attention to detail, fine motor skills, and multitasking. A bit of math and science are sprinkled naturally into cooking sessions, too, and Chef Shai even incorporates entrepreneurship, explaining food costs and where food comes from.
Ultimately, it's a fun and delicious way to spend a summer. And it doesn't hurt that after all that kitchen prep and cleanup, kids might even start loading the dishwasher at home!
Camp Details
Rooks to Cooks has 12 summer camp locations in Toronto and the GTA. Click here to find a camp location. Camps include all snacks and meals plus take-home treats each day, and a chef's coat and apron. Before- and after-care is available. Camps start at $380/week.
Learn more at www.rookstocooks.ca or follow Rooks to Cooks on social media @rooks2cooks and at #rookstocooks.
Rooks to Cooks – Sharing Knowledge from ICONICA on Vimeo.
---
This post is sponsored, but the opinions expressed are our own. Help! We've Got Kids is a free resource, supported by advertising from relevant sponsors.