This post is sponsored, but the opinions expressed are our own. Help! We've Got Kids is a free resource, supported by advertising from relevant sponsors.
Summer will be here before you know it! If you are a camp organizer or a child-care provider for school-age kids, no doubt you're looking to book some engaging summer programs or field trips to keep kids active and having a blast all summer.
If you're a parent, you may want to nudge your child's camp or child-care provider to include some of these great options in their programming!
These programs operate in Toronto and the GTA. We've specified whether they travel to your centre ("comes to you"), you go to them ("field trip"), or both.
COMES TO YOU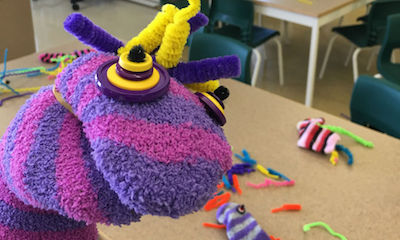 Steve Schnier worked in children's television for 35 years on shows including Inspector Gadget, Freaky Stories, and Atomic Betty, before launching puppetry and film animation workshops for kids. Choose from two workshops: PUPPETS COOL!, where kids learn about the mechanics of puppets and about character design and make their own (no-sew, no-glue) sock puppets. And TOONS!, which explores the principles of animation; kids then animate toy characters using stop-motion techniques. All materials are provided, and no set-up or cleanup is required.
Details: 
Two workshops: PUPPETS COOL! (puppetry) and TOONS! (film animation), each approximately 2 hours in length; on-site at your location
Ages:
 JK–Grade 8
Contact:
steve@puppets-cool.com
or (416) 346-7228
COMES TO YOU
FIELD TRIP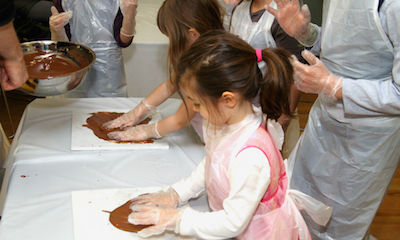 Toronto's only kids' chocolate-making workshop that comes to you! Kids can learn about the history of chocolate and get hands-on with chocolate finger painting and/or by making their own truffles, chocolate lollipops, or other culinary confections, using high-grade Belgian chocolate. Chocolate Tales provides equipment and ingredients and handles all set-up and clean-up.
Looking for a field trip? The kitchen studio at Dufferin and Steeles is suitable for up to 40 students. Chocolate Tales is allergy-aware and tree-nut/peanut-free.
Details: 
45-minute to 1-hour workshops customized for your camp or program; not-profit pricing for camps; on-site at your location or at the Chocolate Tales kitchen (max. 40 children)
Ages:
 2–12
Contact:
 David Levy: 647-931-7353 or
info@chocolatetales.ca
COMES TO YOU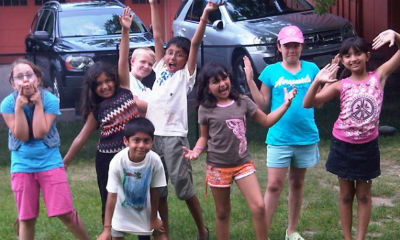 Using role-playing scenarios in a safe environment, Playworks' bullying-prevention Kindness Workshops teach empathy and confidence, and give kids the tools to handle real-life challenges. Improv Workshops are a fun way to build self-esteem, public speaking skills, and spontaneity. After working on the casting for the first Dove self-esteem campaign, Lori Pearlstein was inspired to use acting and improv to help boost confidence. She is the president of the Toronto Association of Acting Studios.
Details:
Two workshops: Kindness and Improv; length and scope customized to each group's needs (1 hour to full-day); on-site at your location
Ages:
 6 and up
Contact:
loripearlstein@me.com
or 416-648-9055
FIELD TRIP
COMES TO YOU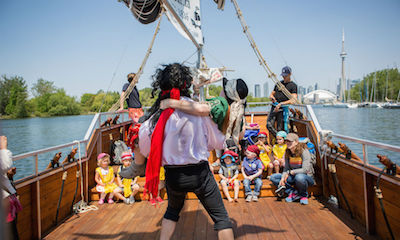 photo: Sara Elisabeth Photography
Join the crew and search for sunken treasure! This interactive adventure immerses children in an imaginative world where they create their own pirate persona through dress-up, face-paint tattoos, and new pirate names. Kids climb aboard a 50-foot pirate ship (inspected and approved by Transport Canada) where pirate actors perform a short play complete with swordfight, and the ship sets sail in the Toronto Harbour.
Need an on-site activity at your camp or centre? A pirate crew can come to you!
Details: 
6 adventures daily, 1.5 hours in length May–Oct.; Pirate Life adventure is on Centre Island, near Centreville Amuseument Park, or a travelling pirate crew can perform on-site at your location
Ages:
 3–12
Contact:
 416-476-3836 or
crew@piratelife.ca
FIELD TRIP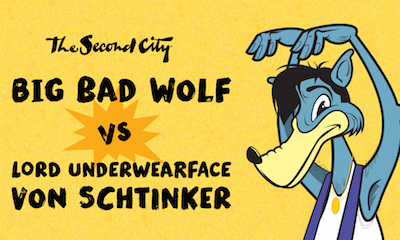 From The Second City Theatre, the musical play Big Bad Wolf (vs. Lord Underwearface von Schtinker) takes a new look at a children's classic, combining sketch comedy for kids with fast-paced improvised scenes. An unlikely hero, Big Bad Wolf, must enlist the help of his fairytale friends to prove that things aren't always as they seem. Big Bad Wolf vs. is one of our favourite Second City Family shows ever. Fun fact: The role of the Big Bad Wolf was originated by Keegan Michael Key (of Key & Peele) during his time at The Second City Chicago. Kids will love our current Big Bad Wolf, Phatt Al, who raps and sneezes his way through this silly sing-a-long adventure.
Details: 
Matinee performances every Wed. and Thu. at 1 pm, Jul. 5–Aug. 31; plays are at The Second City theatre, 11 Mercer St., Toronto
Ages:
 4–12 recommended
Contact:
 Miranda Chartrand:
groupsales@secondcity.com
or 416-343-0033 ext. 201
FIELD TRIP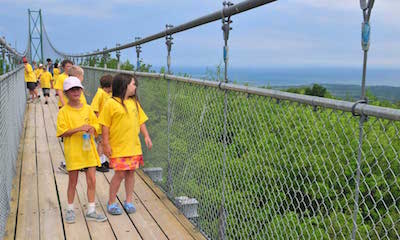 Nature, history, scenery, and memorable adventures await all ages at the most varied natural playground in Ontario. Explore a self-guided trail of caves and caverns carved millions of years ago and discover a hidden natural fortress of the First Nations' Huron Petun tribe. Venture over a 420-foot-long suspension footbridge with spectacular views, hitch a ride on Rocky the train, enjoy the Children's Adventure Playground, pan for gemstones, play mini-golf, and feed fish at the trout pond.
Details: 
Full-day and half-day visits; programs custom designed to suit each group's needs; Scenic Caves Nature Adventures is in Blue Mountain, ON
Ages:
 3 and up
Contact:
 Sherry Fiske, 705-446-0256 or sfiske@sceniccaves.com
COMES TO YOU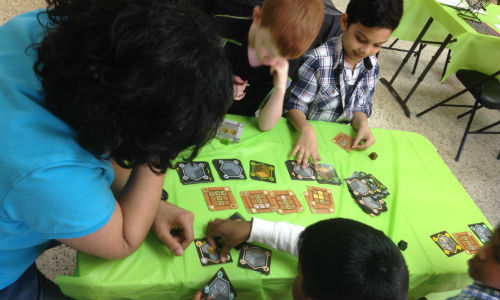 Parents asked for a summer program where kids continue learning while staying active, and Genius Owl answered with this unique summer program where kids learn the fundamentals of coding—without digital distractions. The Coding Unplugged program introduces kids to robotics and coding through fun and competitive group games and activities where they learn about problem-solving and algorithms, binary numbers, computer graphics, and more. The curriculum is designed by computer scientists and school-board teachers, and acclaimed by parents and camp administrators.
Details: 
Length and frequency of the workshop can be customized to your needs
Ages:
 5–12
Contact:
 Saeed Vahid,
info@geniusowl.ca
or (289) 637-5879
PIRATE LIFE (PHOTO: SARA ELISABETH PHOTOGRAPHY)
Browse our free online directory for kids' programs, workshops, and school shows in Toronto and the GTA.
Get the Help! newsletter for more great resources, family fun articles, and weekly round-ups of exciting kids' events in Toronto!