It's the most toy-filled time of the year! Whether you're doing Christmas shopping or Hannukah shopping, or just-because shopping for the kiddos, these gift ideas should inspire—they're some of our favourite things we've found for kids this year!
We've separated toys by age group, but depending on your child and the longevity of the toy, you should take a look at adjacent age groups, too. Our picks tend to fall into one of three camps:
gifts that encourage creativity and imagination
brain-power gifts
gifts that encourage physical activity.
Also see our 2014 holiday book-buying guide and all this season's hot new toys (read: these will sell out!).
Gifts for Toddlers (ages 2–3)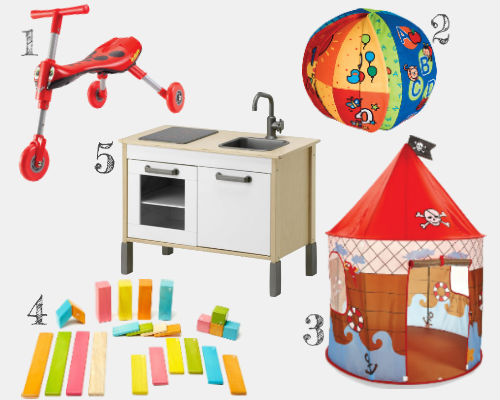 1 | Scuttlebug Ride-On
Ages 1–3
This trike is great for learning to steer, for kids too young for a balance bike or full-size tricycle. It's light and folds up flat to store and can be used indoors or out. And it's cute! $49.99 at Amazon.ca
2 | 2-in-1 Talking Ball Learning Toy
Ages 1–3
This toy from Melissa & Doug K's Kids line is actually approved for ages 6 months and up. For babies, it's just a squishy ball. As babies become toddlers, it's a toy to throw, bounce, and roll; and as toddlers mature, a teaching tool for learning letters and numbers. $16.99 at Melissa & Doug
3 | Pirate's Den Playhouse
Ages 3+
What kid doesn't love a tent? This playhouse tent (it also comes in a princess playhouse version) is sturdy, has mesh windows (er…portholes), and is big enough for pint-sized pirates to stand up in. $29.99 at Mastermind Toys
4 | Tegu Magnetic Blocks
Ages 2+
Not your average block, Tegu blocks are (responsibly harvested) wooden blocks with magnets inside, which makes them fun for young kids to use because they won't topple easily and for older kids because they can make cool, gravity defying creations! 24-piece set $69.99 at Mastermind Toys
5 | Duktig Play Kitchen
Ages 2+
A toy kitchen makes hours and hours of imaginative play for toddlers and pre-schoolers. This birch Ikea play kitchen (with optional top section) is one of the best-priced options out there. It's simple, but check out these fabulous Duktig play kitchen "hacks" from crafty parents. $99.99 at Ikea
Gifts for Pre-Schoolers (ages 4–5)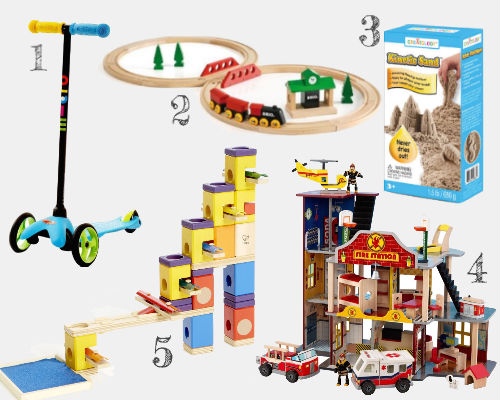 1 | Micro Kickboard Mini Micro Scooter
Ages 3–5
This brightly coloured version of the popular three-wheel Mini Micro scooter is very stable and glides easily with lean-steering control. The 3in1 scooter is a great option that grows from ages 1 to 5. And the Maxi is for kids approximately 35 to 120 lbs (ages 5–12). $84.99 at Micro Kickboard
2 | Brio Classic Figure 8 Train Set
Ages 2+
Have you always dreamed of a train set for your child? Time to decide if you're going to go with Sweden-based Brio, the ever-popular Thomas the Tank Engine (this deluxe Thomas set is pretty amazing), or something else. (Ikea makes an inexpensive set whose tracks accommodates Brio and Thomas trains.) Brio is pricey, but the quality is undeniable and adding to the set each year is almost as fun for mom and dad as the kids. $49.99 at Scooter Girl
3 | Kinetic Sand
Ages 3+
Indoor play sand that "moves," Kinetic Sand is 98% real sand covered with a non-toxic polymer binding agent that allows the sand to stick to itself, making it easy to shape—and easy to clean up. Comes in 6 colours. $16.99 at Michaels (Also at Michaels: accompanying indoor sandboxes, sand molds, and sand tools.) 
4 | Deluxe Fire Rescue Set
Ages 3–8
Got a kid obsessed with fire engines? Give them lots to imagination fuel with this super-cool, detailed three-story fire-station play set from KidKraft. $179.95 at Indigo
5 | Hape Quadrilla Music Motion Marble Run
Ages 4+
Kids can construct the marble run in any configuration they like, with the addition of musical chime pieces that sound when the marbles strike them. $78.05 at Amazon.ca.
Gifts for Kids (ages 6–9)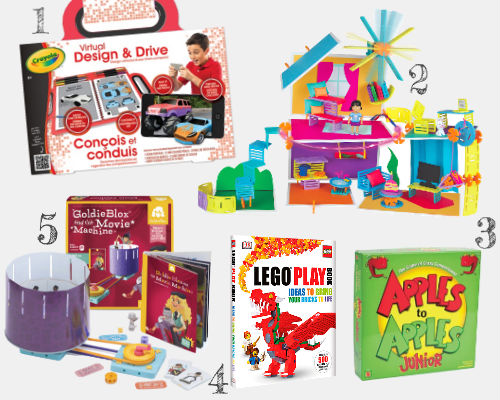 1 | Crayola Virtual Design & Drive
ages 6+
Don't just play a video racing game—design it! With this Crayola Virtual Design & Drive, kids can design a vehicle by hand, snap a photo with an iOS or Android device, then customize it and take it for a virtual drive, testing it for speed and performing stunts. $19.95 at Toys R Us
2 | Roominate
Ages 4–12
This DIY wired building system toy takes dollhouses to the next level. Make buildings and vehicles with working lights, windmills, carousels, and more. It was designed by two female engineers with degrees from MIT, Caltech, and Stanford, who wanted to create a toy to inspire girls in STEM (science, technology, engineering, and math)—though boys can play, too! $22.95 to $54.95 at Indigo
>>Read 8 Kids' Books for Smart, Confident Girls
3 | Apples to Apples Junior
Ages 6+
The children's version of the popular Apples to Apples card game get's a manufacturer's age recommendation of 9+, but trusted board-game review site BoardGameGeek.com rates it as 6+, and we agree. It's a fun, positive game that encourages kids to speak up for themselves and defend their choices. Easy to learn and fun for older kids and adults, too. $18 at Target.
4 | LEGO Play Book
Those new LEGO sets that allow you to re-create, say, the Simpsons' house, are cool, but we're fans of regular, old-school sets where anything is possible. Give your child's LEGO new life with more than 500 LEGO build and play ideas to get the creative juices flowing. $24.95 at The LEGO Shop
5 | Goldie Blox and the Movie Machine
Ages 6–13
Kids learn to make their own movies (and build a zoetrope!) with this inventive toy for budding filmmakers and storytellers. Like Roominate, Goldie Blox was designed by a female engineer and began as a Kickstarter campaign. $29.95 at Indigo
Gifts for Tweens (ages 10–12)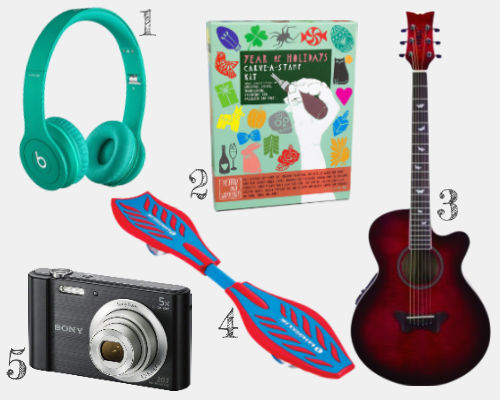 1 | Beats Drenched Headphones
Ages 9+
Earn serious tween-cred by providing your music-lover with proper headphones. Beats By Dr. Dre is known for great-sound-quality headphones and earbuds that also look cool. Win-win. $189.99 at Target
2 | Year of Holidays Carve-a-Stamp Kit
Ages 11+
This make-your-own stamps kit allows crafty kids to personalize their school supplies, make their own cards, create collages, and more. $32.99 at Scooter Girl
3 | RipStik Casterboard
Ages 8–12
These twisting skateboard alternatives from Razor are meant to replicate the sensation of surfing or snowboarding. $80 at Toys R Us
4 | Daisy Rock Guitar
Ages 8+
Got a wannabe rock star? Daisy Rock guitars are designed especially for girls (they come in black and brown, too—not just sparkly pink!) and are great-quality learning guitars. $170–$260 at Long and McQuade
5 | Digital Camera
Encourage your child to see the world through his/her own lens. The Sony Cybershot DSC-W800 has made its way onto many a photographer's best-budget-camera list this year. $99 at Amazon.ca
Read more at Hottest New Toys for 2014.
Looking for ideas for bookworms (ages toddler through tween)? Try 12 Best New Books for Kids.