Mother's Day is approaching, and we're all searching for that special gift to show Mom how much we care. Since there's nothing moms love more than a homemade gift from the heart, we've compiled a list of DIY crafts and recipes that kids can make at home – with a little help from Dad or another caregiver – for a unique and heartfelt Mother's Day present.
And trust us; kids will love making these crafts and recipes as much as Mom will love receiving them.
1. Easy Cheesy Frittata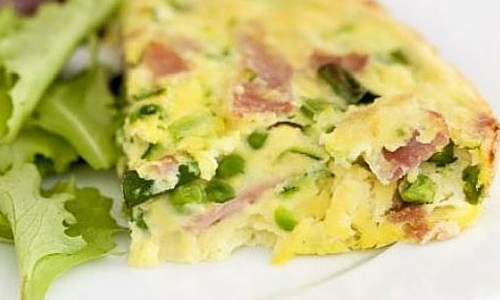 Start Mom's special day off right with the ooey gooey goodness of this delicious, filling breakfast dish. Just whisk up all the ingredients and stick it in the oven – with Dad's help, of course! Get the recipe details from BBC Good Food.
2. Coffee Filter Flowers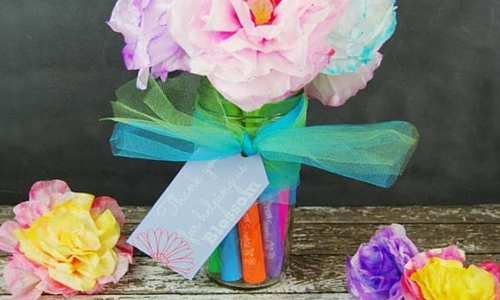 Mom will appreciate getting flowers that won't wilt, and these cool, colourful coffee filter flowers are really neat for kids to make. Get all the details on how to create the amazing tie-dye effect from The TipToe Fairy, using sharpies, coffee filters and rubbing alcohol. Then you can leave the flowers as they are or attach them to pens. And be sure to make this craft in advance, so the flowers have time to dry.
3. Strawberry Shortcake Waffles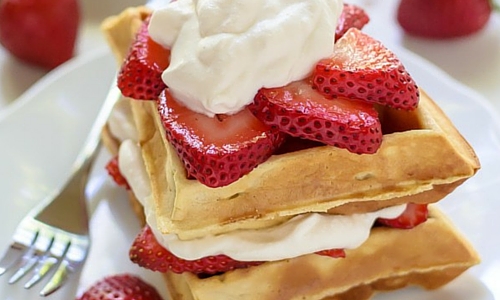 Nothing says "Happy Mother's Day" like waking up to the delicious smell of waffles! This strawberry shortcake waffle recipe from Well Plated uses a mix to make the waffles, but then takes it up a notch by layering them with strawberries and maple syrup whipped cream. Stack 'em high to make a breakfast as sweet as Mom!
4. Fingerprint Pendants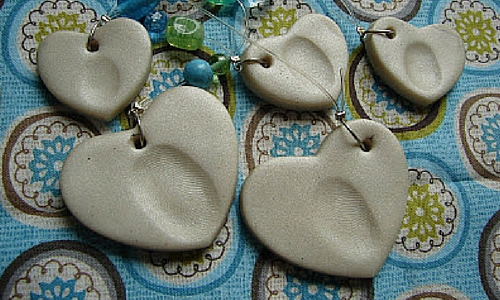 Give Mom a gift that's as unique as she is: a fingerprint pendant! This craft uses ready-made Sculpey clay – all you need to do is cut it out, press your finger down, bake it, and ta-da! This craft works with tiny fingers as well as bigger ones. Mom will love her personalized keepsake that can be made into a necklace, bracelet (especially if a few kids are creating this together), keychain, or ornament. For the full instructions, visit A Girl and a Glue Gun.
5. Fruit Kebabs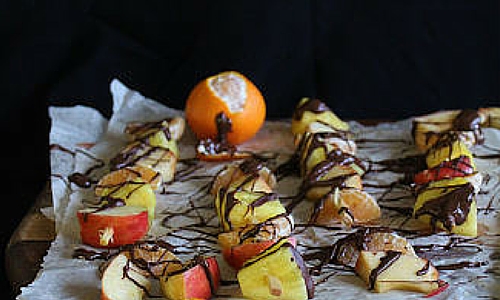 Does Mom love healthy treats? These fruit kebabs are fun to make, yummy, and good for you! You can use any fruits you have in the fridge, but try to make your kebabs colourful! This recipe from This Rawsome Vegan Life has a chocolate drizzle, but you try My Recipes' honey yogurt dipping sauce instead!
6. Sunshine Pasta Card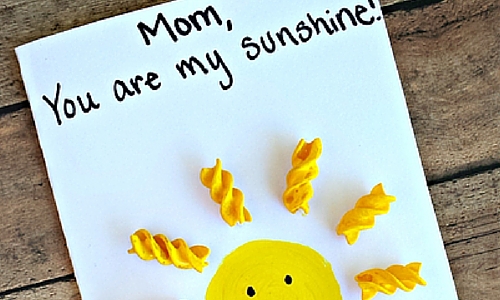 Brighten up Mama's day with this adorable handmade card. All you need are paper, yellow paint, a black marker, and some pasta for this thoughtful card that tells Mom she's your ray of sunshine. Crafty Morning shows you how to make this – and many other – simple but sweet Mother's Day cards.
7. Bagel Buddy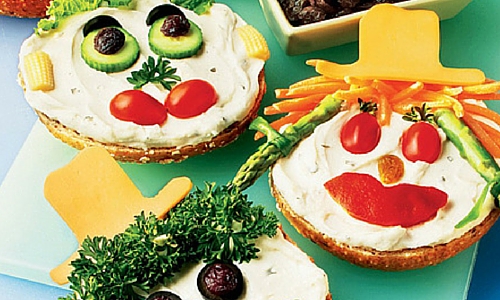 For an easy breakfast that requires no baking, frying, or toasting, but is anything but boring, try a bagel buddy! You can get creative with ingredients to make your bagel look like Mom! What about a tomato wedge smile? Red onion eyebrows? Spiralized carrot hair? The possibilities are endless! Visit Ralphs for some bagel buddy inspiration.
8. Artwork Candle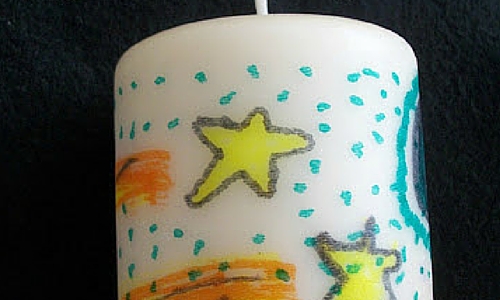 Is Mom in need of a little rest and relaxation? When lit, this artwork candle has a calming effect – plus, it's a cooler way to display your artwork than on your fridge! Just grab a dollar store candle, and even young children can create a design to decorate it and make it special. Check out the step-by-step guide from Come Together Kids. Dad will need to lend a hand with the blow-drying part.
9. English Muffin Egg Pizza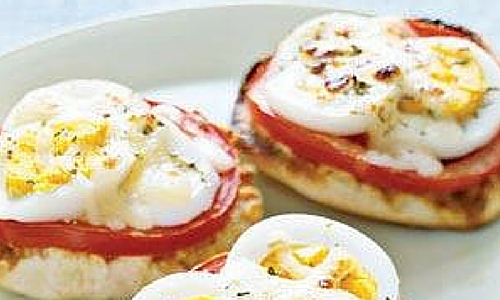 Yes, you read that right. It's pizza for breakfast! Real Simple's recipe uses an English muffin as the crust, and tops it with egg, tomato, and mozzarella, but you can get creative and top it with Mom's breakfast favourites, like chorizo, mushrooms, bacon or red peppers!
Hilary Roth is a writer, educator and editor who works full-time in marketing and LOVES everything to do with kids. When she's not stumping people with her amazing riddles or playing mobile games, she can be found reading YA novels and cooking vegetarian food. Follow her on Twitter @hilroth12.
READ MORE LIKE THIS:
Keep informed with all our camps coverage and find the perfect camp by searching our Toronto & GTA camps directory.
Sign up for our newsletters to get parenting and family fun articles delivered to you!