Making a DIY homemade Halloween costume can be a lot of fun—and a lot of work! These creative costumes for kids are simple to make: All are either no-sew or require minimal sewing skills (and time) and all are guaranteed to make for excellent photos you'll cherish for years to come!
1. Sushi Costume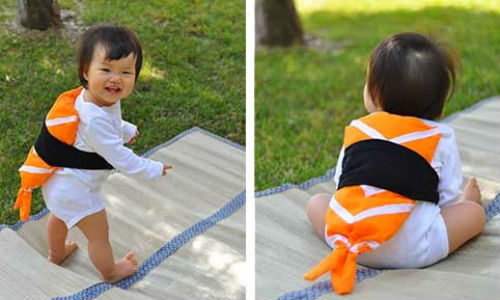 An adorable idea for little ones, this sushi costume from The Cheese Thief is easy to make, with a tiny bit of sewing involved. Apart from the fish and a black "seaweed" band, the rest of the costume is a plain white onesie. It was inspired by Jenn Hsu at the blog Transformed, who made an even simpler version with salmon instead of shrimp—no tail!
Bonus: you have a funky sashimi throw pillow after Halloween!
2. Monarch Butterfly Costume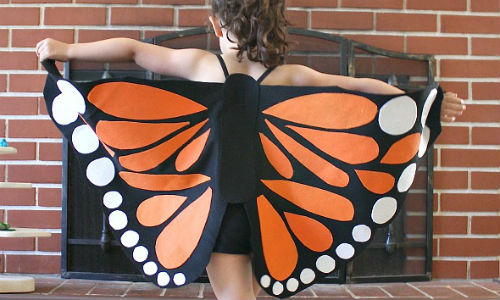 This butterfly costume from Chelsey at Buggy and Buddy is one of those win-win cases where a costume looks complicated to make but isn't at all!
Making it requires simply cutting and gluing felt pieces then a smidge of hand-sewing for the elastics to attach the wings to your child's wrist. (In a pinch, you could just safety-pin it!) Then you just need black tights and a black top to finish it off.
Chelsey provides a shopping list, measurements, and photo tutorial on her blog.
3. Lumberjack Costume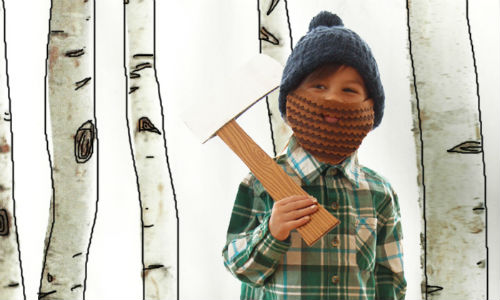 This creative lumberjack costume from Shaleah Soliven at Gold Jellybean is bound to get lots of attention. And all you need is a plaid shirt, jeans, boots, and a toque as the base layers—perfect for chilly Halloween weather.
Shaleah describes how to make the axe and the beard. The latter is made with felt and is sewn together, but we think you could get away with iron-on hem tape in a pinch if you don't have a sewing machine.
4. Pineapple Costume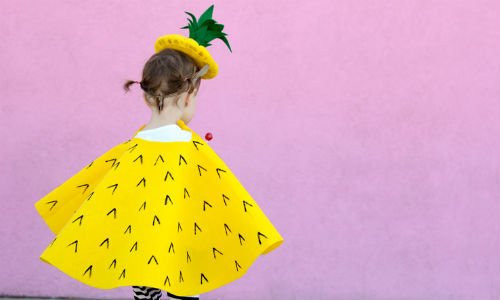 Hooray for felt! This fruity costume from Delia at Delia Creates is another example of an impressive-looking costume that is easy to pull off and doesn't require a sewing machine.
Delia provides a step-by-step tutorial with materials list and photos, plus an apple costume variation.
5. Fairy Princess Costume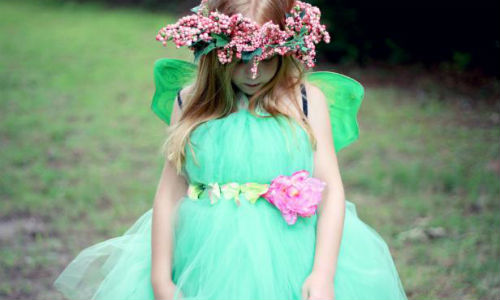 This amazing last-minute costume is courtesy of Jess Abbott for the DIY Network. If you've always wanted to invest in a tutu for your little one—or you already have one at home—you're 80 per cent there.
This requires absolutely no sewing, even by hand. Just pick up a few dollar-store or craft-store additions for the belt and crown, plus a ready-made pair of wings (we've seen inexpensive ones at the dollar store and at party supply stores) and maybe a wand, and you're done!
6. Ninja Costume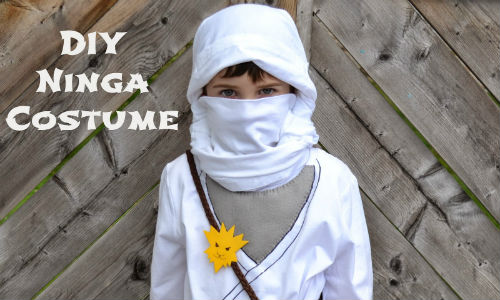 Whether your child is into LEGO Ninjago or Ninja movies in general, this no-sew Ninja costume from East Coast Mommy will fit the bill…in more ways than one—it was made for under $10!
7. Jet Pack Space Explorer Costume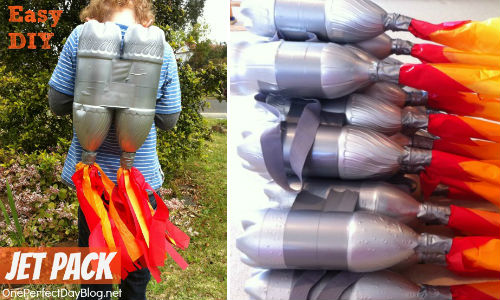 Take two soda bottles, some duct tape, streamers, and silver spray paint and what do you have? A super-cool jet pack for your little space explorer. Ness at One Perfect Day made 12 of these two days before her son's birthday party, so you know it's do-able!
An all-white outfit underneath with some aluminum-foil wristbands and maybe a bike helmet covered in aluminum foil and a space logo or two could complete the look.
8. Robot Costume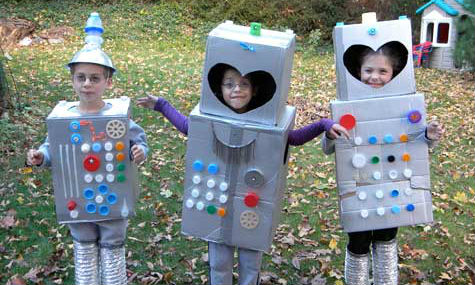 It's a classic: the cardboard box robot! Use recycled materials you have around the house: make knobs, buttons, and gauges from soda-bottle caps, old CDs, or printables on the web. And then just spray-paint your cardboard boxes, of course!
Get inspired by the robot costumes Élena Nazzaro of French Toast Girl made for her three kids.
This is a great one for colder weather: you can layer up with grey sweatpants and turtlenecks underneath. Or go the extra mile and buy dryer tubing for arms and legs, as Sarah from Tots and Bottoms did, in a guest post for Hideous! Dreadful! Stinky!
9. Angel or Swan Costume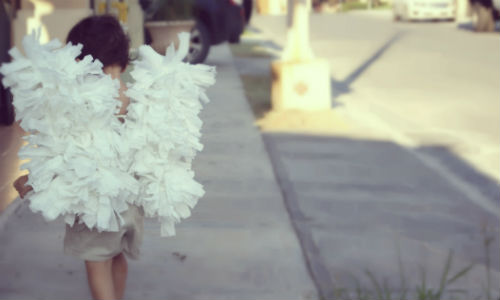 The angel's wings made by Claudia González of Clo by Clau! are simply stunning and made only from white crepe paper and wire hangers. All you need to complete this costume is a white dress, or white sheet draped like a dress.
You could use the same technique for swan's wings (see a cute swan beak made with a white cap from Melanie Blodgett for Minted) or use coloured crepe paper for bird or fairy wings.
10. Bluebird Costume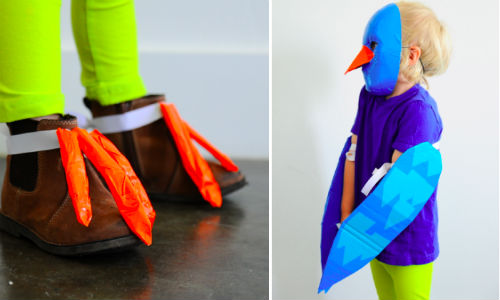 Cute as pie and easy to boot, this no-sew bird costume from Small Fry is a hoot! Using hot glue, a plain dollar-store mask, and coloured duct tape you can create wings and the bird's head and feet. Then dress your tweety pie in a blue top and yellow pants.
11. Mummy Costume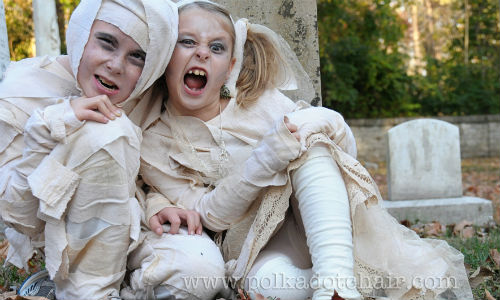 One step up from the simplest made-from-a-sheet costume ever (a ghost!) the mummy is easy to assemble and looks even better with a tip from Melissa Mortenson at Polka Dot Chair: soak your fabric in tea for a vintage look. (Coffee mixed with water works, too.) She also adds pieces of lace and tulle for extra effect.
Melissa's mummy is amazing, but does require sewing and time to get the pieces assembled. For a quicker version, follow the no-sew mummy tutorial from NellieBellie.
Whatever you do, don't make the mistake of wrapping your child entirely in fabric. (Think of washroom breaks!) Instead, attach fabric strips to neutral-coloured top and pants.
12. Bandit/Bank Robber Costume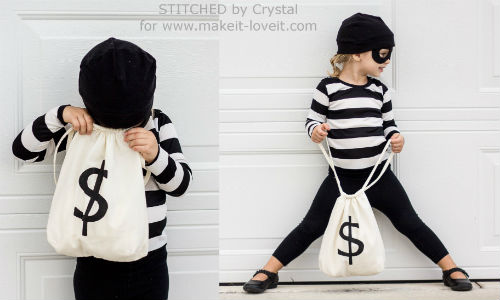 You can get away with (get it?) this super-easy costume with just a striped shirt and black tights, some fabric-gluing and fabric-painting, and some beginner-level sewing (optional).
Crystal from Stitched By Crystal made the adorable bandit costume shown for Make It, Love It. She sewed the money bag—which doubles as a candy sack—but you could also use a plain tote bag for a no-sew version.
13. S'mores Family Costume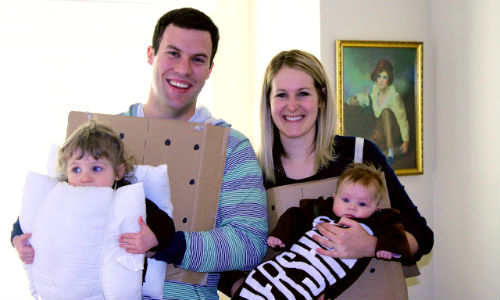 Looking for a way for the whole family to get in on the fun? This s'mores costume can be thrown together in almost the same amount of time as actual s'mores. The chocolate bar is the hardest part, but Alexis from We Like To Learn As We Go provides a tutorial. You could make a cardboard chocolate bar for an older child.