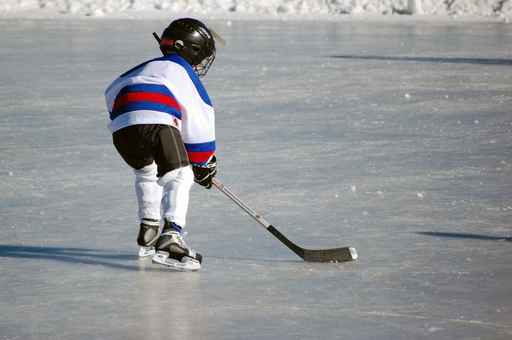 We love hockey, and like most die-hard hockey players, we've suffered our fair share of injuries over the years. While it may seem like injuries come with the terrain, the good news is that there have been a number of advancements in technology since we were kids, meaning better equipment and higher levels of safety for juniors on the ice today.
What do you need to know to ensure that your kids are protected?
Here are the top three things you should consider.
1. Look for cut-proof material.
According to an article published by the Hughston Sports Medicine Clinic, about 80 per cent of all hockey injuries are the result of "direct trauma", which includes anything from falls, to checks and collisions, to skate blades and puck contact.
Of these injuries, lacerations are the most common. Lacerations are a deep tear or cut, meaning that it's essential to look for cut-resistant or cut-proof material when you're purchasing equipment.
It's especially important to ensure that players are wearing a protective layer that covers areas that are not shielded by padding. For example, the Achilles tendon (lower calf area), is typically left unprotected by shin pads and hockey pants. The Oneiric Protective Base Layer has stretchable, lightweight, and cut-resistant material around the anke to protect this area.
2. Get the proper fit.
Concussions are still one of the most common injuries sustained by hockey players. While helmets and face masks will reduce the risk of a concussion, they will not do their job if they don't fit properly.
This goes for most other pieces of equipment as well. Not sure how headgear should be worn? For starters it needs to be snug: the chin strap should be no more than two fingers width below the chin.
3. Be wary of used.
These days it's pretty easy to find used gear online on sites like Kijiji and Craigslist. Buying some equipment used can be a great way to save money; however it's important to know what you can and can't get away with when buying secondhand.
If you're looking to save some money, we recommend looking for quality used skates, as skates (like anything) depreciate significantly after their initial purchase but can be found lightly used.
Safety equipment is best purchased new, especially the helmet. Whatever you do, do not purchase a used helmet as it may have been in an impact, meaning it no longer retains its protective qualities.
We know that buying equipment for your kids can be an overwhelming task, especially if you yourself haven't played hockey before! Hopefully our suggestions have provided a good starting point for your pre-season shopping.

Emily Rudow is the Founder of Oneiric, a Toronto-based company specializing in youth hockey gear. Its newly launched product, the All-In-One Oneiric Protective Base Layer, improves the safety aspect of the game while making dressing for it simple.
READ MORE LIKE THIS:
• tips for keeping kids active in cold-weather months
• 9 ways to motivate inactive kids to exercise
• signs and symptoms of concussion in kids
Live in Toronto or the GTA? Browse our comprehensive online directory for local hockey schools and programs.
Sign up for our newsletters to get parenting and family fun articles delivered to you!