The holiday season is the perfect time to indulge in some magical performances on stage, from classic Christmas traditions like A Christmas Carol and The Nutcracker to non-holiday-themed productions including musicals, magic shows, and more.
Seeing a show with your family is a wonderful way to spend some time together during the holidays, and tickets make for an excellent experience gift for kids.
Plays and Musicals
The children's theatre calendar is filled with performances from now through the end of winter break, with puppet shows, huge Broadway musicals, holiday favourites, and more.
Santa needs the help of some of the naughtiest children on his list to save Christmas after some elves "go rogue" in the North Pole. Second City's annual family-friendly holiday musical is a hilarious production created especially for the underage set.
All ages
The Second City, 51 Mercer St., Toronto
December 15–January 5
Get tickets
Ross Petty Productions' annual pantomime takes us from Ossington to Oz this year for a tongue-in-cheek twist on a classic—from the sparkly ruby high tops to Glinda's replacement, a bawdy and bumbling dame named Sugarbum decked out in pink satin. Kids delight in the lively pop songs and dance numbers and in loudly boo-ing the villainous Wicked Witch.
All ages
Eglin Theatre, 189 Yonge St., Toronto
November 30–January 5
Get tickets
What was the most successful children's puppet show in New York City theatre history has been a hit in Toronto, too, extending its original summer 2018 run up through the holidays. The show features 75 lovable puppets in its adaptation of four popular Eric Carle stories, including Brown Bear, Brown Bear and 10 Little Rubber Ducks and is especially suited to small children, with showtimes at 10 am and 1 pm.
All ages
Randolph Centre for the Arts, 736 Bathurst St., Toronto
December 15, 22, 29
Get tickets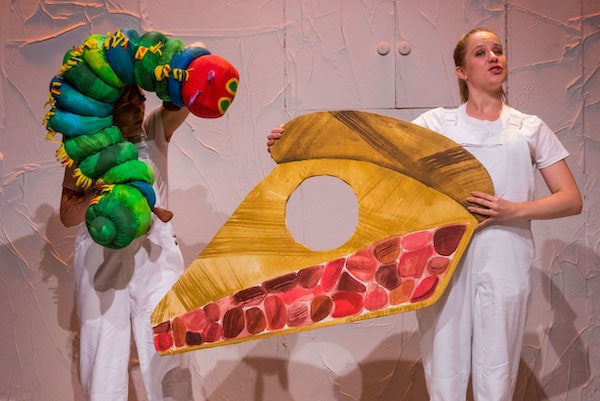 Young People's Theatre presents this hit musical based on the Disney film about a magical nanny who descends from the sky and has more than a few tricks up her sleeve. Expect many tunes you recognize from the movie as well as some new songs.
Ages 5 and up
Young Peoples' Theatre, 165 Front St. E., Toronto
November 5–January 6
Get tickets
Presented by Solar Stage Theatre at its home in Artscape Wychwood Barns, this twist on the Lewis Carroll classic follows Alex on an adventure through Wonderland, in a show that includes shadow play and puppetry.
Ages 5 and up
Wychwood Theatre, Artscape Wychwood Barns, 601 Christie St., Toronto
November 10–January 13
Get tickets
Willy Wonka is allowing a peek into his mysterious chocolate factory—and you're invited! This Mirvish production with fantastical sets, lighting, costumes, and stage effects includes music from the 1971 film as well as some original songs. The child actor who plays Charlie (Henry Boshart) is a true show-stealer.
Ages 6 and up
Princess of Wales Theatre, 300 King St. W., Toronto
November 20–January 6
Get tickets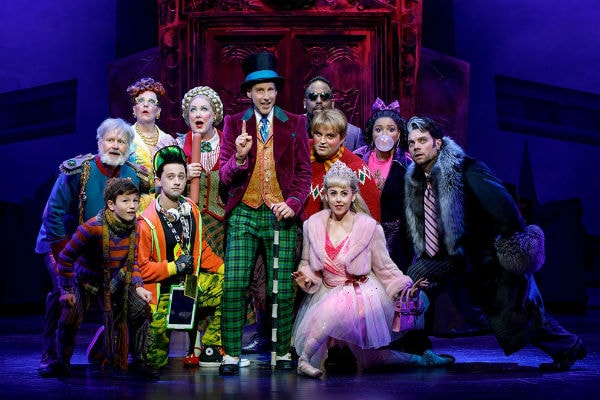 If you're looking for a faithful representation of the classic film, this family show from the Lower Ossington Theatre delivers just that. It features songs from the movie and all the favourite characters. This production had two sold-out runs before extending through the holidays.
Ages 4 and up
Randolph Theatre, 736 Bathurst St., Toronto
December 14–30
Get tickets
An annual tradition, Soulpepper Theatre's production is a faithful telling of the Dickens' classic story about finding the true meaning of Christmas, with Ebenezer Scrooge, Bob Cratchit, and the ghosts of Christmas past, present, and future all decked out in Victorian-era costumes.
Ages 8 and up
Young Centre for Performing Arts, 50 Tank House Lane, Toronto
December 7–24
Get tickets
A musical version of the whimsical J.M. Barrie tale about the boy who never grew up, this rollicking fun production, from Bad Hats Theatre, is the winner of three Dora Awards and is appealing to kids and adults alike.
Ages 3 and up
Young Centre for Performing Arts, 50 Tank House Lane, Toronto
December 8–January 5
Get tickets
If you've seen the 2003 Jack Black film about private school kids learning to rock out with the help of a dishevelled down-and-out guitarist as a music teacher, you've got the idea. This comedic Broadway musical based on the film features 14 new songs from Andrew Lloyd Webber and a lot of opportunities for fist-pumping. It does include some mild adult language.
Ages 8 and up
Ed Mirvish Theatre, 244 Victoria St., Toronto
November 28–January 6
Get tickets
Concerts
These are just a selection of the most family-friendly and nondenominational concerts with appeal for children ages 12 and under. You can also find Christmas concerts at churches throughout the city and more grown-up concerts like Handel's Messiah at venerable concert halls.
The Toronto Children's Chorus presents an afternoon holiday choral concert of superior quality at Roy Thomson Hall. It's the perfect opportunity to introduce kids to choral music, with some 300 children and youth performing seasonal contemporary songs in a family-friendly atmosphere.
Roy Thomson Hall, 60 Simcoe St., Toronto
December 15
Get tickets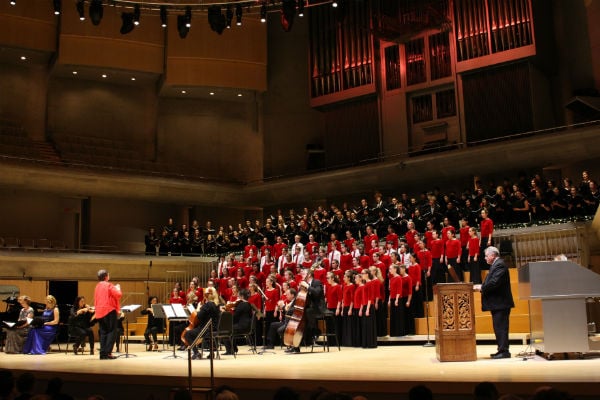 A special evening of Christmas music from the four-person a capella group at Artscape Wychwood Barns. Can't make the show? You can also catch the Candy Cane Carollers daily at the Toronto Christmas Market in the Distillery Historic District.
Wychwood Theatre, Artscape Wychwood Barns, 601 Christie St., Toronto
December 14
Get tickets
What would the holiday season be without a traditional pops concert? Hum along to singable holiday classics like "Winter Wonderland" and "Jingle Bell Rock" performed by Canadian crooner Matt Dusk backed by the Etobicoke School of the Arts Holiday Chorus and the Toronto Symphony Orchestra and take part in the traditional holiday sing-along.
Roy Thomson Hall, 60 Simcoe St., Toronto
December 11, 12, 13
Get tickets
Every year since 1965, the City of Toronto has presented a free Christmas concert in the City Hall Rotunda. Beginning at noon, this year's concert features the Toronto Mass Choir, the Pan Fantasy Steelband, Tower Brass, and the Toronto Beaches Children's and Youth Chorus. Special guest appearance by Santa Claus.
Toronto City Hall, 100 Queen St. W., Toronto
December 20
Free
Dance, Circus, and Spectacle
It's a given that The Nutcracker is a dance experience not to be missed around the holidays. But that's not the only show in town. Experience other movement-based performances in the city this season.
This unique, wordless show is a blend of visual and musical spectacle with interactive elements in each scene. The audience is covered in a gigantic spider web, bats around large coloured balls, and is caught up in a swirling "snowstorm"—all perpetrated by a troupe of Russian clowns—in a show that is poignant, funny, and poetic.
Bluma Appel Theatre, 27 Front St. E., Toronto
December 7–16
Get tickets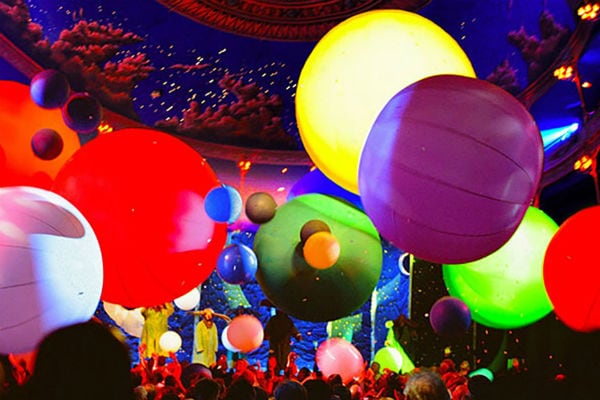 A contemporary circus show incorporating dance, acrobatics, music, and theatre, this show from eight members of the Montreal cirque troupe The 7 Fingers explores the daily life of past generations, re-creating a simpler era and inspired by the histories of the performers' families.
CAA Theatre, 651 Yonge St., Toronto
December 11–January 6
Get tickets
This Tchaikovsky Christmas ballet performed by the National Ballet of Canada is one of the most quintessential holiday experiences for children and adults alike. Be amazed by the grace and the athleticism of the dancers and the spectacle of costumes, music, and scenery in this unparalleled production.
Four Seasons Centre for the Performing Arts, 145 Queen St. W., Toronto
December 8–30
Get tickets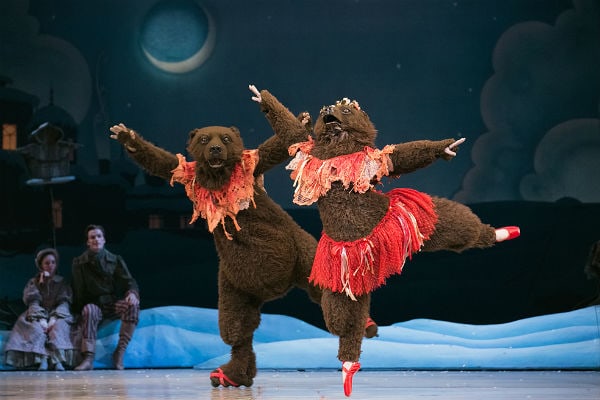 The Nutcracker (Toronto International Ballet Theatre)
This year's production features principal dancers from the renowned Bolshoi Ballet. The Toronto International Ballet Theatre presents a traditional Russian Nutcracker, based on Tchaikovsky's classic ballet with all its traditional beauty, but with unique choreography by the company's director Tatiana Stepanova.
Sony Centre for the Performing Arts
December 22
Get tickets