If you haven't used washi tape yet, you're about to get hooked! We've rounded up some fun and easy washi tape projects for kids and parents, featuring everyone's new favourite craft supply.
If you've visited a craft- or office-supply store lately, chances are you're familiar with washi tape. Essentially masking tape made out of Japanese paper, washi tape has become wildly popular over the past few years. The great thing about washi tape is that it's inexpensive, is available in a wide variety of designs, and is ultra-versatile.
From personalizing school supplies to adding some creative touches to your home decor, there's no shortage of cool ways to use it.
Here are some fun and easy washi tape projects to try.
1. Washi Tape Notebooks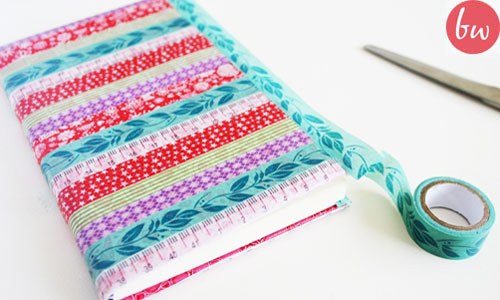 This crafty DIY project is perfect to get your kids excited to go back to school. Just pick up some plain, inexpensive notebooks and a few rolls of washi tape, and let your wee ones go to town. We like this pretty example from By Wilma.
2. Washi Tape Pencils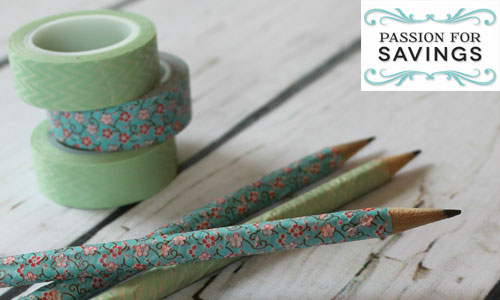 Yellow No. 2 pencils are a classic back-to-school purchase, but they're a little boring, if we're being honest. Grab some washi tape and let your kids add some "oomph" to their pencils, à la Passion for Savings. It works for pens and highlighters, too!
3. Washi Tape Pencil Box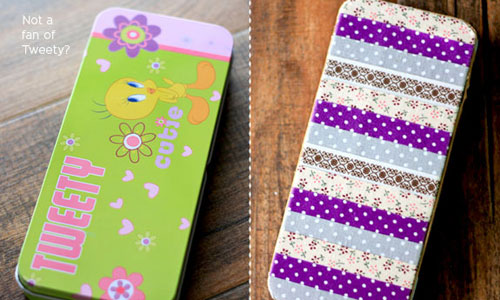 Get a few more miles out of those old metal pencil boxes by resurfacing them with some bright washi tape stripes. This example from Wanderrgirl proves that sometimes a little makeover can go a long way.
4. Washi Tape Bookmarks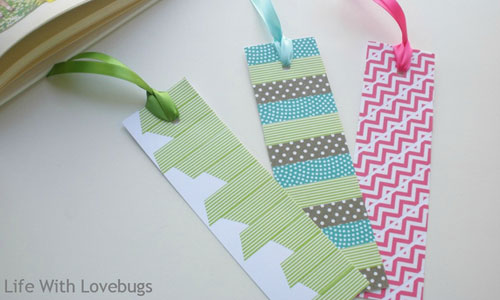 A bit of cardstock, some ribbon, and a few rolls of washi tape are all you need to whip up these super-cute bookmarks. This is a great afternoon craft project for your little bookworm! Head over to Life with Lovebugs for details.
5. Washi Tape Gadget Charger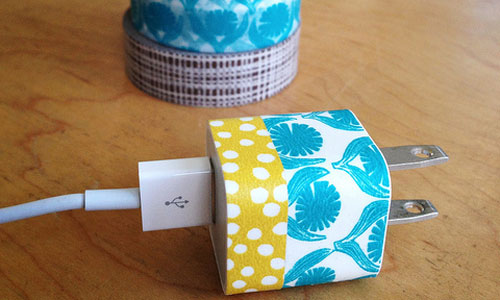 Add a pop of colour to your all-white Apple gadget chargers with this great idea from Sew Trashy. Bonus: If there are multiple chargers in your home, you can customize each one with a different washi tape pattern to keep sets together and remember who owns which cord.
6. Washi Tape Cord Organizers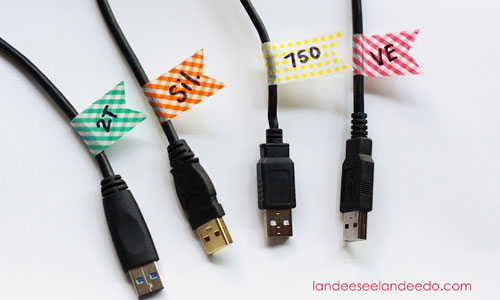 If your power bar has gotten a little unruly, restore some order with a few simple washi tape flags. We like this idea from Landeelu because it keeps cords clearly marked and organized, so you can stop unplugging the TV when you're really trying to unplug your iPhone.
7. Washi Tape Wipe-off Calendar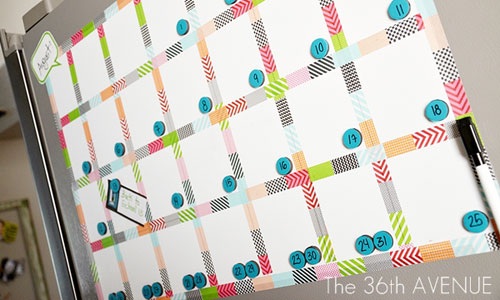 Keep track of all your family's important appointments with this colourful DIY washi tape calendar idea from The 36th Avenue. Being organized has never looked so good!
8. Washi Tape Keyboard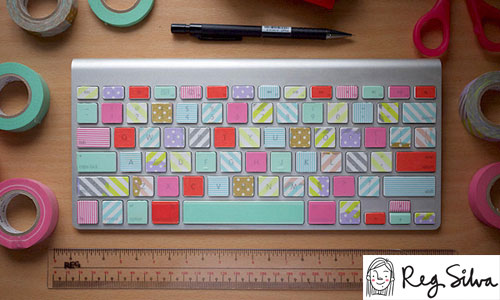 We've seen a few examples of the washi tape keyboard, like this one from Reg Silva, and we can't wait to try it! Go all-out and tape over each key, or opt for a more subtle approach and just dress up a few keys. Either way, typing will feel a little fancier than it did before.
9. Washi Tape Chore Sticks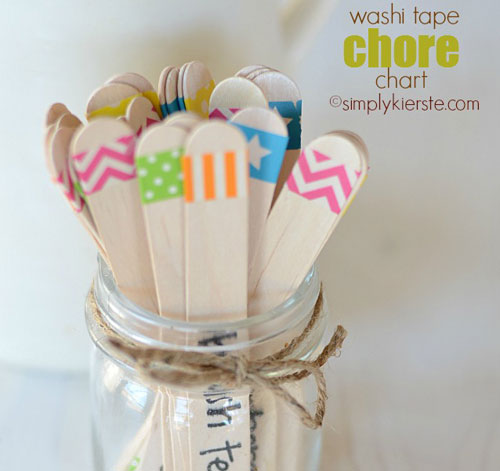 Choosing chores can be a bit of a drag, but your kiddos may enjoy it more if it feels like a game. This idea from Simply Kierste puts a new twist on the old chore chart with some help from washi tape-decorated craft sticks. Visit Simply Kierste for more details on making your own chore jar.
10. Washi Tape Clothespins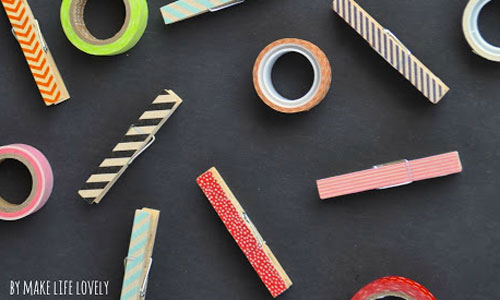 This washi tape project is a favourite of Laura at Make Life Lovely, and we can see why! Add a bit of tape and your ho-hum clothespins are suddenly worth putting on display. Take it a step further and attach a magnetic strip to the back of each pin to make some ultra-cute note clips for the fridge.
11. Washi Tape Notepads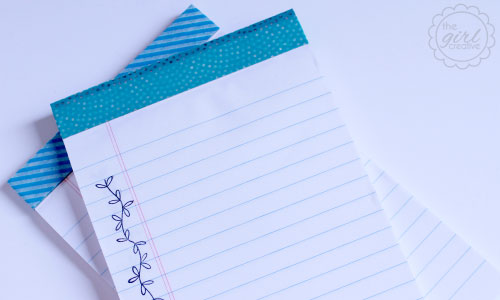 Need a last-minute gift for your child's teacher? Diana from The Girl Creative made this set of personalized notepads to show her appreciation. Once you've customized your notepads, add a few washi tape-wrapped pens, tie it all together with a bow and voila!—a practical and inexpensive gift that any teacher would be happy to receive.
12. Washi Tape Paper Clip Flags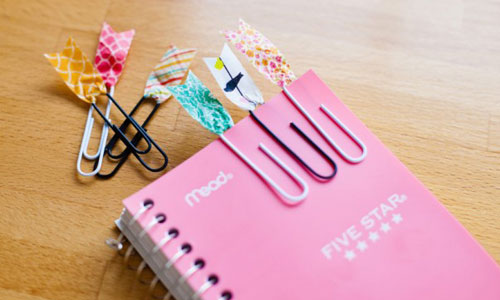 These paper clip flags from She Hearts It are sweet and simple. Use them in place of sticky notes to highlight important notes or dates. They make great mini-bookmarks, too!
13. Washi Tape Mousepad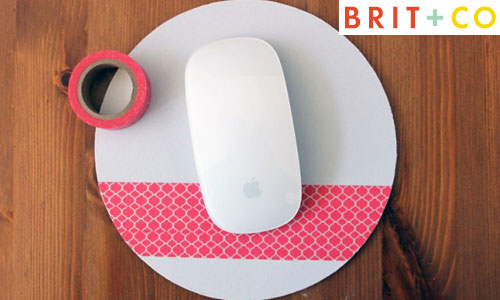 Have a boring mousepad that needs a little personal touch? Add a few strips of washi tape, like this one from Brit + Co to give your desk an instant style boost.
14. Washi Tape Car Track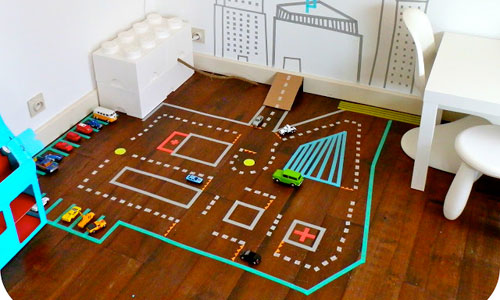 One of the great things about washi tape is that it's removable, like masking tape, so there's little worry about it damaging surfaces in your home. With that in mind, we love this clever use for the tape from Le Jardin du Juliette—washi tape applied directly to the floor to create the ultimate track for matchbox cars.
15. Washi Tape Dolls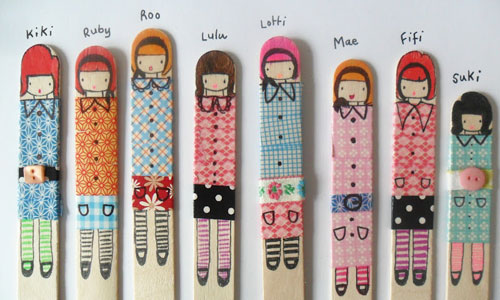 Did you know that you could make toys using washi tape? Just look at this set of Miss Lolly Dolly wooden stick dolls made by Jane from Teawagon Tales! Here, washi tape becomes a colourful outfit for each unique "doll." It's a quick and easy craft that will help encourage your child's creativity and imagination. We love it!