Ever wondered how to make a piñata? Well wonder no more—it's actually much easier than you think and it's a great activity to do at a birthday party, or really any celebration for that matter.
Supplies
2 pieces of cardboard
mural paper (slightly thicker than regular paper)
masking tape
crepe paper (aka streamers)
candy or small toys for the inside of your piñata
Instructions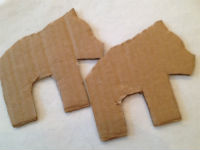 1. Decide what you want your piñata to be, and then draw an outline of the shape onto the cardboard. Cut out the shape and trace it onto the second piece of cardboard, when finished cut out the second shape.
2. For this step, the width of the paper you use will determine the thickness of your piñata. We used about 2.5″ wide mural paper for this step. Cut a strip of the mural paper and tape it onto one of the pieces of your piñata, following the outline of the shape.
3. Once you've secured the mural paper to the cardboard shape, start to attach the second piece of cardboard. The trick is to remember to not completely attach the two pieces until you've put your candy in! You also may want to attach a hook to your piñata now as it will be harder once you've sealed it.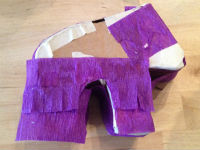 4. Once you've sealed your piñata you can start to decorate it. We used one colour of crepe paper but you can go to town here and use the whole rainbow! We glued the paper on with a glue stick and then cut little slits.
And voilà! You have a finished piñata!
We had a Mexican fiesta-themed birthday at Seasons and we had all the kids make their own little piñatas. They had a ball making them and of course filling them with candy!
If you made this on a much bigger scale you could use it as an activity at a birthday party.
All images by Nikki Goldman-Stroh
READ MORE LIKE THIS:
Looking for more ways to keep kids occupied at your party? Try these fun party games for kids, grouped by age.
Check out 7 festive kids' party drinks to make the day that much more fun.
Celebrate your child's big day in small ways, too, with 13 birthday traditions to make the day extra-special!
Download our birthday party planning checklist to help make planning easier. And be sure to check out our Toronto & GTA birthday party planning directory.
Sign up for our newsletters to get parenting and family fun articles delivered to you!