Throwing a birthday party can be time consuming and expensive. Thankfully, Toronto offers a bunch of great options where you can take your party to a venue and have someone else do all of the prep-work, clean up and entertaining! Some will even provide food and loot bags (for a fee). Here is a list of some affordable venues across the city where you can to celebrate your child, and sit back and enjoy the party.
Toronto West End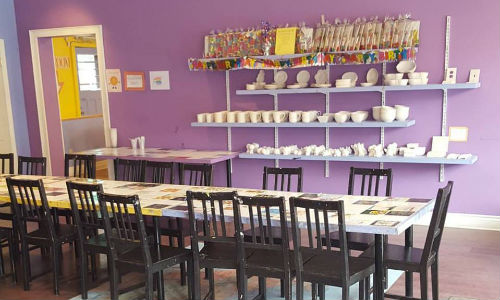 Explore your party guest's creativity at All Fired Up Pintable Ceramics. The kids will have a blast painting their pottery pieces and creating their own pieces of art to take home. Pretty much everything is included in the party packages. You just need to bring food and drink!
Packages from $200 for up to 8 kids
8 & 10 Brentwood Rd. N., Toronto
416-233-5512
info@afu-ceramics.com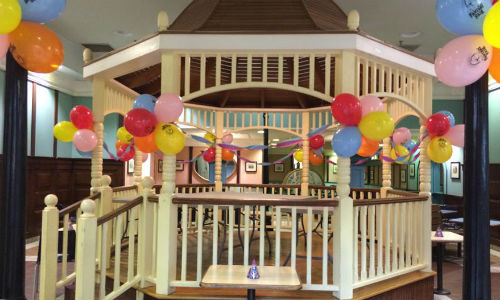 Enjoy watching your party guests enjoy one of Toronto's favourite indoor playgrounds and Ontario's largest indoor amusement park. Fantasy Fair is the perfect party for your carnival lover, who will enjoy the all of the rides and attractions, including a full-size carousel and drop tower, while celebrating with their friends.
Packages from $149 for up to 5 guests
500 Rexdale Blvd., Etobicoke M9W 6K5
416-674-5437, ext. 265
wbcfantasy@fantasyfair.ca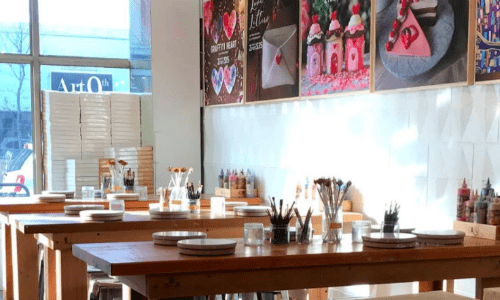 Explore your guests' artistic talents with art-themed parties at 4Cats. Whether the birthday boy or girl wants to play with clay, collage, or paint, 4Cats offers the perfect art party. Parties include an hour of instruction and a finished piece to take home. Booking the room for a party (pizza/cake) afterward is $20 for 45 minutes.
Packages from $225 for up to 10 kids
417 Jane St., Toronto
647-479-3120
babypoint@4cats.com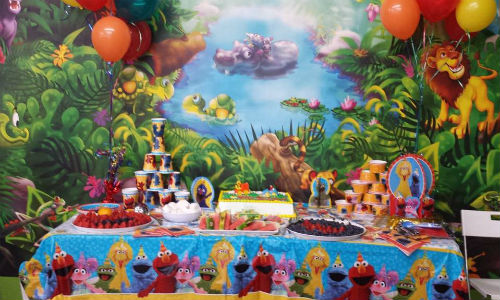 Bring your group of young, rambunctious party guests to Hooray for Play where they will enjoy a two-story play structure with slides, a climbing tower and other play structures. There is also a separate toddler area for your younger guests.
Packages from $249 for up to 12 kids and 24 adults
486 Evans Ave., Toronto
416-255-5885
info@hoorayforplay.ca
Toronto East End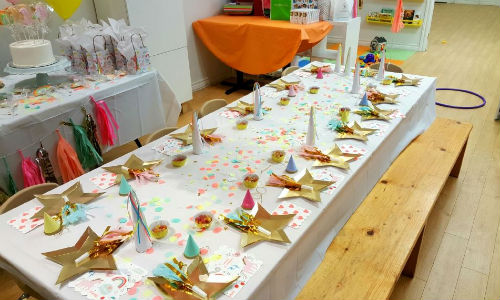 This is a great place to entertain kids with fun, interactive parties in a space. Packages are a little pricier than other budget options, but parties accommodate up to 40 guests and are longer than average, at 2.5 hours. So, for celebrations with larger guest lists it's still a relative bargain.
Packages from $329 for up to 40 guests
1856 Danforth Ave., Toronto
416-425-3213
danforth.parties@oaksnacorns.com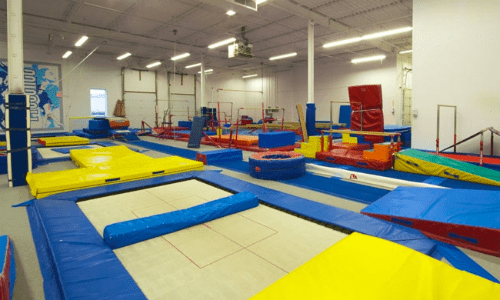 Your party guests will have a blast jumping on trampolines, playing games, learning gymnastics, and jumping in a giant foam bit at East York Gymnastics club.
Packages from $195 for up to 9 kids
6 Dohme Ave., East York
416-759-6823
info@eastyorkgym.com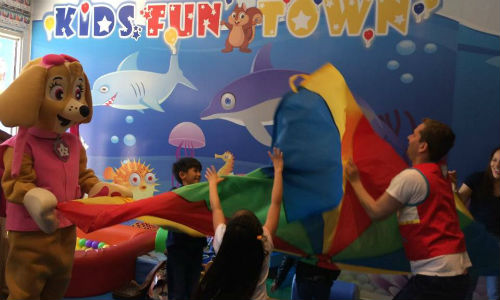 Let your party guests bounce the afternoon away at this indoor playground, boasting an inflatable bouncy castle with attached slide, a climbing tower, a basketball game, ride-on toys, and other play structures. There is also a toddler area for your younger guests. Kids Fun Town will do all the work to host your party, including providing cake and food.
Packages from $299 for up to 10 kids
2040 Danforth Ave., Toronto
416-277-7689
info@kidsfuntown.ca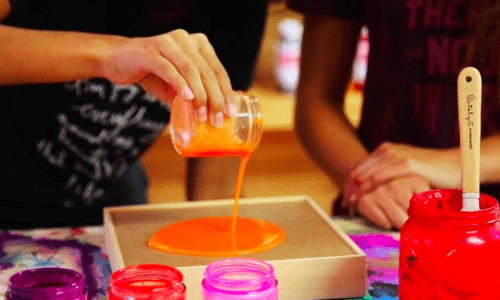 Kids' art-themed parties at 4Cats in The Beaches are themed around fun activities like clay character design, painting, collage, and "pouring parties" to make modern resin art. Parties include an hour of instruction and a finished piece to take home and time for a pizza/cake party after the art-making.
Packages from $225 for up to 10 kids
2138A Queen St. E., Toronto
647-345-4300
thebeaches@4cats.com
Toronto Central (Downtown and Midtown)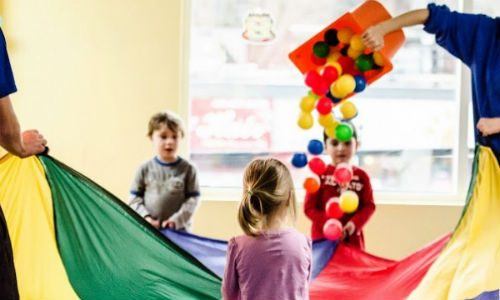 Located in the heart of Midtown Toronto, Kidnasium offers a variety of recreational gymnastic programs to help challenge and entertain children with a host of activities.
Packages from $250 for up to 12 kids
745 Mt. Pleasant Rd., Unit 201, Toronto
416-480-2608
info@kidnasium.ca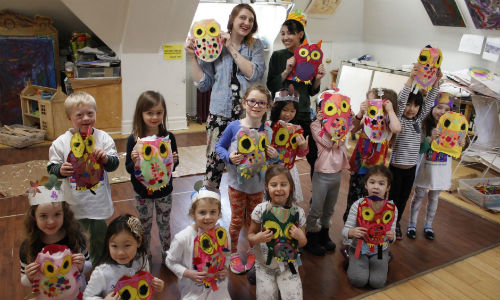 Bring your birthday party to Avenue Road Arts School and let them be entertained and taught by qualified teachers about visual arts and drama. Choose from a variety of themes including theme-based art projects like Picasso Portraits, Animals in their Habitats, Magic Wand and 3D Landscapes.
Prices from $22/child
460 Avenue Rd., Toronto
416-961-1502
contactus@avenueroadartsschool.com
North Toronto
For something a little bit different, host your next birthday party at North Beach Volleyball Academy! Your guests will play a bunch of beach games, indoors, including beach volleyball, a treasure hunt, and a good 'ol Tug O' War match.
Prices from $14.50/child
74 Railside Rd., North York
416-446-0777
info@northbeachvolleyball.com
Science! Parties at Mad Science include an interactive show with an exciting line-up of awesome chemical reactions, dynamic illusions, fun kitchen chemistry, and special effects, followed by a cool take-home experiment.
Packages from $230 for up to 14 kids
14-1170 Sheppard Ave. W., Toronto
416-630-5282
birthdays@madscience.on.ca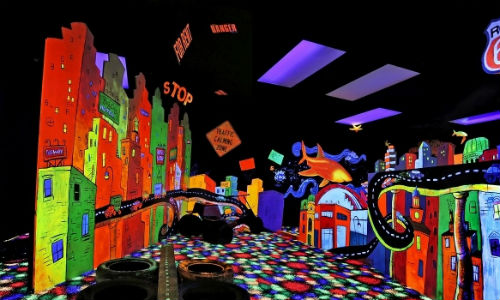 The perfect venue to enjoy fun and interactive games: play laser tag or cosmic mini golf, or host a roller-skating party at the indoor rink. Fun add-ons like a glow-in-the-dark party room, custom candy making, and a photo booth are available.
Packages start at $22/child
65 Orfus Rd., Toronto
416-410-7469 ext. 13
birthdays@rinxtoronto.com