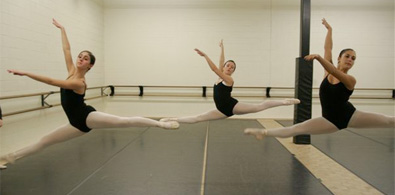 We know that exercise makes a huge impact on children's learning, and dance is an excellent form of exercise for kids. Research has found that the introduction of dance lessons in childhood has the potential to positively affect social interaction within families and amongst kids and their peers.
If you're in Toronto and want to instill a love of dance in your kids, try a class atPerforming Dance Arts. Conveniently located just off the 400 at Major Mackenzie drive, with over 11,000 square feet of space, this is a fantastic dance studio. They have four themed studios, spacious change room facilities, a large lobby with four screens to watch your child dance (!), a warm up area, and a homework and lunch room.
If you're in Ottawa, why not try a dance class at The Studio School of Dance? Now celebrating 20 years of excellence, they believe each child should receive the best dance education possible. With highly certified teachers, and a true family atmosphere The Studio is a great place for the kids and adults alike.
If you call Calgary home, try a dance class at Urban Dance Projects. UDP has lessons in hip hop, jazz, tap, ballet, musical theatre, lyrical, street jazz, contemporary, preschool and even in adult dance. Also, a wide variety of recreational classes are offered for students who wish to benefit from the fun and fitness of dance.
In Vancouver, kids can learn about cooking at Dance Co. Dance Co has been widely recognized for its ability to create strong well-balanced dancers. Competitions and festivals honour our students' abilities by consistently granting them awards and scholarships. Also, their faculty maintains a reputation of excellence and innovation that is awarded within the dance community.
What better way to make sure the kids are exercising and having loads of fun at the same time than to send them to a dance class? While you're there you might be inspired to take one yourself! And if dance isn't your cup of tea, don't forget there are lots of other sports classes available that will allow children to be active and have fun at the same time.