Toronto's largest and best-known family music program for babies and young children, Rainbow Songs has guardian-and-child music classes for you and your baby, toddler, or preschool child at different stages of development.
Bond with your infant as you sing songs in our music classes for babies. Explore and play with your 1- to -2-year-old while singing and dancing together in our music program for toddlers. Encourage your child's natural love of music while singing and dancing in music classes for young children (up to age 4). And let your inner rock star at musical instrument jam sessions!
The dedicated team of Rainbow Songs Trained Music Educators will help you and your child feel connected and inspired as you immerse yourselves in the world of music.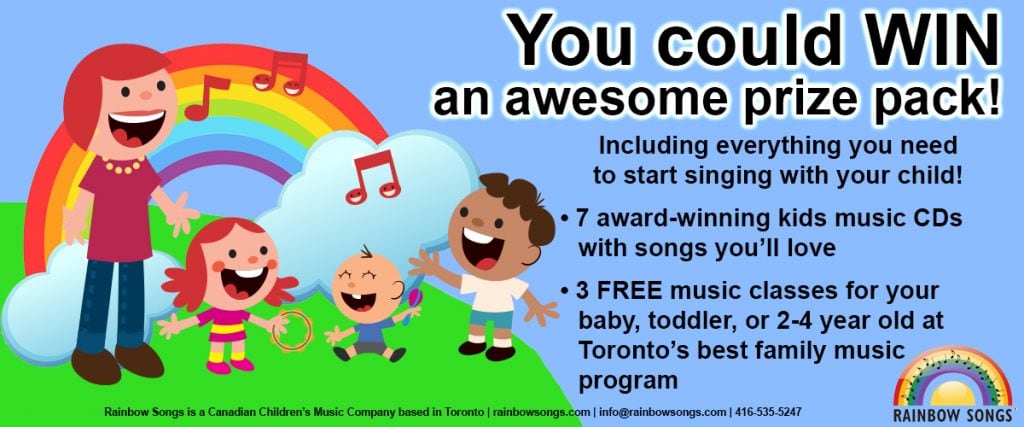 Enter below to win 3 free music classes at a Rainbow Songs location near you plus 7 Rainbow Songs CDs — a $200+ value!
One prize available to win! Includes a set of 7 award-winning children's music CDs and 3 free music classes for your baby, toddler, or 2- to 4-year old! (value $200). CDs will be mailed to the winner. The 3 free classes may be booked at any of the 20 Rainbow Songs locations in Toronto.
Good luck!
rules and regulations
. Prize: 3 (one) music classes at any Toronto 
Rainbow Songs location
(prize awarded as a $65.97 account credit) and 7 children's music CDs (mailed to winner). Total value approximately $200. 
Prize is non-transferrable.