Looking to enrol your child in swimming lessons in Toronto? Whether you're looking for private swimming lessons, Red Cross programs, swim lessons for babies or toddlers, one-on-one instruction at your own pool, competitive swim clubs, or anything in between, these top-notch swim schools have it covered.
This list of the best swim lessons in Toronto is based on user reviews and page visits to the 83 providers with swimming lessons for kids in Toronto & the GTA in our online directory. See who made the cut!
Note: Not included here are the many public swim centres operated by the City of Toronto's Parks and Recreation Department.
1. Davina's Swim House
Davina's Swim House offers year-round swimming lessons with a low (3:1) student to instructor ratio. Classes for all levels and ages (5 months to adult) take place at four locations around Toronto. Red Cross and Lifesaving programs are also available.
2. North York Aquatic Club (NYAC)
This pre-competitive and competitive nonprofit swim club offers swimming lessons and coaching, technique instruction and conditioning for ages 6 and up. North York Aquatic Club also offers summer camps, which focus on technical skill, training habits and mental preparation. Children must be able to swim 25 m without stopping for all programs. There are several pool locations and times available.
3. Buckler Aquatics
Buckler Aquatics has been teaching kids to swim for almost 50 years. This private swimming club offers lessons for all ages from infants to adults, including the TAD program for infants and toddlers, Red Cross Swim Kids program, special needs program and lifesaving programs, as well as adult lessons. Both small group and private lessons are available.
4. Water Babies
Even newborn babies can learn to swim! Water Babies introduces babies as young as newborns to underwater swimming in a gentle, gradual and carefully controlled manner. These classes are for babies with parent or caregiver, with lots of bonding and socializing time. An underwater photo shoot is available at the end of the term. Lessons for babies are held at three locations: Vaughan, Markham, and Downtown Toronto.
5. Toronto Summer Swim Camp
At this summer camp, kids ages 5 and up can work on swimming technique, core body fitness, and swimming confidence in a world-class facility, Summerville Olympic Outdoor Pool. Swimmers are grouped by age and ability, from beginner to Junior National Team members. All campers must be able to swim the length of the pool before registering. Kids ages 10 and under focus on the fundamentals of competitive swimming. Training includes supervised runs on the boardwalk and on the 400 m track.
6. AquaMobile Swim School – Lessons in Your Home
Highly trained swim instructors come to your home to give you private swimming lessons in your home pool. They provide lessons for infants to adults, including a learn-to-swim program and the Red Cross and Lifesaving Society swim programs. Private lessons are customized to your child's individual needs. Lessons are available in your backyard or condo pool, anywhere in the GTA.
7. Olympium Synchronized Swim Club (OSSC)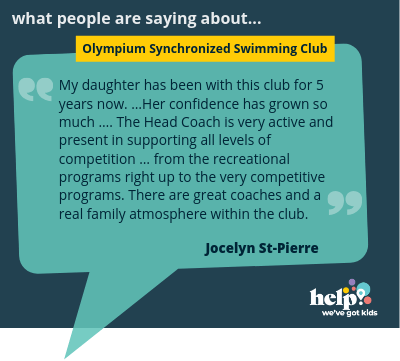 Children who enjoy swimming, music, and teamwork may enjoy the challenging and unique Olympic sport of synchronized swimming. Olympium Synchronized Swim Club (OSSC) offers recreational classes, summer day camps, and competitive team programs for swimmers aged 5 to adult. The club includes National Team coaches, Olympians and former National Team members. The home pool is at the Etobicoke Olympium; recreational programs operate out of three other pools in the Toronto area.
8. Jack of Sports
Jack of Sports offers high-quality swim camps as well as after-school and weekend private swim lessons. Swim lessons begin at age 1½ for parent and tot programs. They are offered in a number of locations in west, central and east Toronto. Summer swim camp and multi-sport camps that incorporate swimming are also available.
9. Aqua-Tots Swim Schools
Specializing in children's swimming classes that are designed to equip children with lifelong water skills, Aqua-Tots Swim Schools offers classes for babies (4 months and up) to age 12. Multiple siblings of varying swimming abilities can take lessons during the same timeframe to ease scheduling hassles for parents. Lessons are offered in Mississauga year-round, and students can register at any time.
10. Felix's Swim School
Felix's Swim School has swimming lessons for ages 8 months to adult, at all levels, at 7 pool locations across the GTA, including Thornhill, North York, and Woodbridge. Low 3:1 instructor ratios (4:1 at Toronto Downtown) allow for an individualized approach to lessons. Private lessons and Red Cross Swim programs are available. The swim team introduces the elements of competition to swimmers who have completed at least 10 levels of instruction. They do swim birthday parties, too.
---
Honourable Mention: SEAL Swimming
SEAL Swimming offers small-group and private swim lessons at four Toronto locations. It has beginner swim lessons for babies, toddlers, kids, and adults, but it's especially beneficial for kids interested in being involved in competitive swimming, in a fun and supportive environment.
Didn't find what you need here? You can browse our entire swimming lessons category here for more swim school and instructors in Toronto & the GTA.