Search 8,000+ local birthday party places, camps, after-school programs and more.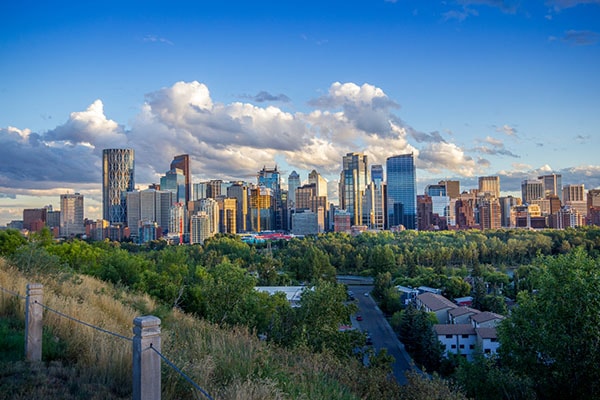 Nestled between the Canadian Rocky Mountain Foothills in the west and the Canadian prairies to the east, Calgary has the best of all worlds. As Canada's third-largest city, Calgary offers museums, cultural events, and great dining and shopping experiences, as well as plenty of adventures for the outdoor enthusiast.
Calgary may be synonymous with the famous Calgary Stampede, which has taken place every July since 1912. It features the expected western events, including rodeos and chuckwagon races, as well as other shows, such as freestyle motocross events. There is also a midway, and several concerts are held during the Stampede as well. Stampede Park hosts events and concerts year-round.
Whether its due to the city's proximity to the Rocky Mountains or because it hosted the Winter Olympics in 1988, winter sports are a big draw in Calgary. Olympic Park is a favourite destination, and you can enjoy snowboarding and skiing on runs for all levels, public skating, and bobsleigh and luge rides during the winter months. Ziplining, a climbing wall, and mountain biking are popular summer activities at the park. Canada's Sports Hall of Fame is also located in the park.
Two rivers run through Calgary, the larger Bow River and the Elbow River, and there are several parks surrounding them. In fact, there are about 8,000 hectares of parkland within the city limits, including Fish Creek Provincial Park, Nose Hill Park, and Bowness Park. Approximately 800 km of pathways connect the parks and several tourist destinations.
Calgary Population
1,239,220*
*Source: Statistics Canada (2016)
Calgary Neighbourhoods
Downtown Calgary
Downtown West End, Downtown Commercial Core, Downtown East Village, Eau Claire, Chinatown, Beltline
Calgary Northeast
Bridgeland/Riverside, Crescent Heights, Mayland, Mayland Heights, Renfrew, Tuxedo, Winston Heights, Mountview
Calgary Northwest
Banff Trail, Bowness, Crescent Heights, Capital Hill, Hillhurst, Hounsfield Heights/Briar Hill, Montgomery, Mount Pleasant, Parkdale, Point Mckay, Rosedale, St. Andrews Heights, Sunnyside, University of Calgary, West Hillhurst
Calgary Southwest
Altadore, Bankview, Bel-Aire, Cliff Bungalow, Currie Barracks, Lincoln Park, Connaught, Elbow Park, Elboya, Erlton, Garrison Green, Garrison Woods, Glamorgan, Glenbrook, Glendale, Killarney/Glengarry, Lower Mount Royal, Mayfair, Meadowlark Park, Mission, North Glenmore Park, Parkhill/Stanley Park, Richmond, Rideau Park, Rosscarrock, Roxboro, Rutlans Park, Scarboroo, Scarboro/Sunalta West, Shaganappi, South Calgary, Spruce Cliff, Sunalta, Upper Mount Royal, Westgate, Wildwood, Windsor Park
Calgary Southeast
Albert Park/Raddison Heights, Alyth/Bonny Brook, Burns Industrial, Dover, Erin Woods, Forest Heights, Forest Lawn, Highfield Industrial, Inglewood, Manchester Industrial, Manchester, Ogden Shops, Ogden, Southview, Victoria Park
Top Family Attractions in Calgary
Calgary Zoo, Calgary Tower, Heritage Park, Calgary Stampede, Saddledome, Olympic Park, Calaway Park, Telus Spark, Canada's Sports Hall of Fame, Hanger Flight Museum, Fish River Provincial Park, Nose Hill Park, Bowness Park, Fort Calgary