Shopping for school clothes, sporting gear, or a special event doesn't have to be painful. Toronto has tons of great kids' clothing stores, whether you're looking for back-to-school clothes at a great price, sports gear for the upcoming season, or a snazzy outfit for a wedding or other special event. Here are some of our favourite kids' clothing stores in Toronto, for any occasion, style, or budget.
Boys' Dress Clothes
Crawford Boys Clothing specializes in snazzy suits, tailored shirts, and dress pants for boys—plus all the ties, belts, cufflinks, and socks to go with them. The shop carries sizes 4 to 22, with a wide assortment of "husky" fit clothing. Free alterations and an attentive, knowledgeable staff (the family-owned shop has been in business since 1952!) are icing on the cake.
Girls' Dress Clothes
For a seriously gorgeous dress, go to Lil' Vogue (214 Faywood Blvd., North York). Everything is hand-sewn and is selected by owner, designer, and formal-wear pattern-maker Sandi Emanuel. Granted, the shop is in Thornhill, but for a special occasion we think it's worth the trek even if you live downtown.
We also love Trendy Bambini (Richmond Hill) for its adorable tutu dresses and affordable prices ($60 for most dresses).
Trendsetting Outfits
Whether it's you or your child who is the style maven, Higher Ground Girls is the place for fashion-forward, modern, and urban pieces. Find brands like Ella Moss, Burberry, Lili Gaufrette, Paul Smith Junior, and Junior Gaultier. You'll find a large selection of casual outfits perfect for school, camp, or day-to-day.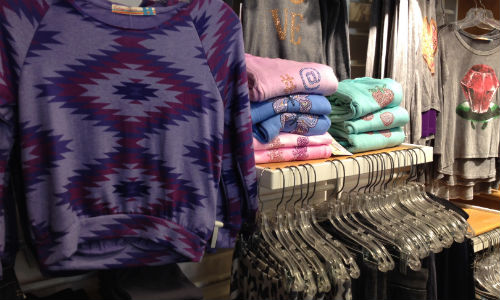 Higher Ground Girls (photo: Shannon Kelly)
Play Clothes
All kids need clothes that are rough-and-ready—utilitarian and well-made for protecting them from the elements and getting serious playtime accomplished. You could got to Old Navy, but if you need pieces that will last, Mountain Equipment Coop (MEC) is our go-to choice for everything from sun-protective gear to rain pants, all types of hats, and cargo pants.
Eco-Chic Clothing
Mini Mioche is a favourite for its dedication to ethically produced and environmentally friendly clothing—plus, everything in the store is manufactured and produced in Canada. That would be enough, but Mini Mioche's clothes are also super stylish, in a simple and understated way.
Sports Gear
If the cost of your child's sports equipment has got you down, head to Geared to Win Sports, which has new and gently used equipment at great prices. Find hockey, baseball, softball, basketball, soccer, and tennis equipment, plus bikes, scooters, skateboards, and more. They'll also buy used equipment in decent shape and pay you in cash or store credit.
Need something closer to downtown? Sporting Life (in the Yonge and Eglinton area) is always a sure bet for all kinds of sports clothing and equipment.
Casual Elegance
Imagine what a todddler might wear to a tea party you get a sense of the French clothing brand Jacadi, which has shops in Yorkville's Hazelton Lanes and at the Bayview Shopping Centre. Neatly tailored pieces for kids ages 2 to 12 (baby and tween girl sizes available, too) are timeless, stylish, and sturdy enough for everyday wear—though you'll probably want to save them for school pictures or special occasions. Think striped sailor dresses, cardigans, toggle-closure parkas, and chukka boots. Clothes aren't cheap, but sales are excellent.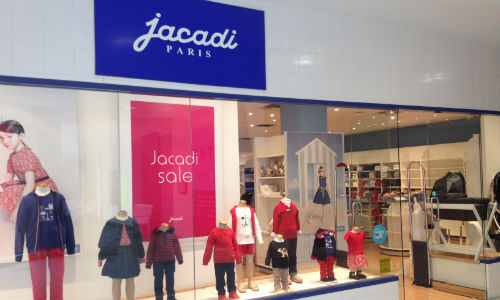 Jacadi at Hazelton Lanes (photo: Shannon Kelly-Bilyk)
Rock-Bottom Prices
When you need something basic in a hurry, and at a good price, there's no better option than Joe Fresh. You're almost guaranteed to leave with at least one item that wasn't on the list, but was too cute to pass up. An ever-changing inventory of styles means you can visit often and always find something new.
Second-hand Duds
Once Upon a Child is a franchise with three locations in Toronto. It's our pick for it's fast-moving inventory and attention to quality. You won't find badly abused items here—the goods are curated and you can often find brand-new clothes with tags. (Recent score: a good-as-new Hatley rain jacket for $15!).
Also see our article on Toronto-area stylish used-clothing shops we love.