Photo: CNE
Every year, the Canadian National Exhibition (CNE) ends summer with an extravaganza of fair festivities. This year the event is August 21–September 7, and every day is filled with family-friendly entertainment, including general attractions, farm fun, a Kids' World, character meet and greets, parades, shows, and much more.
To see a full list of activities and events happening at the CNE and plan your visit, check out the CNE website.
If you would rather spend more money on souvenirs than admission, the CNE provides a variety of deals to make your visit with your family more affordable.
Here is our list of the best things for kids to do at the 2015 CNE.
Check out all the new must-try foods at the 2015 CNE, too!
Attractions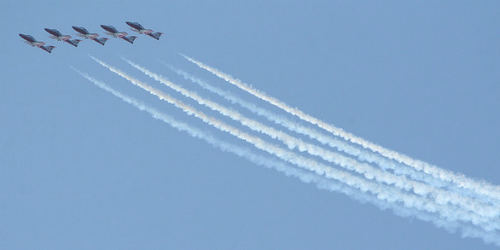 Photo: Indrean Ramalingam
Canadian International Air Show
Sept. 5–7
noon–3 pm
The 66th annual Canadian International Air Show (CIAS) soars over Lake Ontario Labour Day weekend for an awe-inspiring performance.
Bon Voyage! Aerial Acrobatic & Ice Skating Show
Daily
2 pm and 5 pm
After a two-year hiatus, the aerial acrobatics and ice skating show returns to the CNE. Canadian ice dancing gold medalists Tessa Virtue and Scott Moir will perform every day of the fair. Also featured in the show are the talented acrobat/aerialist husband and wife team: Dominic Lacasse and Karen Goudreault.
SuperDogs
Daily
Mon–Thurs: 12:30, 3:30, and 6:30 pm
Fri–Sun: noon, 2:30 pm, 4:30 pm, and 6:30 pm
Watch and cheer as the sensational SuperDogs jump, weave, leap and even act to electrifying Hollywood hits in their new HollyWoof Show! Plus, see them test their focus as they take on our new Path of Distraction, play audience-interaction games like Frozen Showdown, and compete for their own star on the HollyWoof Walk of Fame!
Kiddie Rides
Daily
Weekdays: 11 am–11 pm
Weekends: 10 am–11 pm
Labour Day: 10 am–9 pm
There are a lot of midway rides at the CNE for kids, including the Dog Ride, Alpine Funhouse, Berry-Go-Round, China Dragon, and dozens of others. Admission to the kiddie rides requires the purchase of ride tickets.
Farm Fun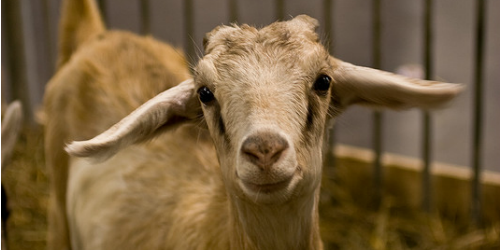 Photo: somecanuckchick
Agri-Magic
Daily
1:30 pm, 3:30 pm, 5:30 pm, and 6:30 pm
Agri-Magic is an interactive magic show that educates audiences about Canadian Farming! Don't miss this high energy and educational experience which involves lots of audience participation and prizes.
AgVenture
Daily
10 am–10 pm
AgVenture is a colourful and engaging interactive area designed for children ages 3–10 which takes kids on a journey through five miniature barns. Each barn provides visitors with "hands on" tasks related to planting crops and tending to animals. After the children have gone through each barn and collected their products, they "sell" them at the market for a fair colouring book.
Inflatable Corn Maze
Daily
10 am–10 pm
Get lost in an inflatable corn maze in the heart of the CNE Farm.
Kids' World Attractions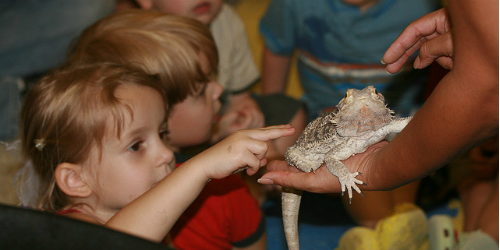 Photo: Sean Brady
In addition to being the location of several fun CNE activities and events, Kids' World is the location of the Baby Care Centre and Toddler Town.
Reptilia
Daily
10 am–8 pm
Mon–Thurs Shows: noon, 3 pm, and 6 pm
Fri–Sun and Labour Day Shows: noon, 1:30 pm, 3 pm, 4:30 pm, and 6 pm
Take a look at the Reptilia exhibit to see pythons, young alligators, tortoises, iguanas, boas, and even a rattle snake. Learn all about them and meet the scaly performers after a show!
Art Studio
Daily
10 am–8 pm
Roll up your sleeves and explore the world of the artist working in a medley of different media! Creative projects at the Art Studio include: weaving, colouring, zen doodling, fibre arts, and sculptures.
Dora the Explorer Sing-Along Adventure
Daily
3:30 pm
The Dora the Explorer Sing-Along Adventure show will engage young audiences by having them join Dora and Boots on an exciting musical journey to the Big Red Chicken's Sing-Along fiesta! During their trek to the party, Dora will ask the audience to help her in this interactive musical adventure!
Pizza Nova Pizza Making
Daily
11:45 am, 1:15 pm, 2:45 pm, 4:15 pm, 5:45 pm, and 7:15 pm
Flip dough in the air with flair! Get pizza-making tips from the pros at Pizza Nova. Best of all: when you are done, you get a free slice of pizza!
Professor Wick's World of Wonder
Daily
10 am–8 pm
Magic Classes: 11:30 am, 1 pm, 2:30 pm, 5:30 pm, and 7 pm
Ever thought of becoming a magician? Visit Professor Wick's World of Wonder to learn how to create and perform your very own magic tricks, stroll through the optical illusion gallery, and pose for pictures while you get cut in two or levitate!
Under the Little Top
Daily
10 am–8 pm
Workshops: 10:30 am, noon, 1:30 pm, 3 pm, 4:30 pm, and 6 pm
Take your little one to one of the daily circus workshops at Under the Little Top where they can train in acrobatics, balance tricks, juggling, and tight wire. Workshops begin with a short performance by professional circus artists/instructors and end with the participants demonstrating what they have learned.
Character Meet & Greets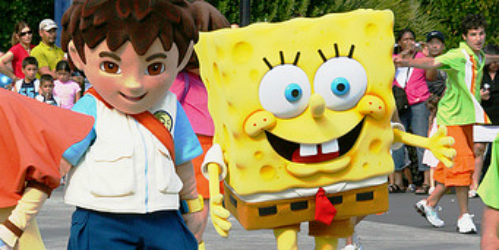 Photo: Hector Cabrera
Each character will be available for Meet & Greet at 11:45 am, 1:15 pm, and 2:45 pm.
My Little Pony—Applejack
Aug. 21–Aug. 26
Barbie
Aug. 27–Sept. 1
SpongeBob Squarepants
Sept. 2–Sept. 7
Doh-Doh
Daily
Parades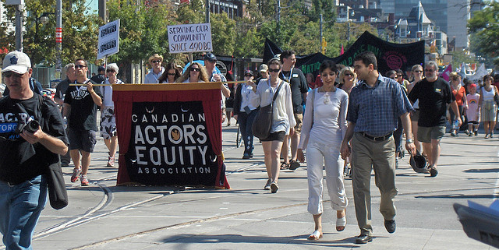 Photo: doioffend
Labour Day Parade
Sept. 7
11 am
The annual Labour Day Parade travels along Queen Street from University Avenue, and parade participants enter the CNE at approximately 11am.
Mardi Gras Parade
Daily
6 pm
The Mardi Gras Parade makes its way through the CNE grounds daily as the much coveted Mardi Gras necklaces are tossed from the parade floats. The parade departs from the Princes' Gates and moves westward throughout the grounds.
Warrior's Day Parade
Aug. 22
10:30 am
The Warriors' Day Parade is the longest running veterans' parade in the free world and has been a part of the CNE since 1921. The parade starts at the Princes' Gates and continues down Princes' Boulevard.
Shows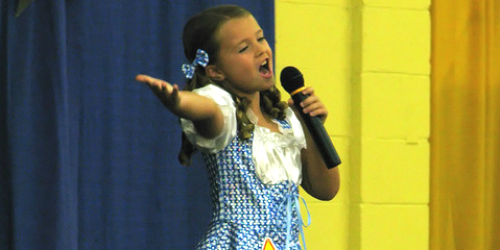 Photo: Brent Moore
Rising Star Talent Competition
Aug. 21–Sept. 6
6:30 pm–8 pm
Junior Preliminaries—Aug. 21–Aug. 24
Youth Preliminaries—Aug. 25–Aug. 30
Junior Semi-finals—Aug. 31 and Sept. 1
Youth Semi-finals—Sept. 2–Sept. 4
Junior Finals—Sept. 5
Youth Finals—Sept. 6
The CNE's Rising Star Talent Competition is in its 29th year of showcasing young artists between the ages of 6–21. Come and watch these talented performers in a wide variety of genres compete for prize money!
CirqueOmédie
Aug. 21–Aug. 26
noon, 3 pm, and 6 pm
Aug. 27–Sept. 1
11 am, 2 pm, and 5 pm
Sept. 2–Sept 7
1 pm, 4 pm, and 7 pm
CirqueOmédie is a highly charged duo and their feminine acolyte who perform acrobatic skills with improvised moments that bring the audience to play.
El Gleno Grande
Aug. 21–Aug. 26
1 pm, 4 pm, and 7 pm
Aug. 27–Sept. 1
noon, 3 pm, and 6 pm
Sept. 2–Sept 7
11 am, 2 pm, and 5 pm
El Gleno Grande specializes in visual comedy using hilarious optical illusions, a dry delivery, and a warm conversational style. His spoof of a circus equestrian act will have you laughing every time you think about it.
Tivoli Youth Guard
Aug. 21: 3 pm
Aug. 24: 3 pm and 4 pm
Aug. 25: 3 pm
The 100 boys (ages 8–16) who make up the Tivoli Youth Guard are the most recent incarnation of a tradition that began in 1844. Today, the Tivoli Youth Guard represents Tivoli Gardens and Denmark through music and parades.
NGOMA Ensemble
Sept. 3
3 pm
NGOMA Ensemble is a group of young performers who capture the essence of their African cultural heritage through drums with a distinctive new vibe.
Yate Dance & Acrobatic Team
Aug. 21–Sept. 6: 1:30 pm and 8 pm
Aug. 7: 1:30 pm and 4:30 pm
The sheer gymnastic power of the Yate Dance & Acrobatic Team coupled with their exquisite artistry of their dance and the pageantry of their costumes, is truly amazing! A show not to be missed!
Deals
Sept. 1: Visitors aged 19 and under get free admission before 3 pm.
Monday–Thursday (except Labour Day): $6 after 5 pm.
Aug. 24 and Aug. 31: Kids aged 13 and under get in for 2$ when accompanied by a paying adult.
Every day: Kids 4 and under get free admission.
The CNE provides public and Catholic schools free Kid's Passes for children aged 5–13. If your child did not receive a Kid's Pass to the 2015 CNE at school this year, please visit the CNE website for information on how to get a PDF version of the pass.
READ MORE LIKE THIS:
Ponies, and chickens, and goats! Oh, my! Feed adorable farm animals and have tons of farming fun at one of these 10 great farms and petting zoos in the GTA!
Every neighbourhood has a playground that local familes love to frequent. Here is our list of 7 awesome Toronto playgrounds for a fun day out with the kids!
On a hot day, there's no better way to cool down than getting doused at spray pads, wading pools, and fountains. Here are the best water parks and wave pools in the GTA for fun, wet play.
Sign up for our newsletters to get parenting and family fun articles delivered to you!