Part of the charm of the annual Canadian National Exhibition is its ample offering of indulgent foods and outrageous culinary creations—and this year does not disappoint.
The 2015 CNE kicks off on August 21 and runs until September 7. Food vendors at this year's CNE are continuing recent years' them of deep-fried everything, as well as the quest for the ultimate burger.
Here are some of the most outrageous and over-the-top eats debuting at this year's Exhibition.
>>Check out our full coverage of the top CNE 2015 attractions for kids.
Deep-Fried Rice Pudding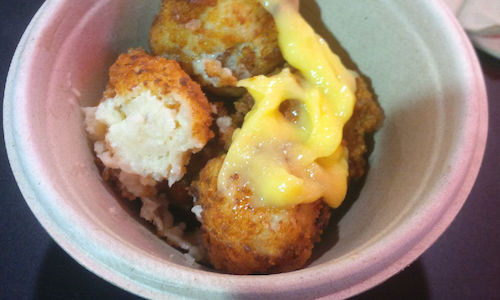 We're really looking forward to sampling our favourite childhood dessert in deep-fried form, courtesy of Fran's Restaurant. Also new this year is a Coffee & Donuts Milkshake as well as Chicken and Waffles Ice Cream. Look for them in the Food Building.
Poutine Balls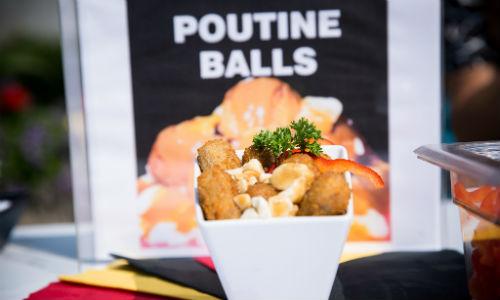 If you thought the deep-fried butter was rich, just check out the Poutine Balls from Vienna. These little heart attacks consist of mashed potatoes stuffed with cheese curds that are deep fried and then smothered with gravy and even more curds. Brace yourselves, eh. Look for them in the Food Building.
Frosted-Flake-Battered Chicken On a Stick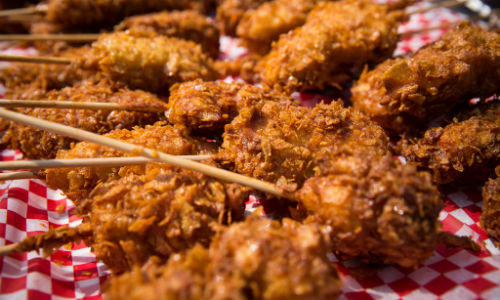 Exactly as the name suggests, this concoction from Iron Skillet Sirloin Tips is chicken battered in Frosted Flakes cereal that is then deep fried and served on a stick. A sweet and savory treat all in one portable form. Look for them in the Food Building.
Deep-Fried Red Velvet Oreos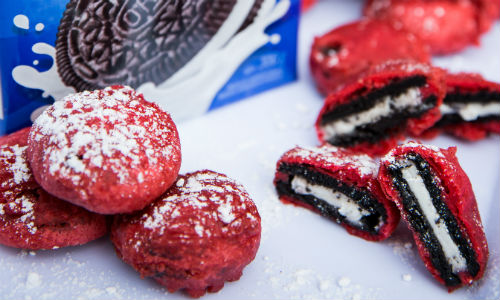 Making the best cookie ever even better, The Funnel Cake Shop dips this childhood classic in red velvet cake batter before deep frying and topping with cream cheese icing. Look for them in the Food Building.
Deep-Fried Cheesecake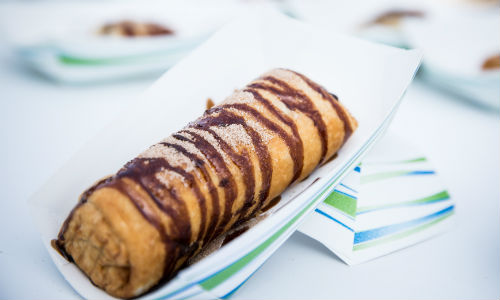 We've got Pickle Pete's to thank for this ultra rich and decadent dessert—because deep-fried Mars bars are so 2012. Look for them in the Midway.
Corrado's "S&M" Burger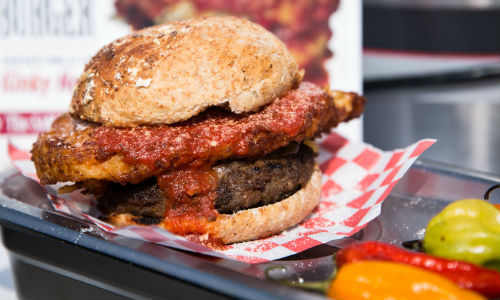 Jumping off of the popularity of the Fifty Shades of Grey franchise, Corrado's Authentic Italian Cuisine created this spicy burger for those who like it hot. It features a homemade meatball patty topped with spaghetti, parmesan cheese and Corrado's famous marinara sauce. Look for them in the Midway.
Bub's Bad Boy Burger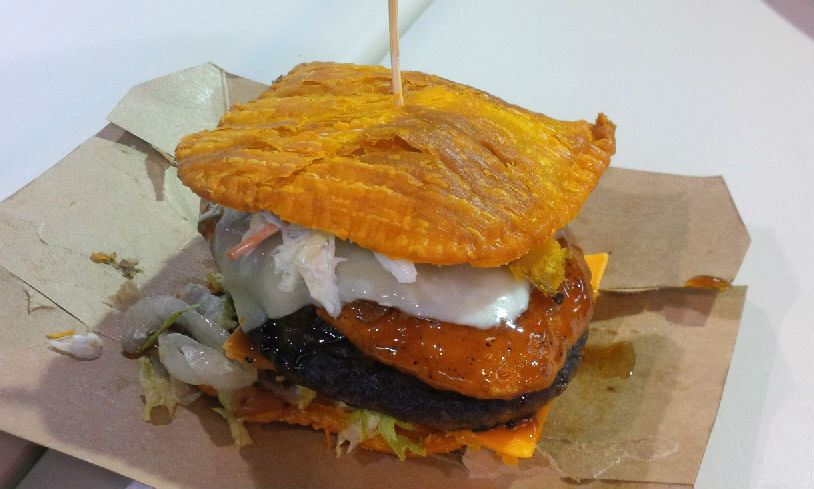 The Bad Boy Burger is the ultimate mash-up of all things yum. Bub's Bad@ss Burgers has taken a spicy cheeseburger and honey garlic fried chicken and sandwiched them with a Jamaican beef patty with pepper jack cheese, wasabi cucumber, crispy hickory sticks, fresh tomato, Sriracha mayo, and buttermilk coleslaw. Have mercy! Look for Bub's in the Food Building.
Bub's Sumo Burger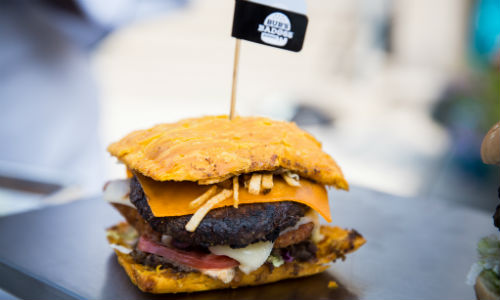 Another over-the-top creation from Bub's, the Sumo Burger (pictured) is Asian-inspired and features two beef patties, tomato, lettuce, hoisin sauce, wasabi mayo, wasabi cucumbers, caramelized onions and chow? mein noodles on a sesame bun. Look for Bub's in the Food Building.
More CNE Foods To Try:
Other wacky treats on offer this year include:
Tim Hortons' Timbits Poutine in flavours such as Chocolate Lovers, Birthday Cake, Oreo, Cinnamon French Toast, and Chocolate Salted Caramel (Food Building)
Bloomin' Apples (Billbrooke Concessions, Midway)
The World's Largest Corndog (Iron Skillet Sirloin Tips, Food Building)
Chicken-Wrapped Waffle on a Stick (Chicken Waffle on a Stick, West end of the CNE grounds near the Press Building)
Garlic Snow Crab Fries (Jake's Lobster, Food Building)
Poutine Grilled Cheese (Coffee Zone, Midway)
Baonana Splits (Far East Taco, Food Building)
Bacon-Wrapped Grilled Cheese sandwiches (Bacon Nation, Food Building)
Caitlin McCormack is a writer, editor and full-time mama to one cool little dude. When she's not spending time at the park or working on recipes in the kitchen, you can find her lifting weights, growing her own veggies, or enjoying some precious time with her shift-working husband. Read her blog at Big City Mama or follow her on Twitter @Caitlin_Writes.
READ MORE LIKE THIS:
Get the low-down on showtimes, rides, character meet-and-greets and all the top picks for kids at the 2015 CNE.
When the CNE arrives, you know the end of summer is here with it: here are 7 things to do with your kids before summer is over.
Speaking of before summer is over…get out there and explore some of the best Toronto playgrounds while the weather is warm and the splash pads are open!
Sign up for our newsletters to get parenting and family fun articles delivered to you!