Toronto museums and special exhibitions have so much for kids to explore in 2020! Meet great beasts like bears and dragons Discover more about mummies and magic. And learn what makes trains, cars, and bicycles tick—or rather, chug, speed, and turn—throughout this year of exciting exhibits for Toronto families.
Changing Exhibitions
These exhibits are on for a limited time, so don't miss out!
Ekow Nimako – Building Black: Civilizations
Aga Khan Museum • North York
Afrofuturism is the theme of this contemporary exhibit, but what is most likely to appeal to younger viewers is that the exhibit's 30-foot-square centerpiece is an urban metropolis created entirely using black Lego pieces—100,000 of them, to be precise. You can get hands-on, too, adding your own Lego creations to the metropolis. Learn more.
Dates: September 21, 2019–February 23, 2020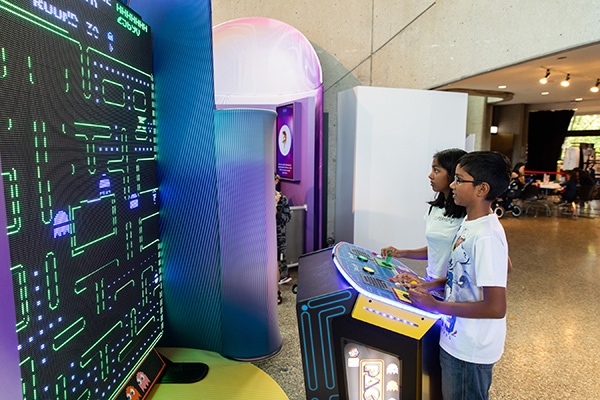 MindWorks
Ontario Science Centre • North York
Learn the psychology behind decision-making, memory, emotions, and personality traits at this fun, interactive exhibit at the Ontario Science Centre, designed with kids in mind.
Dates: September 28, 2019–April 26, 2020
Bloodsuckers: Legends to Leeches
Royal Ontario Museum • Downtown
More than 30,000 species feed on blood and you can get a closer look at many of them—including vampire bats, deadly mosquitoes, and blood-feeding birds—at this fascinating ROM exhibit. Plus, learn about the fact and fiction surrounding vampires, leeches, and more. Learn more.
Dates: November 16–March 22, 2020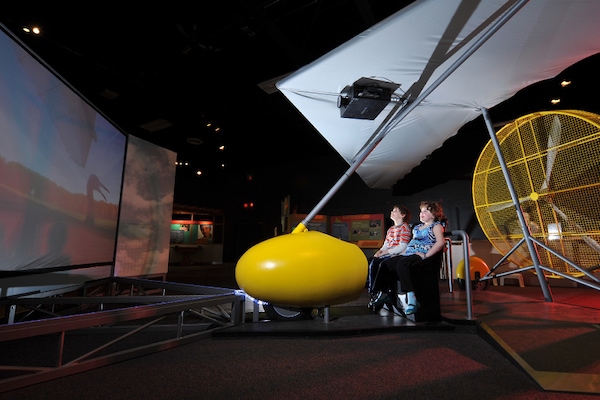 Wildlife Rescue
Royal Botanical Gardens • Burlington
Learn how threatened and endangered animal are rescued around the world at this kid-friendly winter exhibit at the Royal Botanical Gardens. This hands-on exhibit will have you reparing a broken turtle shell, feeding a condor chick, and flying with whooping cranes (via flight simulation). Check the schedule for live animal shows.
Dates: January 18–April 13, 2020
Illusions: The Art of Magic
Art Gallery of Ontario • Downtown
Films, photographs, documents, and beautiful posters transport us back in time to the late 19th/early 20th century – The Golden Age of Magic — at the AGO's new exhibit. Watch classic illusions as they were performed over a hundred years ago and discover more about these intriguing illusionists and the time in which they performed.
Dates: February 22 – May 17, 2020
Winnie-the-Pooh: Exploring a Classic
Royal Ontario Museum • Downtown
The stories of A.A. Milne and pictures of E.H. Shepard formed the wonderful world of Winnie-the-Pooh (and Tigger too!) at the ROM. The classic characters and their Canadian connection are explored through interactive activities, original sketches and memorabilia, and larger-than-life environments.
Dates: March 7–August 3, 2020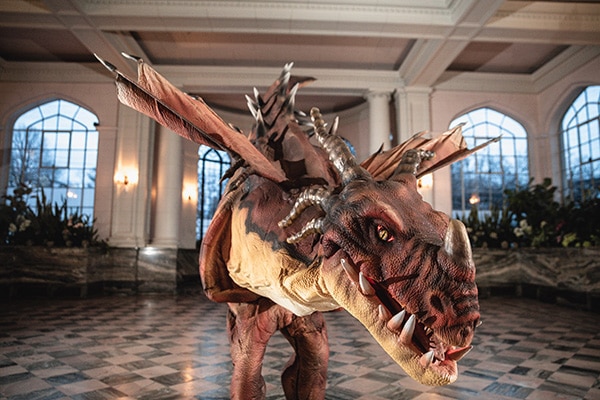 Imagine Dragons
Casa Loma • Midtown
Not the popular band, but the fantastical beasts are the focus of the Imagine Dragons exhibit, on during March break. With the Knight School live show, aerialist performances, a medieval catapult on the lawn, dragon training, an indoor bouncy castle, arts and crafts, and face painting to stoke the excitement against the setting of Toronto's own "castle", Case Loma.
Dates: March 9–17, 2020
Sing Ho' For the Life of a Bear!
Lillian H. Smith Library • Downtown
Stories and illustrations of Winnie-the-Pooh and other beloved bear characters are on display at the Osborne Collection of Early Children's Books at this downtown Toronto Public Library branch.
Dates: March 14 – May 23, 2020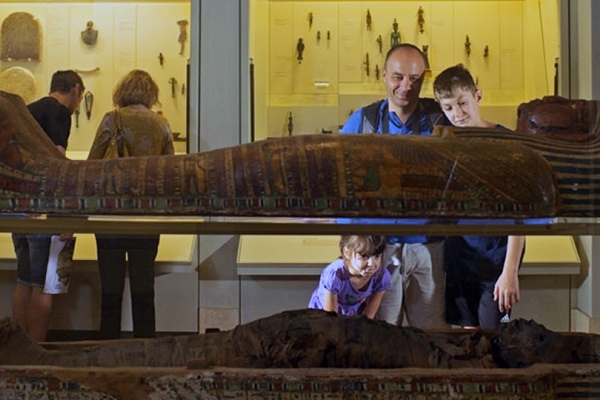 Egyptian Mummies: Ancient Lives. New Discoveries.
Royal Ontario Museum • Downtown
The secrets of six mummies are revealed using the latest technology, CT scans, digital visualizations, and current research methods in this fascinating ROM exhibition. The lives and deaths of a priest's daughter, a temple singer, a young child, and more are explored.
Dates: May 16 – September 7, 2020
Ongoing and Permanent Exhibits
These are some favourite always-on exhibits for kids in Toronto and the GTA.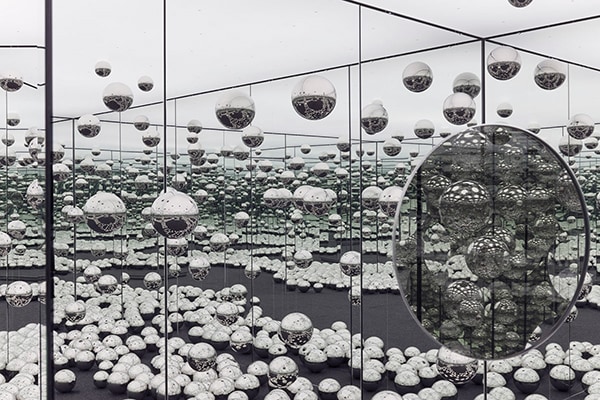 Yayoi Kusama's Infinity Mirrored Room – Let's Survive Forever
Art Gallery of Ontario • Downtown
Following the overwhelming success of the AGO's Infinity Mirrors exhibition by Japanese contemporary artist Yayoi Kusama in 2018, an Infinity Mirrors experience is now part of the AGO's permanent collection. Kids and adults delight in the glittering room flashing with LED lights. Be sure to sign up for a timed ticket when you arrive (at a kiosk past the Galleria Italia) — it's popular.
Ontario Science Centre Planetarium
Ontario Science Centre • North York
The Ontario Science Centre is home to the only public planetarium in Toronto, which makes it a must-do for starry eyed kids eager to learn about black holes, planets, and astronomy. Special programs include Sensory Saturdays, where kids can experience the planetarium with low-level lighting and Eyes on the Skies (Wednesdays and weekends) for kids under 5 with caregivers.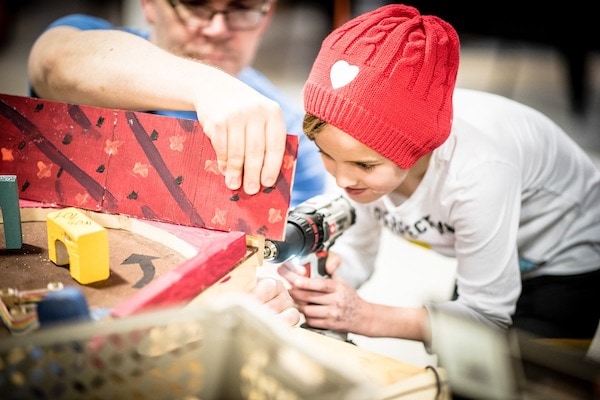 THEMUSEUM
THEMUSEUM • Kitchener
This super-kid-friendly museum is dedicated to the intersection of art and technology with play. Its permanent exhibits include an animation station, 125-gallon fish tank, hands-on water tables, a walking piano, a magnetic wall, and the Underground Studio MakerSpace.
The Canadian Automotive Museum Collection
The Canadian Automotive Museum • Oshawa
If you've got a kid who is into vehicles, Oshawa's Canadian Automotive Museum should be on your bucket list. On display are cars from the early 1900s to the present, including a 1909 Ford Model T, a 1950 Oldsmobile Futuramic, and several Rolls-Royce cars. You can even climb into a couple of vehicles for a photo.