Spring is finally here and new things are sprouting up all over in Toronto. One of the most exciting is a brand-new international children's festival on the lakefront, with dance, theatre, musical presentations and more. Junior takes place May 19–25, 2018, at Harbourfront Centre and tackles "challenging questions facing youth today" during a week of performances.
Junior's ticketed events feature performers and artists from Canada, Australia, the UK, and elsewhere around the world, and include: a hip-hop biography series from right here in the 6, a production with acrobats and puppets from Quebec, a dance performance from Norway involving kids and dolls, and pieces about and by Canadian First Nations peoples.
The festival also offers free performances for the entire Victoria Day weekend, including popular kids' entertainers Fred Penner, Fay and Fluffy's Storytime, and The Monkey Bunch.
Kids will have a chance to "explore identity, growth, and belonging" through the diverse performances of leading contemporary artists from around the world and here at home. And there are also exhibitions, video installations, cooking demos, and food.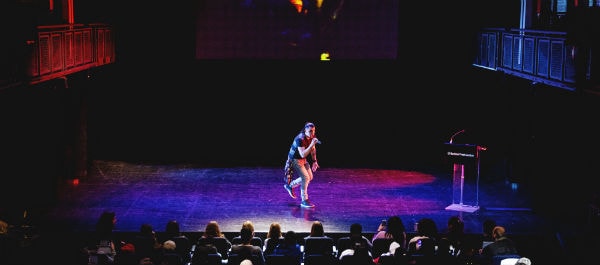 "The festival reinforces the importance of the shared experience of live performance," says Chief Programming Officer Iris Nemani, "Kids spend a lot of time alone on their digital devices. The power of sharing live performance together, in real life, helps build community."
"All the performances at Junior are unified around a common goal," says Curator Mary Francis Moore," Exploring big thoughts for growing minds."
The opening ceremony takes place at Harbourfront's Concert Stage on May 19 at 10:30 am, celebrating First Nations culture with traditional blessings and dance by Kaha:wi Dance Theatre.