Kids' classes aren't just a great way for little ones to stay active and healthy, they help kids build confidence, make new friends, and explore new hobbies and activities—and they're an absolute blast! With so many awesome exercise classes available in the GTA, from yoga and karate to rock climbing and circus, there truly is a class for every child. And with many classes qualifying for the Children's Activity Tax Credit, enrolling your child in an exercise class won't break the bank.
Getting kids active when they're young gives them a head start to a healthy lifestyle, so enroll your child in one of these cool exercise classes and show them how much fun fitness can be!
If you're looking for even more ideas, check our online directory for sports, classes, camps, and other kid-friendly activities in Toronto and the GTA.
YogaBuds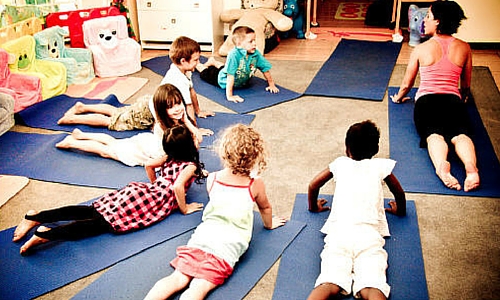 Stay calm and yoga on. YogaBuds, Toronto's first yoga studio to offer classes for kids, teens, and families, has kid-centred yoga classes that blend classical yoga with creativity, mindfulness, and imagination. They focus not only on improving posture, strength, flexibility, and balance, but also on enhancing concentration, self-esteem, and relaxation. It's a great way for kids to get rid of stress and recharge after school!
YogaBuds creates a safe, inclusive, and, most importantly, fun space for kids. Your little one will be downward dogging and Namaste-ing their way to a healthy lifestyle—in both body and mind.
YogaBuds | Bathurst St and Eglinton Ave W | 416-785-7888
Fitness 4 Success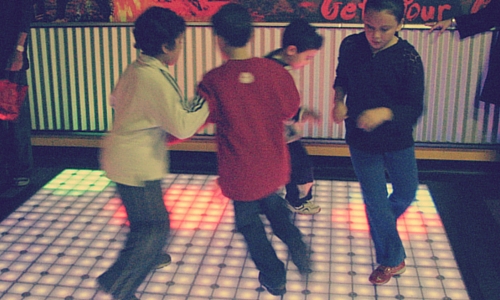 "Exergaming" – combining interactive fitness with arcade gaming – can get even the most screen-addicted kids off the couch! This unique after-school program at Fitness 4 Success in Vaughan has an early-years program for toddlers and kindergarteners, and a juniors program for kids in elementary school.
Tiny techies participate in active, play-based games and activities using the latest electronic equipment and videogame technology that gets them moving. Motivating instructors keep young gamers on track with their fitness, focusing on cardio, core strengthening, and building stamina and endurance.
Fitness 4 Success | 10 Westcreek Drive, Unit 17, Vaughan | 905-850-2008 or 905-850-2023
Just Bounce Trampoline Club Inc.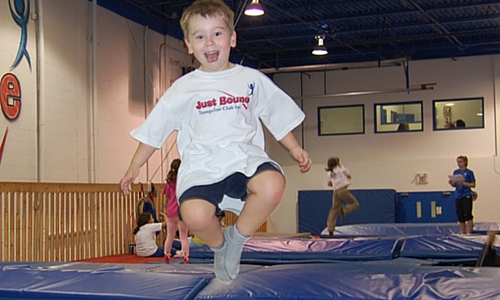 At Just Bounce, kids are bouncing off the walls—in a good way! Starting at age 4, kids can sign up for after-school trampoline classes, where they'll get an hour of instruction with a certified coach. The friendly staff make sure junior jumpers have a blast while staying safe and working up a sweat.
Kids can also sign up for private classes, day camps, or Saturday evening "Kids Night Out" events that entertain them with trampoline lessons, games, dinner, and a movie—way more fun for kids than having a babysitter on date night!
Just Bounce | 3731 Chesswood Dr, North York | 416-635-0206
Joe Rockhead's Indoor Rock Climbing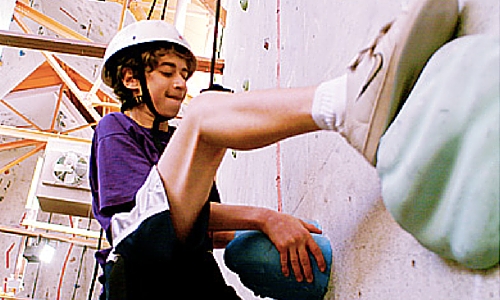 For little adventurers interested in extreme sports, Joe Rockhead's rock climbing treats kids to a thrill while they learn balance, coordination, and mobility. Kids have fun while learning the fundamentals of climbing in a safe and controlled environment. In the 12-week after-school program for kids ages 7–13, climbers-in-training get to take part in interactive climbing-centred games and activities, learning safety and climbing techniques that real climbers use.
Joe Rockhead's Indoor Rock Climbing | 29 Fraser Ave | 416-538-7670
The Circus Academy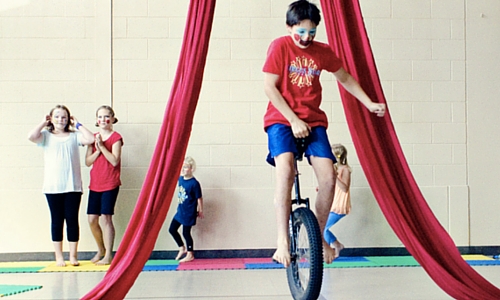 Kids don't just clown around at The Circus Academy, they learn all about the magic of the circus from real professional circus performers! At after-school classes, kids gain confidence while they participate in circus activities, like juggling, stilt walking, tumbling, clowning, and aerial aerobics. Littler kids can participate in the Circus Tots and Kinder Cirque programs, which include floor acrobatics, obstacle courses, trapeze, mini-trampoline, and playing with circus props, like ribbons and bubbles. Come one, come all!
The Circus Academy | 1300 Gerrard St E | 647-748-6030 
Northern Karate Schools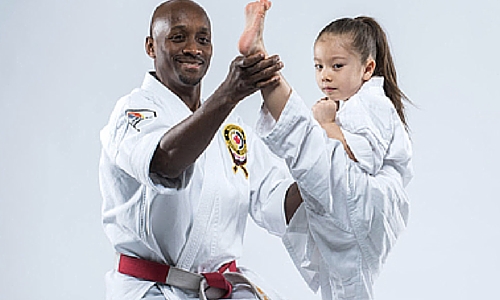 Kiai! Karate is the perfect way for kids to release their energy, get fit, and learn self-discipline. At the 12 GTA locations of Northern Karate Schools, kids don't just learn focus, balance, and strength, they also gain confidence and self-esteem.
Working their way up the coloured belts teaches them about goal-setting. Plus, recent research has shown that the respect and discipline kids learn in karate can help them improve behaviour and grades in school, too!
Northern Karate Schools | Various Locations and Contact Numbers
SportPlay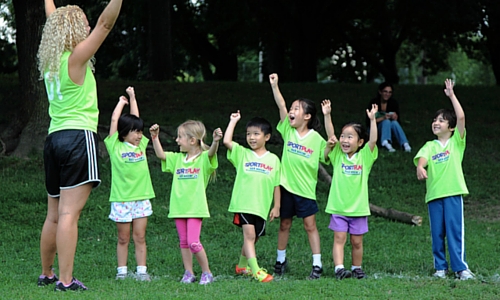 For budding athletes and sports fans, SportPlay lets kids get in some exercise and learn athletic skills—just like their favourite sports stars! Classes take place in nine different locations all around Toronto, starting with mom and baby classes for 2-year-olds. Drop-off programs start at age 3, when kids can choose between multi-sport classes (where kids rotate playing eight different sports), longer classes that include a LEGO play component, or classes that focus on soccer or baseball.
SportPlay provides a fun, supportive, non-competitive environment where kids learn to play sports through skill-building games and adapted gameplay until they work their way up to playing a proper game. Let's play ball!
SportPlay | Various Locations | 416-465-7439 or 866-940-9481 
READ MORE LIKE THIS:
Keep informed with our family fitness coverage, and check out our online directory to search Sports for Kids in Toronto.
Sign up for our newsletters to get parenting and family fun articles delivered to you!