Kortright may be most famous for its annual Maple Syrup Festival, but there's plenty to do in the way of nature activities and play on any given day at this four-season wonder just 10 minutes north of the city. Of course, in late winter/early spring, the sweet and sticky stuff is a good reason to visit. But Kortright also has year-round workshops, hiking, and lots of educational activities and events for kids and adults.
Here's what we recommend for an enjoyable outdoor excursion with kids ages 12 and under at the Kortright Centre for Conservation.
What to Do with Kids at Kortright Centre
Environmental education and sustainable technologies awareness are the cornerstones of this centre, first opened in 1982. Its trails, exhibits, and events are all centered around these objectives.
Hiking
The hiking is pretty and not too demanding at Kortright. Expect to see forests, fields, and a boardwalk over the marsh. There are short loops and long loops; as these trails are self-guided, be sure to take a look at the map before you head out. And keep your camera handy for the picturesque vistas and possible wildlife sightings from strategic viewpoints.
From fall colours to spring kite flying, Kortright specializes in fun, family-friendly festivals. Mark September 15, 2018, on your calendar, because that's when the Honey Harvest Festival takes place, featuring Kortright's own bee education centre, bees, and beekeeper. There's lots of entertainment, from music to face painting to food and goods vendors. Plus, there's the option to participate in the 2018 Run for the Bees, with a 7-km trail run ($25), 3-km walk/run ($15), or 1-km kids run ($10), complete with a shot of honey at the finish.
Kortright's roots are in nature education, and it shows in the quality programming. Take the workshop Bat ID and Survey and Methods, held at night so that kiddos can see the bats and help to identify them using very cool audio detection tools.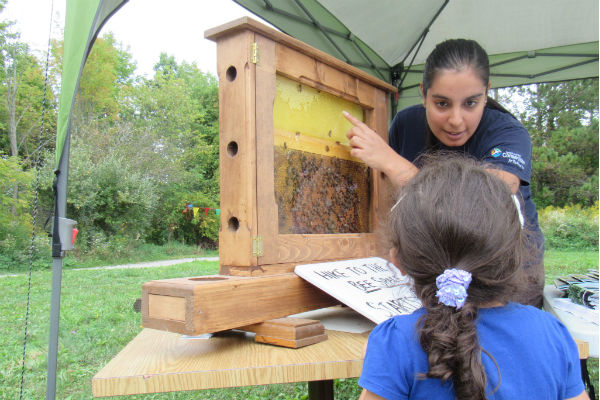 Photo: Kortright Centre for Conservation
Essential Info
Address: 9550 Pine Valley Dr, Woodbridge, ON L4L 1A6. The nearest bus stop is the Viva 004 Blue Line, which stops about 1.5 km away.
Hours: Open daily 9:30 am–4 pm. Some festivals and events offer extended hours. Shortened hours apply around certain holiday times.
Admission: Regular daily fees are $8.50 for adults, $3 for kids ages 5–15, and $6.50 for seniors. Children under the age of 4 are free. Different prices apply for special events. Admission is free with a Conservation Parks Membership or a Kortright Membership.
Eating: There are no food facilities on site. The gift shop stocks some food items such as local honey. At festivals there are usually food vendors. Prepare to pack in and out your food, drinks and snacks during regular operating times. There is a large picnic area by the Visitor Centre and accessible washrooms.
Dogs: Dogs are permitted, but must be on leash at all times. Please clean up after your pet. Dogs are not allowed in the Visitor Centre.
What to wear: Pack for your surroundings: bring a raincoat, sunscreen, hat, and layers, just in case.
Parking: There is onsite parking, but arrive early to avoid line-ups. Parking costs $4 during festivals.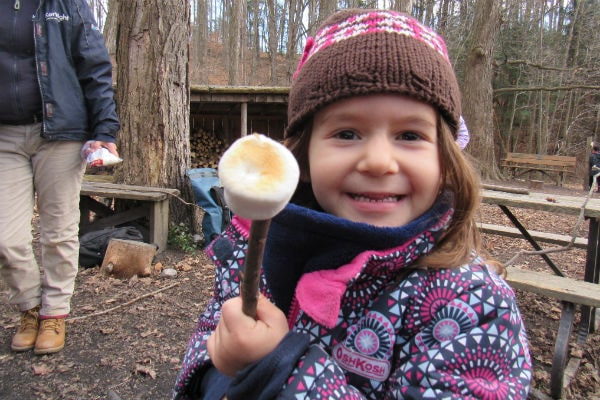 Insider Tips
Enroll in Nature School. For kids who want more than traditional schooling, take a look at The Nature School at Kortright. It is an alternative school with options for preschool through age 10. Students explore in the forest, learn survival techniques, and get creative while still learning the curriculum. For kids already enrolled in school elsewhere, there are short-term Saturday programs and PA-day camps as well. The weekly Little Saplings Program is for tykes ages 1–5 (with caregiver) on Saturday, Sunday, or Monday mornings.
Consider a membership. A fabulous deal that not many people know about is the one-year Conservation Parks membership. It gives you free general admission to Kortright and all the Toronto and Region Conservation Authority (TRCA) parks, plus Black Creek Pioneer Village and Credit Valley Conservation Parks. That's a lot of weekends to schedule fun, exciting and family-friendly activities that don't involve screens!
A membership also includes admission and parking to the festivals, including the Maple Syrup Festival, as well as a discount on Treetop Trekking locations at Heart Lake Conservation Area and at Bruce's Mill, and some park workshops. An individual membership is $75 and the family membership is $135.