Happy first day of summer! Just because school's almost out doesn't mean the fun has to stop. There are tons of great ideas for having fun with kids during the summer months – and many of them are no- or low-cost, too!
If you're looking for something awesome to do with your little ones, we've rounded up some ideas for having fun with the kids this summer in the GTA.
And don't forget to check out our free directory for plenty of attractions, amusement centres, and other fun things to do with kids in the GTA.
Attend a festival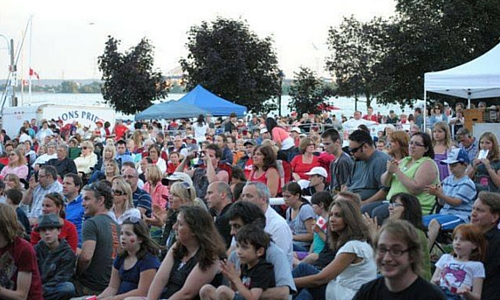 There are a number of summer festivals that are family-friendly, including Ribfest, Toronto Jazz Festival, Buskerfest, Family Pride, Afrofest, Taste of the Danfroth, and the City of Burlington's Street Festival. Check out our free event listings for more fun ideas.
Visit the Canadian National Exhibition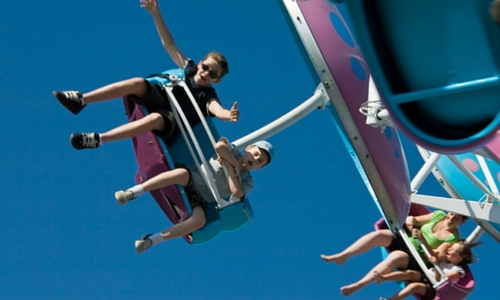 A favourite Canadian tradition, a trip to The Ex marks the beginning of the end of summer and is a great way to spend a full day of fun with the family. Plus, who doesn't love trying all the outrageous foods that vendors come up with each year? This year's CNE runs from August 19 – September 5.
Stay tuned for more details on this year's CNE, like our top picks and must-try food!
Go camping
There are several great parks and camping sites within a couple hours drive of Toronto, including Glen Rouge Campground in Pickering, Presqu'ile Park in Brighton, and Elora Gorge near Elora, which offers experiences to suit any style of camper from rough-and-tumble to glamping.
If you're up for going a little further afield, Sandbanks Provincial Park offers some excellent beaches and Bruce Peninsula National Park boasts incredible cliffs and crystal clear waters. We also can't forget about the most famous of Ontario parks, Algonquin Provincial Park, which is just a couple hour's drive north of the city.
For more information about camping in Ontario and for campsite availability, check out the Ontario Parks website, and don't forget to pack the s'mores fixins. We've also got kid-friendly camping recipes if you need a little more inspiration.
Also, stay tuned for our upcoming feature: Great Family Camping Spots Near Toronto.
Take a staycation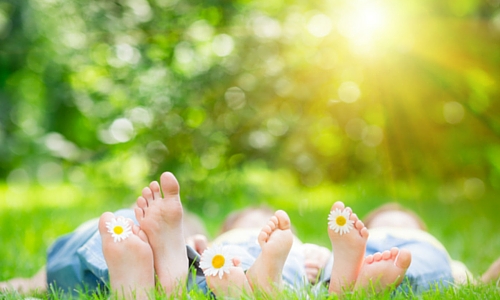 Get to know your own city a little bit better this summer with a staycation. Plan your outings by checking out our free event listings, perusing our list of 13 Staycation Ideas, or looking in your local paper.
Take advantage of living in a big city by checking out our Summer Kids' Culture Calendar, or leave city life behind at one of the Great Farms and Petting Zoos in the GTA. Score free tickets for local attractions including the ROM, AGO, Toronto Zoo, and various historic sites from the Toronto Library's Museum + Arts Pass.
Feeling hungry? Take your staycation to one of the many local Farmers' Markets in the GTA, or bite into one of Toronto's Best Burgers for Kids. There are so many ways to enjoy a staycation.
Hit the beach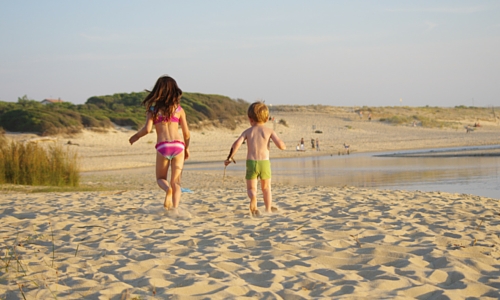 Not only is Toronto home to eight Blue Flag-rated beaches, there are several great water spots a short drive from the city. Check out the famous Cobourg Beach, or Wasaga with its boardwalk and longest freshwater beach in the world status. Sauble Beach offers all of the fun with a little less of the tourist crowd, and Beachway Park in Burlington is ideal for a short day trip. You can check water conditions for Toronto beaches on the City of Toronto website.
Cool down at a water park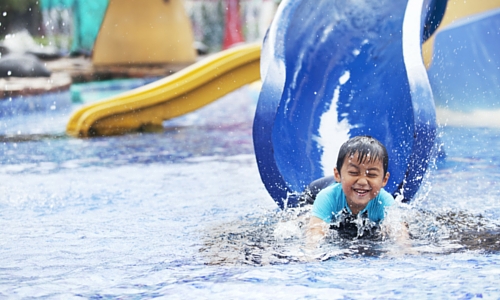 Cedar Park in Haydon (near Oshawa) offers a fun spot for the little ones to stay cool and burn excess energy. Pack a picnic lunch and enjoy the day away. You can always hit up the Oshawa or Bowmanville zoos while you're down in the Durham region, too. Great Wolf Lodge in Niagara Falls offers fun a little further from home, while Wild Water Kingdom is a favourite among city kids.
For more ideas, check out our list of The Best Water Parks and Wave Pools in the GTA. And if you're worried about your little fishes swimming in the big sea, just stick closer to home and visit one of Toronto's Best Spash Pads and Wading Pools.
Don't forget to check our directory of Toronto Attractions for Kids and Families for more!
Caitlin McCormack is a writer, editor and #momofboys. When she's not spending time outdoors trying to wear the tiny humans out, you can find her working on recipes in the kitchen, lifting weights, or enjoying some precious time with her shift-working husband. Read her blog at Big City Mama or follow her on Twitter @Caitlin_Writes.
READ MORE LIKE THIS:
Still looking for a great summer camp? Keep informed with all our camps coverage and find the perfect camp by searching our Toronto & GTA camps directory.
Sign up for our newsletters to get parenting and family fun articles delivered to you!