While the weather isn't yet what we would call "frightful" we all know it is coming soon. And with the last eight months being anything but normal, we're sure some of us are already feeling the cabin fever set in.
That's what's so great about taking a winter holiday in Ontario—as long as you are practicing all the required COVID-19 protocols, you should be safe to travel within the province this winter season.
As always, remember to wash your hands regularly, stay 6 feet apart from others, wear your mask indoors (or when physical distancing outdoors is not possible), and keep some hand sanitizer handy.
So let's take a look at 11 Ontario winter getaways that are perfect for families.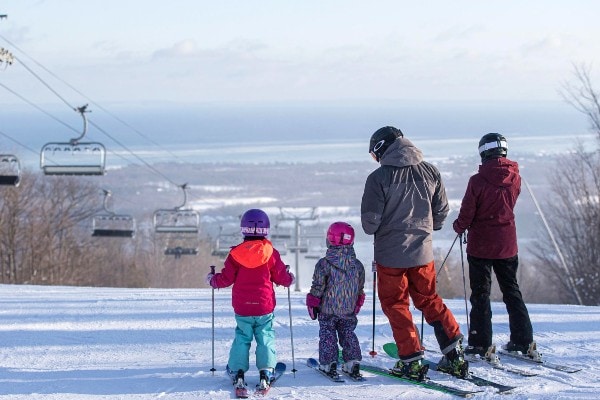 The quintessential Ontario winter getaway location is currently set to be open for the 2020/2021 ski and snowboarding season. With modified standards in place, Blue Mountain will still be offering lift tickets, ski and snowboard lessons, and season passes. Currently, all restaurants, bars, and lodges in the Village will also be open with limited capacity.
The stores in the Village are also open and the hotels are operating as well with additional precautions in place.
You can head to Blue Mountain and hit the slopes just like you would any other year. And while you're taking and break from all the skiing and snowboarding, you can enjoy the 1.1km skating loop or go on one of many amazing hikes along the stunning Niagara Escarpment. There's so much to do, you'll be sure to find something to keep all the kids entertained.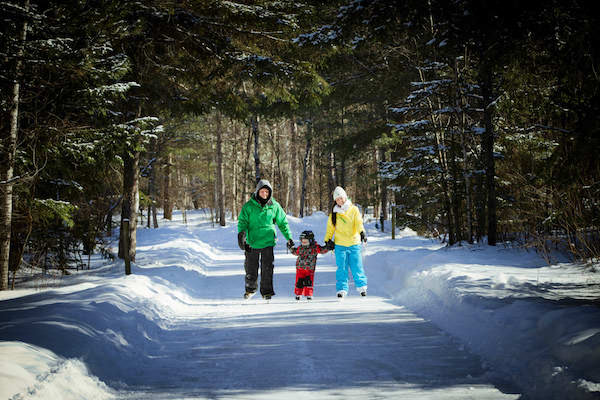 While heading to a provincial park in the winter might not be your first or even second thought, with Arrowhead Provincial Park, it should be! Located 7km north of Huntsville, Arrowhead is the perfect place to visit in the winter.
Their winter camping season runs from mid-December to the end of March and their 10 cozy cabins mean you won't have to pitch a tent in the dead of winter. Be sure to book early as the cabins book up quickly.
And while you are there, you won't be bored—there are over 33km of cross-country ski trails, tons of winter hiking and snowshoeing trails, and a gorgeous 1.3km skating trail nestled among the trees.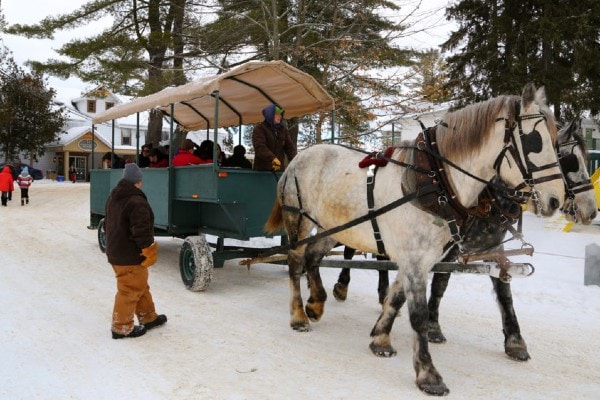 With safety measures in place, Bayview Wildwood Resort in Muskoka is ready to welcome guests for the winter season.
Their winter packages have a range of offerings but there is one common thread throughout them all—there are a lot of amazing activities for your family to enjoy while you spend a weekend or a week at the resort. They offer cross country skiing, skating, ice fishing, snowshoeing and even tobogganing. The best part of all is that all the equipment you need is available on site—so you can get the kids to try something new without the pressure of purchasing all the necessary equipment!
Be sure to check into their offered packages as up to 2 kids often stay for free.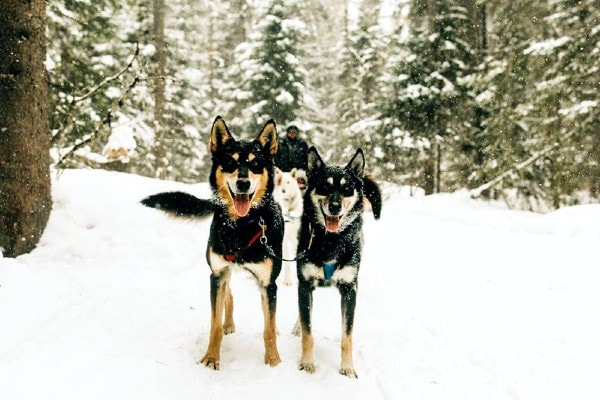 Ready to give the kids an experience of a lifetime? If you are planning a trip to the Muskoka area, or if you aren't, North Ridge Ranch allows you to pilot a real sled-dog-team!
The tour is half a day and takes you through 20kms of Muskoka wilderness. There is a break at the halfway point where you'll get a chance to enjoy hot chocolate and snacks, as well as pet the dogs.
Kids must be accompanied by an adult and be able to stay seated during the half-day tour—you must be at least 100 lbs and 16 years of age to drive the dogsled.
Pair your visit to North Ridge Ranch with one of the amazing resorts in the Muskoka area.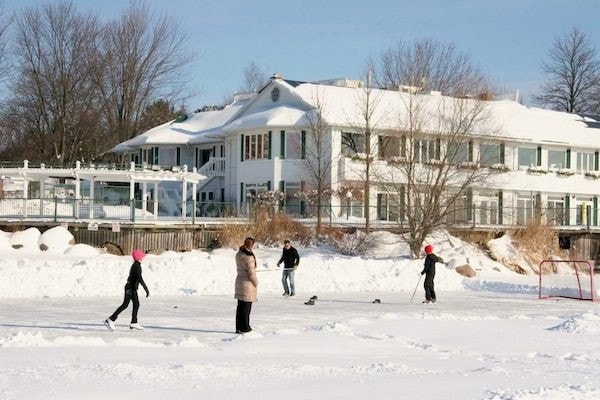 Nothing says "Canadian Winter" like snuggling up in a cottage in front of a cozy fire. And that's what you'll get at Elmhirst's Resort—their 1- to 5-bedroom cottages are the perfect place to stay warm after a day of enjoying everything the resort has to offer.
You can try your hand at ice fishing or snowshoeing, take a horse-drawn sleigh ride, or roast marshmallows and drink hot chocolate around a roaring campfire. You can also get the kids skating or even helping out in the Hen House—it's all part of the Elmhirst experience.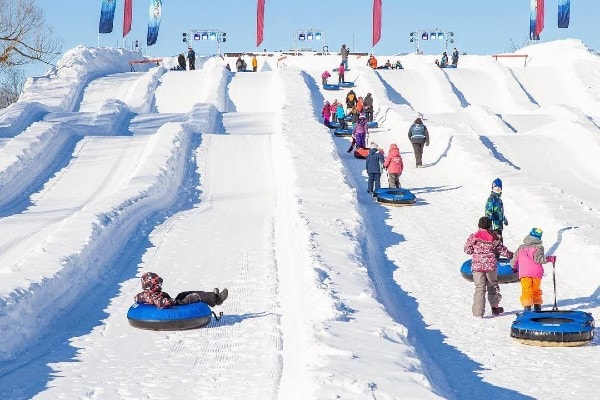 Currently scheduled for February 5 to 21, Winterlude is a yearly event that brings people to our nation's capital. It is the perfect time to skate along the incredible Rideau Canal Skateway or enjoy any of the other activities on offer like tubing, ice carving, and more.
While the dates have been confirmed for this year's event, there are very few details that have been released. Be sure to check-in for updates.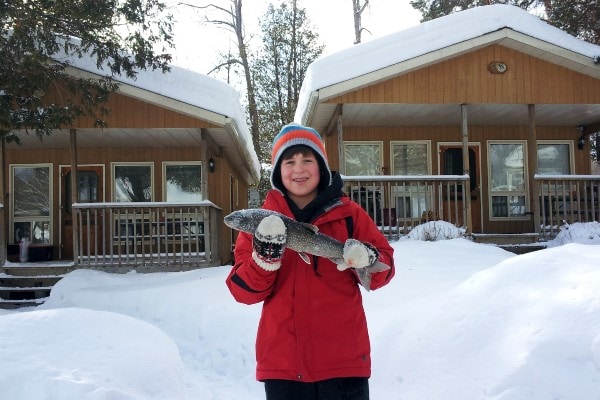 Located in the beautiful Haliburton Highlands, the Ogopogo Resort on Mountain Lake is the perfect place to spend some time as a family this winter. With 4 different cottages available for rent, you can experience a truly private getaway.
And there are lots of things to do in the winter months. The resort is located near Sir Sam's Ski and Bike for downhill skiing and snowboarding without the usual line ups. There is also cross-country skiing, ice skating, ice fishing, snowmobiling, and snowshoeing all available. And the resort is working with Haliburton Forest to offer dog sledding excursions as well!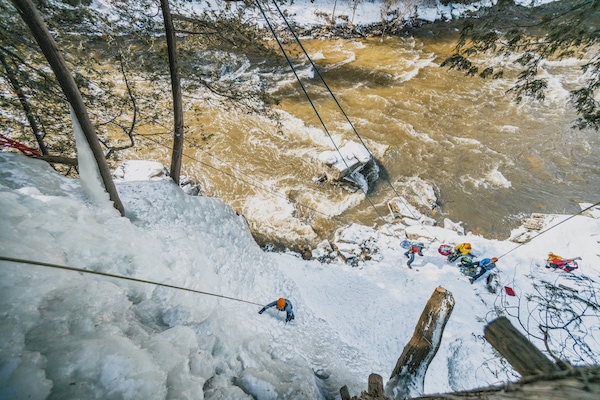 Ready to climb a frozen waterfall? Then it's time to head to Elora!
The team at One Axe Pursuits take you out on a full day of adventure like you've never experienced before.
The routes are designed for beginners so you don't have to have any experience to participate. You'll spend the morning learning all about how to safely climb a waterfall and soon you'll be heading off to climb a 60-foot ice climbing route! Kids under 13 must be accompanied by an adult.
When you're in Elora, there are a lot of great hotels and inns to stay overnight to make a real getaway from your experience. The Elora Mill Hotel, Breadalbane Inn, and Western Hotel are all great options.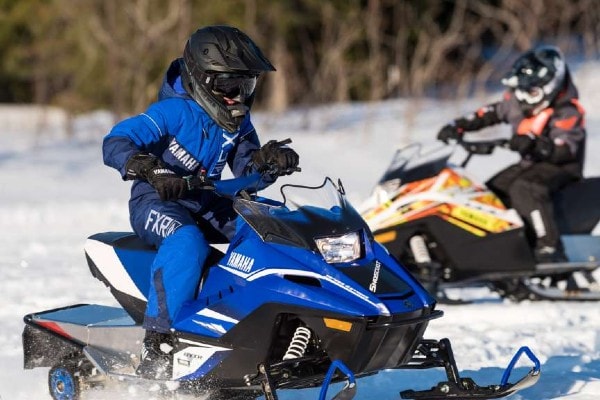 What can only be called the classic Muskoka getaway, Deerhurst Resort has everything you need for the perfect winter holiday. They have everything you need to try out their snowshoeing, cross-country skiing, and skating trails on-site, making packing a breeze. They also offer snowmobiling tours, if that's on your bucket list!
You can then warm up after a long day of winter fun with a campfire every Friday or Saturday night.
Arrowhead Park is close by, so if you are hoping to visit the famous skating trail, but want to avoid the camping side of things, Deerhurst is the perfect place to lay your head each night.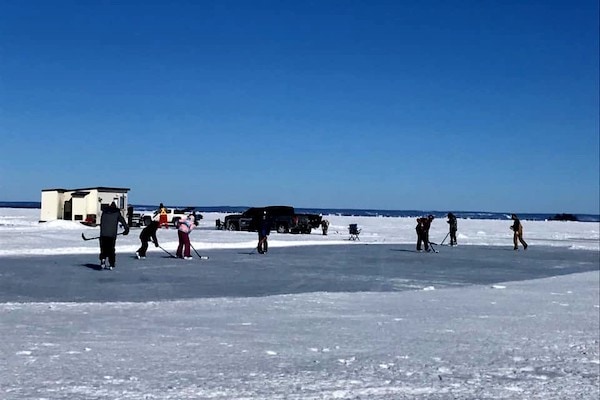 We're all about offering you different kinds of experiences for the winter months and Angler's Haven is just that! You can spend two nights in an executive ice bungalow where you can spend the night and ice fish!
Everything you need is included in the package—transportation to the bungalow, minnows, drilled holes, fishing equipment, a gas fireplace, barbecue, and propane stove.
All you need to do is catch a few fish!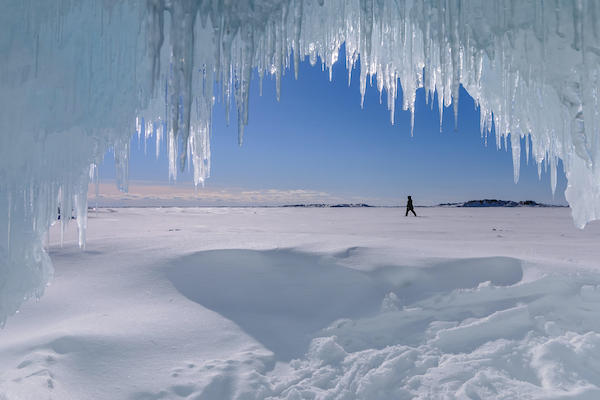 If you're ready for a bit of a northern adventure, then may we suggest heading to Lake Superior to see the magnificent ice caves and ice formations that happen along the shores when the temperature falls below freezing for at least 24 hours.
Beautiful ice caverns form as the waves from Lake Superior continue to wash over the first layer of ice and you are left with some amazing ice creations to explore. Note: this is not a guided tour. Ice is only safe to walk on if it is at least 4 inches thick. This excursion is best for older kids.
You'll need to do a bit of leg work to find out exactly where you want to go along the coast and where you will stay, but there are some great options near Thunder Bay, Sault Ste. Marie, and Batchawana Bay.