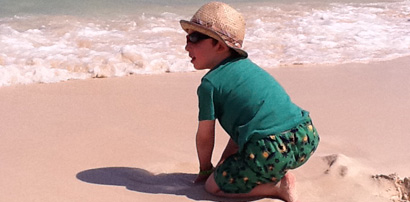 Travelling with children is a little like herding guinea pigs. Now imagine that you are the only parent trying to herd said guinea pig, with too many exits and not enough fencing. This is why I waited until both of my children were old enough to talk, run, or at least inflict some decent damage on a stranger (if needed).
Not surprisingly, my children love travelling. They love hotels, they love airplanes, they love cruise ships and camping. They even love packing! So I have put together a list of tips when travelling with your children as a single parent.
1. Find travel-friendly products that your children love.
Now I am not intentionally trying to endorse this product, I just want to highlight something that has definitely made my life easier: the Trunki (available at Sears and Indigo in Canada). This ride-on, carry-on suitcase for toddlers is phenomenal!
2. Opt for family-friendly hotels.
I love, love, love five-star hotels with beautiful heavy duvets and light fluffy pillows. However, my children do not. Instead we stay at the hotels that have those blanket, quilt-like coverings, *shudder* because the kids love the fact that the hotel has water slides and play parks. My comfort is not worth the "boredom" of my children, instead I save the five-star hotels for my mommy-only trips.
3. Do a cruise.
Have some money and time? Choose a family-friendly cruise. All the amenities one could want, but all self-contained! These also tend to have kids' clubs which are not only highly engaging and entertaining, but they also allow some down-time for you. A massage, a pedicure, an uninterrupted meal? These clubs are your ticket to some much-needed adult time.
4. Pack the smartphone, tablet, and books.
Apps, videos, and books can make great babysitters during the long hours of travel. Rattle & Mum from South Africa has put together this great list of travel apps for toddlers, kids and tweens. Just don't forget child-sized headphones!
5. Schedule extra time for EVERYTHING.
Inevitably if we are in a hurry to get somewhere, my child has to hit the potty—for 20 minutes. As frustrating as it is, I have to be prepared for this delay and consequently, schedule much more time for travel, meals and bedtime routine. Even better, I rarely have an agenda, rather I prefer to let my children choose the pace and activity level that suits them.
6. Focus on activities that are inclusive, regardless of age/size.
Amusement parks with their height restrictions can cause substantial grief for a single parent of two or more children. If you plan to attend these attractions, source out the rides that everyone can enjoy and focus on these during your time there.
7. Take a friend/family member to travel with you.
If you have a single parent friend, plan a vacation together—four hands really are better than two when it applies to children!
Travel doesn't need to end just because you are a single parent. It may require a bit more strategy and a whole lot of patience, but the memories you will make with your children are priceless.