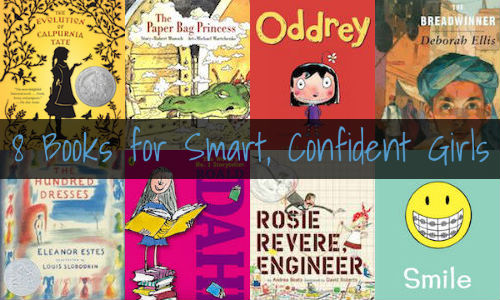 Toddler

Countablock
Christopher Franceschelli | Abrams Books | Buy
Ages 2–3
Countablock takes counting books to a whole new level with gorgeous illustrations by Peskimo and a fun guessing game to hold little ones' interest.

Two thick double-page spreads are devoted to a single number. The first spread features a "before" image on the left and a die-cut numeral on the right, partially revealing the "after." For instance, One acorn becomes…an oak tree; seven pots of paint become…seven colours of the rainbow.

After 10, the book jumps by tens until 100, where 100 puzzle pieces become one big puzzle. Pair it with last year's Alphablock for a beautiful and sturdy learning set.
Goodnight, You
Geneviève Côté | Kids Can Press | buy it
Ages 2–4
Governor General's Award–winning author and illustrator Geneviève Côté has created a charming pair of personalities for her Piggy and Bunny series.

In this fourth book, the two characters are camping out under a beautiful night sky, but Bunny is scared by a shadowy monster, which turns out to be Piggy illuminated against their tent. The friends come up with ideas to keep from being scared in case a real monster shows up and confess their worries to each other. No matter what they face, the pair with polar personalities always find a solution.

The simple text and bright illustrations let the message and characters shine. Pick up Côté's other 2014 Piggy and Bunny release, Starring Me and You, while you're at it.
Preschool
Mix It Up
Hervé Tullet | Chronicle Books | buy it
Ages: 3–5
Rosie Revere uses all sorts of detritus to create amazing gadgets and gizmos that she proudly shows off—until her uncle laughs at her. Now timid and withdrawn, Rosie toils away under the cover of night—and her bed.

A visit from her great-great-aunt Rose reenergizes the girl's desire to invent and to succeed, and reminds her that failure and adversity are what make us stronger.
Shh! We Have a Plan
Chris Naughton | Candlewick Press | buy it
Ages: 3–7
This wintry tale follows four friends who trudge through the woods and discover a most beautiful bird. Three of the group want to capture it and hatch a not-so-crafty plan, while the littlest among them watches with reservation.

The repetitive text is welcomingly sparse, allowing Naughton's delightful vivid illustrations—in shades of blue for the main characters and scene, and brilliant colours for the bird—to tell the comic story.
Waiting Is Not Easy! (An Elephant & Piggie Book)
Mo Willems | Disney-Hyperion | buy it
Ages: 3–8
Mo Willems can do no wrong. The three-time Caldecott winner launched the Elephant & Piggie early reader series in 2007 to great fanfare (and more awards, inlcuding the Theodor Seuss Geisel Medal). Now he's back with book #22, Waiting Is Not Easy!

Worrywart Gerald the Elephant knows Piggie has a surprise for him, but his best friend makes him wait. And wait. And wait. Children won't be able to wait for the surprise ending. Grab a couple of other Elephant & Piggie books and you've got a great gift set.
Elementary

The Book With No Pictures
B. J. Novak | Dial Books | buy it
Ages: 5–8
Best known for his role on the TV series The Office, B. J. Novak has written a giggle-inducing children's book without a key element for this age group: pictures.

He reminds children than the reader must say every word written in the book, that's the rule. Once the premise of a book is established, the story is filled with ridiculous words, like blork and bluurf, and even sillier sentences that, of course, must be read.

The result is a laugh-out-loud adventure that makes the reader (the adult) look very silly, indeed. And let's face it: for children, that beats pictures any day.
Ocean: A Photicular Book
Dan Kainen and Carol Kaufmann | Workman Publishing | buy it
Ages: 5+
The non-fiction Ocean is a mesmerizing look at the world below the water's surface. While the text, provided by National Geographic staff writer Carol Kaufmann, is jam-packed with information about sea creatures' habitat, diet, prey, and more, it's the images that hook.

The photicular technology is like a mini-movie, with each animal bobbing or floating or gliding as the page is gently moved. If you own or have seen the book Gallop! By Rufus Butler Seder, then you have an idea how this works.

But Ocean, and its predecessor, Safari, takes the technology to a brilliant new level. From seahorse to jellyfish to shark, the book captivates and educates.
Any Questions?
Mary-Louise Gay | Groundwood Books | buy it
Ages: 6–9
If you've ever been handed a homemade book by your child, you may very well know that creativity can strike anyone and anywhere. That's the message behind Mary-Louise Gay's latest, Any Questions?

After years of fielding children's questions about where her stories come from, how books are created and various other intriguing queries, the author decided to address them in this story-within-a-story that captures the imagination.

At the end of the book, Gay addresses all the questions, including the vital, "Can your cat fly?"
Tween
The Iron Trial, Book One of the Magisterium
Holly Black and Cassandra Clare | Scholastic | buy it
Ages: 8–12
Let's set aside the fact that every review of this new series has or will liken it to Harry Potter: the three main characters are two boys and a girl, the backdrop is a magic school and the creepy thing on the cover resembles a dementor. Fine.

But Holly Black and Cassandra Clare aren't exactly first-timers (The Spiderwick Chronicles, City of Bones). A new entry from the bestselling team is worth more than comparisons.

So, the premise: when Callum is admitted to the Magisterium—an academy he desperately does not want to attend—he is forced to survive the "deathtrap" and in so doing, come to terms with just who he is and why his father has kept his past and future a secret.

The Night Gardener
Jonathan Auxier | Puffin Canada | buy it
Ages: 10–14
The Night Gardener is a storytelling masterwork, a page-turner to the very end. A 2014 Governor's General Finalist for Children's Literature, the novel follows two Irish siblings who land on English shores and take up work at a decrepit manor. Soon brother and sister learn of the curse that befalls anyone who resides within the home, the secret of the colossal tree that's grown through the walls, and the reason why a gardener visits the grounds when all are alseep.

A better tale to read on a cold winter's night while protectively wrapped in a cozy blanket by a warm fire you will not find. A ghost story with just the right mix of suspense, creepiness and humour, The Night Gardener is an absolute gem.
The Boundless
Kenneth Oppel | Harper Collins | buy it
Ages: 10–14
In the middle-grade book genre, Kenneth Oppel, author of the Silverwing series and the Airborn series, is the master. His tomes have received award after award, and The Boundless will be no exception.

The story follows Will Everett along the inaugural railway trip of the Boundless line across the Canadian landscape. When the teenager witnesses a murder and uncovers multiple schemes to rob a private train car that only he and his father have the key to, crossing the country becomes more perilous than he could have ever imagined.

Along the way he meets a crazy cast of characters, fears the dangers that lurk onboard the train and beyond its walls and learns a lesson in getting what you wish for. The Boundless is a mix of adventure, fantasy, and romance set against the creation of the Canadian railway.
Percy Jackson's Greek Gods
Rick Riordan | Disne-Hyperion | buy it
Ages: 10–14
If your Rick Riordan–obsessed tween already ran out to buy The Blood of Olympus, the latest book in The Heroes of Olympus series, don't fret. Riordan also released Percy Jackson's Greek Gods this year. The beautifully illustrated coffee-table-size tome is a who's who of the gods as "written" by Percy Jackson, Riordan's sarcastic demigod hero.

Riordan, a former teacher, has made Greek mythology cool and accessible in the twenty-first century with the novels and the companion book moves a step beyond, detailing the good and the gruesome in an entertaining yet slyly educational way.

On the off-chance your middle grader didn't already pick up The Blood of Olympus, well, you might as well add that to the gift, too.
More great books for kids: 8 Books for Raising Smart, Confident Girls.
More great books for kids: 8 Math Books Kids Will Love.