Every year, lists of the coolest backpacks for back-to-school pop up everywhere. We love the idea of those cute backpacks for kids, but when it comes down to it, we are looking for a practical backpack for our kids. One that is durable, rugged, good quality—a backpack that will weather the intense workout kids put their stuff through.
The packs on our list are safe and well-made, distributing the weight well on kids' bodies.
Many are stylish enough to make a back-to-school splash, but classic enough to stand the test of time. These picks can last your child for several school grades. Even if she or he begs for a new one in a year or two, they'll come in handy for summer camp, road trips, and more for years to come.
Important Backpack-Buying Tips
Even kindergarteners need full-size notebooks these days, so backpacks for school should be at least 35 cm (14″) tall to accommodate.
Look for a pack with numerous pockets and compartments, to distribute the weight load. Kids should only carry 12%–15% of their body weight in their packs.
Kids are rough on their stuff—opt for a pack made from a durable fabric like packcloth nylon that has tight seams (pull at them a bit—you shouldn't see any give), a reinforced bottom, bound interior seams, and extra stitching at pressure points.
Find a pack with adjustable, wide, padded shoulder straps and a padded back, a sternum strap, and (ideally) a waistbelt.
Zippers should look and feel sturdy and zip easily.
Kids should be able to unclip, unzip, and unfasten all parts of the pack easily.
Elementary-School Backpacks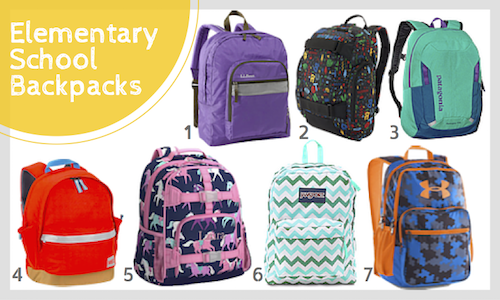 These packs are ideal for junior kindergarten through Grade 6. Some are more suited to smaller kids; we've indicated suggested ages—but it depends on your child's size and how much stuff they will be carrying regularly.
All of these backpacks have comfortable, wide, padded shoulder straps and padded back panels.
1. LL Bean Original Book Pack
This backpack has been selling for 30 years at LL Bean, and for good reason. It's dependable and strong, with classic design and colours—plus some funky prints for those who want to make a splash.
It's made of weatherproof packcloth, has two main compartments and smaller interior organizational pockets, plus a big reflective strip on the back.
What we love: durable packcloth fabric, classic look at a great price
We wish it had: mesh back panel, sternum strap
US$26.96 at LLBean.com (free shipping to Canada)
41 cm x 33 cm x 18.5 cm / 23L
Packcloth nylon
Best for ages 6+
2. Burton Youth Metalhead Backpack
A cool option for your little skaters or boarders, this pack has lots of options for stashing gear of all sizes. It has a big main compartment, padded laptop/tablet sleeve, side pocket with key clip, and mesh back panel.
It's water-resistent and has an ID window with name card. The external skate straps aren't that useful for nonskaters, but kids might like the coolness factor anyway.
For little kids, check out the just as durable but smaller 15L Burton Gromlet Backpack.
Burton repairs or replaces broken parts, so this should last you indefinitely.
What we really love: insulated drink holder and fleece-lined sunglasses/electronics compartment; Burton's repair/replacement policy
We wish it had: more colour and print options
$49.99 at Burton.ca
38 cm x 25.5 cm x 15 cm / 18L
600-denier polyester
Best for ages 6+
3. Patagona Kids' Refugio Pack 15L
Patagonia is known for great-quality camping and outdoor gear and for its sustainable business practices, and this backpack is evidence of that. It's made from polyester derived from post-consumer recycled soda bottles with a water-resistant coating. It's strong and practical, with reinforced seams, a big main compartment with organizational interior pockets, a sternum strap, and one water-bottle pocket.
It's a smaller version of Patagonia's most popular pack: the Refugio 28L backpack. For older kids, you may want to opt for that, which has more compartments, a laptop sleeve, two water-bottle holders, and breathable mesh fabric on the back panel.
What we really love: Patagonia's eco-friendly practices and quality reputation
We wish it had: additional colour options; more pockets; lower price tag
$59 at Patagonia
38 cm x 28 cm x 17.5 cm / 15L
450-denier recycled polyester
Best for ages 4–6
4. MEC Junior Book Bag
We think this is an awesome price for a really handy little pack. It's got several zippered, compartments, interior organizational pockets, a back padded interior pocket for tablets or special books or artwork, and a nice big reflective panel.
It's one of the few kids' backpacks with a sternum strap and waistbelt. It has two water bottle pockets. And it's not quick as boxy-looking in person as in photos!
For an older child who needs more space or a laptop compartment, the MEC Book Bag, with a 23L capacity, might be a better option. For preschoolers, the MEC Kinder Book Bag is perfect.
What we really love: number of compartments and organizational details—and the price!
Wish it had: slightly bigger size, more colour options
$39 at MEC
35.5 cm x 28 cm x 13.5 cm / 15L
420-denier nylon
Best for ages 4–8
5. Pottery Barn Kids Mackenzie Packs
We love these backpacks because they come in four sizes, from preschool-appropriate sizes to large bags for tweens, with or without roller option. With three sizes for kids from 36″ to over 48″ tall, you can get a secure and safe fit for your child.
The Mackenzie backpacks have lots of pockets, a separate electronics pocket, chest straps, two exterior water bottle pockets, and are sturdy and water-resistant. You have the option to attach a matching lunch box or to personalize a pack with your child's name. Plus, they come in nearly 50 different designs—from bows and butterflies to camo and dinos.
What we really love: lots of cute prints for little kids; appropriate sizing options for kids of all ages
We wish it had: a few solid-colour or grown-up print options for tweens
$49.50 for small, $49.50 for large at Pottery Barn Kids
38 cm x 30.5 cm x 15 cm (small), 40.5 cm x 35.5 cm x 19 cm (large)
600-denier polyester
Best for: ages 4–8 (small), ages 8+ (large)
6. JanSport SuperBreak
JanSport has many backpack models that'll serve kids well for years. But we like the SuperBreak because it's extra-lightweight (12 ounces), has the capacity to fit lots of books and gear, and comes in more than 30 colours and prints.
Plus, JanSport has a lifetime warranty—meaning they'll fix, replace, or refund your backpack when it wears out. Our only issue with this backpack is that it could use a few more interior organizational pockets.
What we really love: straightforward, simple, and dependable at a great price; lifetime warranty
We wish it had: mesh back panel, more compartments, water bottle pockets
$34.99 at LuggageDepot.ca
42 cm x 33 cm x 21 cm / 25L
600-denier polyester
Best for ages 6–12
7. Under Armour Storm Hall of Fame Kids' Backpack
This workhorse has two large compartments, a third smaller compartment, as well as a front zipper pocket and several interior organizational pockets. It's water-resistant and has two side water bottle pockets, a reinforced "abrasion-reistant" bottom panel, and a lined sleeve for a 15″ laptop.
The Storm Hall of Fame is marketed as the boys' backpack, while the Great Escape Kids' Backpack is the "girls'" version, with nearly the same dimensions but different colours and prints.
What we really love: parents rave that it holds up well after long periods of use
We wish it had: sternum strap, lower price, some more muted colour options
$49.99 at UnderArmour.com
40.5 cm x 28 cm x 15 cm / 23L
420-denier polyester
Best for ages 4–10
Preschool Backpacks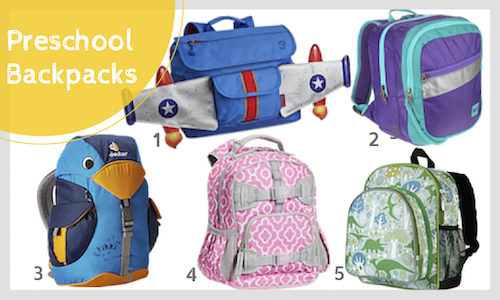 For kids ages 2–4, these backpacks are practical for carrying a snack, toy, small books, hats and other accessories, and a change of clothing. They're generally too small for folders and binders kids need for school, but perfect for daycare, pre-K, and car trips and other excursions.
1. Bixbee Flyer Backpacks
Bixbee makes high-quality backpacks that look super-cool, with unusual horizontal design. Flyer models are made especially for preschoolers and also comes in owl, shark, kitty, and butterfly designs.
It has two large interior compartments with some organizational pockets, four outer pockets, and two water bottle holders. It does just barely fit 8″x10.5″ folders or notebooks, has an ID holder, reinforced base, and has padded, mesh should straps and back panel, plus a sternum strap.
Bixbee packs have a lifetime warranty. For 2015, Bixbee has released its Flyer backpacks with an extra feature: LED lights! Unfortunately, they're only shipping from the US for now (see Bixbee.com for details).
$36.99 at Mastermind Toys
25.5 cm x 31.75 cm x 10 cm
600-denier polyester
2. MEC Kinder Book Bag
The smallest model in MEC's Book Bag series, this reliable pack has just as many great features: several zippered compartments and interior organizational pockets, padded straps and back panel, sternum strap and waistbelt, two water bottle pockets, a reinforced bottom panel and big reflective strip on the back.
$22 at MEC
31 cm L x 26.5 cm W x 13 cm / 14L
420-denier nylon
3. Deuter Kikki Daypack
This is one of the smallest options for preschoolers, but it's undeniably adorable and the quality is excellent. It has padded straps and back panel, plus a sternum strap, two side cargo pockets with Velcro closures so it can be used for water or small items. There's a top-loading main compartment with a single organizational pocket.
The pack has no zippers at all—only drawstring, Velcro, and clip closures.
$49 at MEC
35 cm x 20 cm x 16 cm / 6L
600-denier polyester
4. Pottery Barn Kids Mackenzie Pack – Pre-K
A smaller version of the Mackenzie for elementary-school kids, the pre-K pack has the same three exterior pockets, front panel pocket, and side pockets, plus wide padded shoulder straps and a sternum strap. It doesn't, however have internal pockets or dividers.
$29.50 at Pottery Barn Kids
27 cm x 21.5 cm x 10.5 cm
600-denier polyester
5. Wildkin Pack 'n Snack Backpack
We love that this backpack is made from heavy-duty fabric and has an insulated front pocket for food, with an interior pocket. Love the many cute patterns, too.
It has a main zippered compartment that will (just barely) fit a notebook, a side water bottle pocket, reinforced bottom panel and padded straps and back panel. Wildkin packs have a one-year warranty.
From $31 at Amazon.ca, $34.95 at ReadiSetGo.ca
30.5 cm x 25.5 cm x 11.5 cm
600-denier polyester
READ MORE LIKE THIS:
In the market for school supplies? Check out the best litterless lunch boxes for back to school.
Don't break the bank! Get our tips for 15 ways to save on back-to-school shopping.
With this handy back-to-school checklist for parents you wont miss a beat!
Sign up for our newsletters to get parenting and family fun articles delivered to you!